Tripura exit polls: CPM likely to retain power, BJP likely to see massive increase in vote share
The CPM is confident of retaining power in its bastion of Tripura in the Assembly elections and achieving a turnaround in the Left movement across the country, though the BJP is battling tooth and nail to oust the Left Front government as well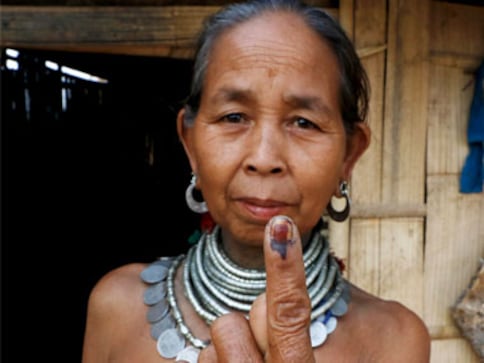 The CPM is likely to retain power in its bastion Tripura in the Assembly elections despite the BJP challenging them tooth and nail to end over two decades of Left Front rule in the state.
Of the 60 seats in the Tripura Assembly, the C-Voter exit poll for 2018 predicts that the party with the highest vote share in the state will be CPM, which is forecasted to clinch 44.3 percent of the seats. BJP will be a close second with 42.8 percent of the vote share. According to the C-Voter poll, Congress may get 7.2 percent of the seats, while the other candidates will muster 5.7 percent vote share.
For CPM, C-Voter exit poll predicts a seat share of around 26 to 34, while forecasts 24 to 32 seats for BJP. Congress and others are both likely to clinch 0 to 2 seats.
In the country's 65-year-long electoral history, the country's dominant Left party, the Communist Party of India-Marxist (CPM), has never been in direct confrontation with the Bharatiya Janata Party (BJP). However, political developments in Tripura in 2016 and 2017 had set the stage for their first face-to-face battle as the saffron outfit emerged as the key opposition party in this Communist-ruled northeastern state.
All the top leaders of CPM, BJP, Congress and Trinamool Congress had participated in the hectic two-month long poll campaigning. Counting of votes will take place on 3 March.
After Tripura become a full-fledged state in January 1972 along with Meghalaya and Manipur, the CPM dominated Left Front was in power since 1978 except for 11 years (1972-1977 and 1988-1993) when the Congress and the breakaway Congress led by five chief ministers ran the state.
During 1988-93 Congress in alliance with the tribal-based political party—Tripura Upajati Juba Samity—governed the state. The Congress, which since 1983 fought the elections in alliance with the tribal-based party, is facing the poll battle alone this time.
The BJP, which previously fought elections alone, has aligned with the tribal-based party Indigenous People's Front of Tripura (IPFT). The IPFT has since 2009 been agitating for a separate state containing Tripura Tribal Areas Autonomous District Council. The separate state demand has been rejected by all other political parties.
The ruling CPM has fielded 57 candidates, leaving one seat each to its Left Front partners — the Communist Party of India, Forward Bloc and Revolutionary Socialist Party. The BJP is contesting 51 seats and has left nine seats for ally IPFT.
The Congress fielded candidates for all 60 constituencies. However, Congress' official nominee (Sukumar Chandra Das) in Kakraban-Shalgarha assembly seat (Scheduled Caste reserved seat), withdrew his nomination and joined the BJP. The Trinamool Congress has fielded 24 candidates.
Here is a look at the C-Voter Tripura exit poll predictions: 
With inputs from agencies
Follow LIVE updates on Tripura Assembly Election results here
Click here to follow LIVE updates on North East Election results here
Politics
On Thursday, West Bengal Chief Minister Mamata Banerjee sacked Partha Chatterjee from ministerial post and later in the day, he was removed from Trinamool Congress
Politics
TMC leader Abhishek Banerjee said that Partha Chatterjee has been suspended from the party till the investigation is underway and he can come back if proven not guilty
Politics
The BJP central leadership is convinced that only Suvendu Adhikari has the experience of leading an issue-based campaign focusing on the SSC scam and the rampant corruption by the TMC compared to other state party leaders