TDP cornered over quitting NDA alliance as anti-Chandrababu Naidu group in BJP, YSR Congress look to precipitate party's exit
Even as Chandrababu Naidu is yet to quit NDA formally, a section of BJP leadership has started supporting YS Jaganmohan Reddy to precipitate TDP's exit.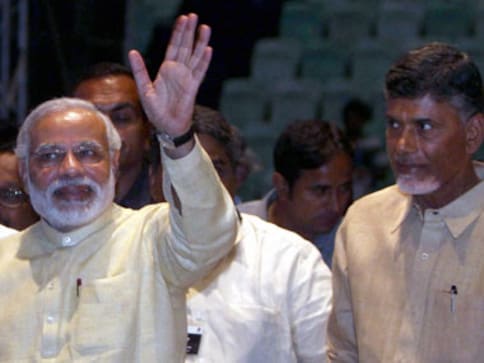 Even as Chandrababu Naidu is yet to quit NDA formally, a section of BJP leadership who had been opposed to the alliance with TDP right from the beginning has started supporting opponent YS Jaganmohan Reddy. This mind game of the BJP is aimed at precipitating TDP's exit from the NDA. Meanwhile, opposition YSR Congress, too, is targeting TDP for withdrawing ministers but not leaving the NDA.
In fact, at one point, Naidu was in an indecisive mood on whether or not to pull out of the BJP-led NDA. But, he has been driven to the corner by Opposition leader Reddy, who called for an initiative from Naidu to move a no-confidence motion against the Modi government.
Otherwise, the YSR Congress leader said that his party would do so and his MPs would even quit the Parliament on the special status demand. Thus, Naidu, who has been directing his MPs to protest in Parliament to exert pressure on the Modi government, has to revise and update his strategy to outsmart Reddy. He had no option except to withdraw his ministers from the NDA cabinet to accord a sort of legitimacy for the TDP's campaign on the injustice meted out to the state by the central government.
However, Naidu chose not to immediately leave the NDA. Thus, he offered a window to the BJP to accommodate the concerns of its key ally. But, the Modi dispensation was unmoved by Naidu's political moves as it enjoys a comfortable majority in Parliament and has little or no stakes in Andhra Pradesh.
Still, Naidu was not in any hurry to exit the NDA as he wishes to give an impression that TDP is trying its best to get the maximum from the central government. He has a bad reputation for joining and leaving alliances. Thus, the BJP leaders already started campaigning that the TDP is an unreliable ally and Naidu is known for political opportunism.
In a bid to ensure that the BJP campaign against him does not gain credibility, Naidu was extra cautious on the question of his party's relationship with NDA as such even after withdrawing the ministers. But, everything did not go as per Naidu's script. His adversaries would not follow the timetable set by him.
The state BJP clearly has two camps, one that supports Naidu and the other that has been critical of him right from the beginning. The alliance with TDP was always a contentious issue within the state BJP. Quite interestingly, the pro and anti-Naidu groups in state BJP have a clear caste dimension as well. State BJP leaders belonging to the powerful social formation, that is known to be loyal to TDP, were always enthusiastic in supporting Naidu.
M Venkaiah Naidu was vehemently in favour of an alliance with TDP. The Andhra Pradesh BJP leaders openly (of course, not on record) allege that their party suffered due to Venkaiah's closeness with Naidu. Leaders like Kambhampati Hari Babu, Kamineni Srinivas were never critical of the TDP government.
Even when they have to defend the BJP against the criticism of TDP, their comments were never caustic. In his farewell address, Srinivas even applauded Naidu as the real harbinger of development. Naidu also had full praise for the BJP ministers in his cabinet. This is the bonhomie a section of BJP leaders enjoys with TDP leadership even today.
On the contrary, another section led by leaders like Somu Veerraju were always critical of the Naidu government. Notwithstanding the fact that the BJP is part of the cabinet, Veerraju had even called the Naidu government corrupt and incompetent. On the other hand, no BJP leaders from the state ever criticised Reddy, despite the political slugfest between the YSR Congress and its ally TDP.
In the wake of changed political scenario, the anti-TDP group within the BJP has gained an upper hand. Not only are they now targeting Naidu in a much more virulent manner, they have even started talking sympathetically about Reddy.
In a bid to further embarrass the TDP, the anti-Naidu group within the state BJP in informal political and media gatherings started stating that Reddy has better prospects in the 2019 elections.
Meanwhile, Reddy extended unconditional support to BJP nominees in the presidential and vice-presidential elections much before the current developments. The YSR Congress was never critical of the controversial policies of the Modi government, like demonetisation, GST, cow vigilantism etc.
YSR Congress MP and close associate of Reddy, Vijayasai Reddy, even praised the Union Budget despite the fact that it failed to address the state's interests. Reddy himself said that his party would ally with any party that accords a special status to Andhra Pradesh. As such, he has not ruled out any alliance with BJP.
Thus, the unwritten understanding between the BJP and the YSR Congress that started showing much more discernible signs would only further precipitate TDP's exit from NDA. YSR Congress is making things worse for TDP by alleging that the party is demonstrating double standards by pulling out ministers without estranging the BJP.
Thus, the TDP's exit seems to be imminent. Even if Naidu prefers to be cautious, both the Opposition YSR Congress and more so the anti-TDP section within the state BJP seems to be unwilling to accept the TDP's continuing presence in the NDA.
Thus, the party's exit from NDA is all likely to trigger a fresh round of political realignment in Andhra Pradesh politics, at least in the post-poll scenario.
World
Kishida will meet Prime Minister Narendra Modi and also deliver a speech on Japan's Indo-Pacific strategy and its new defence posture. Fifteen years ago PM Shinzo Abe first spoke about Indo-Pacific cooperation during his visit to Delhi
World
Rescuers scrambled to reach survivors in Malawi's battered city of Blantyre, after Cyclone Freddy struck southern Africa for a second time, triggering floods and landslides that have killed more than 240 people across two countries
World
Kishida, who is on a two-day trip to India, said he hopes to promote a vision of a free and open Indo-Pacific, a Tokyo-led initiative for greater security and economic cooperation that is geared toward curbing Beijing's growing assertiveness.