Silence of the Muslims: Congress' Hindutva shows death of 'secularism', gives BJP chance to set new inclusive agenda
Muslims, who were central to any election debate in India till 2014, suddenly find themselves sidelined as the country is moving away from secularism to Hindutva politics.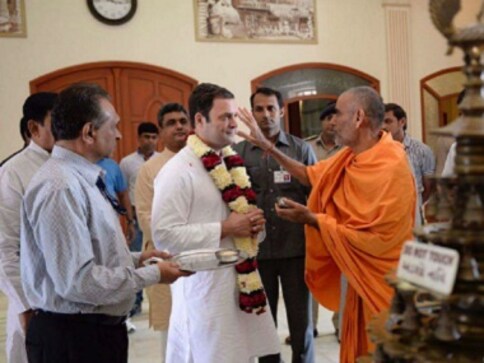 In 2006, Rahul Gandhi, then a newbie in politics, announced at the Congress plenary session that he follows two religions — flag and the party. Twelve years is a long time in politics. The Gandhi scion is now the Congress president, busy shedding his 'secular' credentials.
Rahul flaunts his 'janeu' (sacred thread), pitches a journey to Kailash Mansarovar as the high point of his 'Shiv bhakti', criss-crosses between temples across India during elections, sports a 'tilak' on his forehead and tells the head priest in Pushkar that he is a 'Dattatreya Kaul Brahmin' by 'gotra' (caste). Once the self-anointed custodian of 'secular' politics, the Congress is now desperate to be rebranded as a 'Hindu party'. 'Secularism' has travelled a long way in India.
The ongoing election season reinforces the death of 'secularist' politics. While Assembly elections will be held in five states this year, the big one is next year, when Prime Minister Narendra Modi will seek to extend his mandate. Amid this dance of democracy, the absolute silence of Muslim voices points to a decisive shift in identity politics. Muslims, who were central to any election debate or campaign in India till 2014, suddenly find themselves sidelined, marginalised and even forgotten.
In a leaked video clip that has since gone viral, Madhya Pradesh Congress chief Kamal Nath was recently heard telling Muslim leaders that if the Congress does not get 90 percent of the total Muslim votes in the state, the party will "suffer a big loss". There's nothing wrong with the pitch, but the fact that the comments were made at a private, closed-door meeting, where Nath also pleaded with leaders from the community that "you will have to bear everything till the day of voting" and "we will deal with them (RSS and BJP) later", indicates that the Congress is now scared of the 'pro-Muslim' tag that was ironically its calling card till 2014.
In a report, India Today quotes a Congress leader as saying that the party believes that being sympathetic to Muslim causes has "harmed its electoral prospects".
This shift from a 'pro-Muslim' stance — as the AK Antony Committee had pointed out after the 2014 drubbing — to a 'pro-Hindutva' approach is not a preserve of the Congress. In West Bengal, for instance, Chief Minister Mamata Banerjee underwent a similar trajectory.
At one point, she was busy burnishing her 'secular' credentials by announcing a monthly stipend to imams and muezzins, or imposing restrictions on Durga Puja immersions, for which she was admonished by the Calcutta High Court. The court had observed in 2016 that the state government "has been irresponsibly brazen in its conduct of being partial to one community, thereby infringing upon the fundamental rights of people worshipping Maa Durga".
However, in recent years, Mamata has been busy celebrating Ram Navami, greeting the nation on Hanuman Jayanti or announcing a Rs 28 crore cash bonanza and power bill relief for Durga Puja organisers in the state.
A part of this shift has undoubtedly happened due to the rise of the BJP as the dominant force in national politics, but the crucial bit about the saffron party's ascendancy has been the way it has forced a shift in mainstream political discourse from 'secularism' to 'Hindutva', so much so that other parties are being forced to play by its rules. The Congress initially tried to solve this problem by driving a difference between 'Hinduism' and 'Hindutva', but it lacks the ideological conviction and political capital to communicate that strategy.
Consequently, a desperate Congress shed all 'secularist' pretenses and embarked on an aggressive brand of Hindutva politics to beat the BJP in its own game — almost as if to show that the BJP is a 'pseudo-Hindutva' party just as the Congress is a 'pseudo-secular' one. Accordingly, All India Congress Committee general secretary and senior Congress leader in poll-bound Rajasthan, CP Joshi, was heard telling participants at a rally in Nathdwara that only Brahmins can talk about Hinduism, not Modi or Uma Bharti (who belong to a lower caste), in a constituency that has a sizeable portion of Brahmin representation.
Joshi was apparently "chided" by the party president, but soon after, Rahul's 'gotra' was leaked to the media, where his Brahmin credentials were reinforced to go with his janeu-dhaari appearance. After all, Congress spokesperson Randeep Surjewala did claim that his party has "Brahmin Samaj's DNA in its blood".
Meanwhile, the Congress manifesto in Madhya Pradesh vows to build the route taken by Lord Ram in his exile, cow shelters in every panchayat, commercial production of cow urine, opening of a spiritual department and developing the Narmada Parikrama, while senior Congress leaders are seen swearing by "Ganga jal" in their hands during news conferences.
This comical, competitive Hindutva seems to be a tactical attempt to reclaim the ground that Congress assumes it has lost to the BJP. The fact that it feels it will be in a better place to do so by revamping itself as a 'Hindutva' party, giving fewer tickets to Muslims instead of reinforcing its 'secular' credentials, speaks of the quiet death of 'secularism' as a driving force in Indian politics.
This isn't a surprise because the Congress-championed 'secularism' — a model that was followed by all 'secular' parties — had long collapsed under the weight of its contradictions. Instead of an ideological anchor, it degenerated into a rent-seeking exercise.
As Swaraj India chief Yogendra Yadav writes in The Print, "Unlike other castes and communities, you don't need to offer education, jobs, bijli, sadak, paani to secure Muslim votes. Just keep them insecure and keep offering them security. Muslims were perfect political hostage to 'secular' politics. Anything that pandered to Muslim 'sentiment' as defined by its leadership was kosher, as secular politics was seen to be pro-minority. Any party opposed to the BJP could call itself secular."
This tactic may have brought electoral dividends to 'secular parties', but it was a game of diminishing returns, which also kept Muslims out of the development route and fuelled anti-minority consolidation among Hindus for the BJP to exploit. This tactic has come full circle as the Gandhi scion now has to bare his janeu to convince Hindus that he, too, is a Hindu.
For the BJP, this presents an opportunity to replace the discredited concept of 'secularism" and cement Hindutva as the new normal — an inclusive, ideological agenda that RSS sarsanghchalak Mohan Bhagwat speaks of — which isn't complete without Muslims and celebrates diversity rather than feeling threatened by it. That may free Muslims from the bondage of rent-seeking 'secularism' and lead to true empowerment.
India
Environment Minister Bhupender Yadav, however, has rejected the charge, saying the new rules 'do not dilute or infringe on' the provisions of the Forest Rights Act, 2006
Politics
Congress leader Rahul Gandhi, who is on a visit to Karnataka, is expected to attend the birthday celebrations of former chief minister of Karnataka Siddaramaiah
Politics
Senior leaders and members of the Congress Working Committee (CWC) have been carrying out 'PM House ghero' in protest, while party MPs are holding a 'Chalo Rashtrapati Bhavan' from Parliament