Kamal Nath courts controversy again, says 'huge loss if Congress doesn't get 90% of Muslim votes'; divisive politics, says BJP
Days after BJP cannibalised on Kamal Nath's purported anti-Hindu video, Twitter is alight with another clip wherein the senior Congress leader is seen asking for votes on the basis of religion.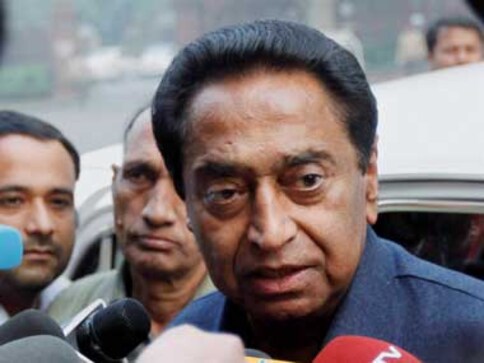 Just days after the BJP shared a clip of Madhya Pradesh Congress Committee president Kamal Nath reportedly making 'anti-Hindu' statements, another video of the senior Congress leader is doing the rounds on social media in which he allegedly said it will be a huge loss if the Congress does not get 90 percent of Muslim votes.
In the clip, the nine-time Lok Sabha MP from Chhindwara is reportedly urging a gathering of Muslim clerics to account for each and every Muslim vote in the state. He asks them to conduct a postmortem on why only 60 percent Muslims turn up to polling booths.
"In the Muslim booths, what is the percentage of voting that has taken place? If 50 to 60 percent of voting has taken place, why was it just 60 percent? Why wasn't it 90 percent? It is important to do a postmortem of the previous elections. If you want we will get it done to 80 to 90 per cent. If we don't get 90 per cent vote share of the Muslim community today, then it will be a big loss for us," Nath can reportedly be heard saying.
Furthermore, he goes on to direct the members in the gathering to 'identify' Muslim booths and target the voters there. "You know which is a Muslim booth. In that booth, what was the percentage of voting that took place? If 60 percent voting has taken place there, there would be a reason behind it," Nath says. Firstpost could not independently confirm the clip's provenance or veracity.
Meanwhile, the Bharatiya Janata Party took strong exception to the video. It announced that it will approach the Election Commission against the Congress, which is 'communalising' the election. The Model Code of Conduct bars political parties from seeking votes in the name of religion, community, or caste, and prohibits politicos from making inflamed or divisive poll pitches.
BJP spokesperson Sambit Patra lashed out at Congress for practicing 'divide and rule' politics brazenly. He also went on to selectively quote Rahul Gandhi from a previous instance, and said Nath's fresh comments are an extrapolation of Congress president's comment where he asserted that Congress is a party of Muslims. Patra also implied that the Congress was undermining the votes of backward class and tribals.
Nath, in the earlier video can be heard commenting on the so-called divisive politics of the BJP and asks the Muslim voters to bear with it until polling concludes. He then uses the hindi word 'nipat lenge' to imply that after polls, they will deal with 'them'. Patra interpreted this one to mean that Nath was talking about dealing with and finishing off Hindus. The Congress  claimed the video was "doctored and edited" and has complained to the poll panel. A final word on this is awaited.
Opinion
Rahul Gandhi genuinely aspires to become India's Prime Minister no matter the method or the cost
Opinion
All that Rahul is doing with his tantrums and paroxysms of acidity abroad is driving the nail deeper into Congress's chances of returning to power
Politics
The Congress leader gave the 10-point reply hours after a Delhi Police team knocked on his doors for the third time in five days. He also sought eight to 10 days to give a detailed response to the questions posed by Delhi police over his January 30 remarks