Siddaramaiah govt announces farmers' loan waiver: Sops spreading like contagion from one state to another
In Karnataka, the farmers can only watch with bemused nonchalance, as both the Congress and the BJP take credit for rescuing them from the twin blights of drought and debt trap.
American economist George Taylor came up with an astounding theory in 1926, famously called the 'hemline index'. It simply meant that hemlines of women's dresses go up when stock prices rise.
If Taylor was alive today — he died in 1976 — he might have propounded a different theory for India. When farm production goes either up or down steeply, economy plunges, farmers' hackles are raised, loans are waived — and then economy plunges even deeper. He might also have added that loan-waiver is like a contagious virus that spreads from one chief minister to another irrespective of political parties.
In BJP-ruled Uttar Pradesh and Maharashtra bumper crops led to price crashes this year. So farmers' loans were waived in Uttar Pradesh on 4 April and in Maharashtra on 19 June. The two states are in for more fiscal trouble. The debt write-off would cost Uttar Pradesh Rs 36,359 crore and Maharashtra, Rs 30,500 crore. Then it was the turn of the Congress-ruled Punjab where the government on 19 June wrote off crop loans worth Rs 24,000 crore.
In Karnataka, monsoon failure killed crops for three years in a row. It comes as no big surprise that Chief Minister Siddaramaiah fell for it on Wednesday. The loan waiver bandwagon was too tempting for him not to jump onto, especially since the Assembly election is only 10 months away. So he too waived farmers loans.
With an accumulated debt of Rs 2.4 lakh crore in the last four years, Karnataka must brace for big financial trouble. But who cares?
Even before UP wrote off loans, Telangana and Andhra Pradesh were in the process of waiving loans in a phased manner. In the near future, expect the contagion to spread even more. You can expect more sops in Madhya Pradesh, Rajasthan, Gujarat and Haryana where farmers are demanding to be rid of loans.
Too little, too late
But at least for Karnataka farmers, Siddaramaiah's munificence is too little and too late. Look at these figures:
Farming-related loans in Karnataka amount to a whopping Rs 1.2 lakh crore, of which crop loans total Rs 52,000 crore. Of the crop loans, Rs 42,000 crore is borrowed by 80 percent of the loan-takers from nationalised and commercial banks, and the rest of the Rs 10,000 crore from cooperative societies. It's out of this cooperative debt component that Siddaramaiah has waived off Rs 8,165 crore. Too little.
It's also too late because, tormented by recurring drought, crop losses and debt burden, 821 farmers committed suicide between April 2016 and March 2017 in Karnataka: On average, one farmer killed himself every 10 hours.
Despite shrill demands by the Opposition BJP, Siddaramaiah dragged his feet over loan-waiver. But a sudden epiphany at last dawned on him with nearly as much intensity as the drought itself had hit farmers. He discovered that "empowering" farmers was nothing but "empowering" Karnataka. Don't miss the hashtag in the tweet below.
Loans worth Rs. 8165 crores will be waived, benefitting 22,27,506 farmers across state. We know that empowering farmers is #EmpoweringKtaka

— CM of Karnataka (@CMofKarnataka) June 21, 2017
The reason Siddaramaiah had given for not writing off farmers' debts earlier was that he would do so only if the Centre waived the commercial bank loans. But, in the end, apparently moved by the plight of the dying farmers and shattered by the misery of their families, the chief minister has done his bit without waiting for the BJP government at the Centre to do its part. In other words, Siddaramaiah has tossed the loan-waiver ball back into the BJP's court. And excuse the poor farmer, if he gets a sinking feeling that he is a football that can be kicked around by rival political parties at whim.
On behalf of our farmers, I request @PMOIndia to consider the acute drought & waive farmer loans from commercial banks. #EmpoweringKtaka — CM of Karnataka (@CMofKarnataka) June 21, 2017
Siddaramaiah has thrown a gauntlet which he knows won't be picked up by the Centre. Earlier this week, Union Finance Minister Arun Jaitley made it amply clear for the second time in a month that the Centre had no plans to bankroll farm loans.
Siddaramaiah may be congratulating himself on his marvellous political sagacity in "fixing" the BJP, but the average farmer, even if illiterate, can be depended upon to have enough rustic common sense to know that, by "empowering' farmers, the chief minister is only trying to "empower" his Congress in the coming elections.
RBI's warning falls on deaf ears
Siddaramaiah's loan-waiver comes just a month after the Reserve Bank of India warned that loan-waivers could wreck the already battered economies of states including Karnataka. The RBI said in its report titled State Finances: A Study of Budgets of 2016-17; "Yet another dimension is the ad hoc nature of various types of loan waivers announced from time to time by state governments. Such initiatives could add to their fiscal burden and affect their finances over the medium term. While these loan waivers could alleviate the immediate debt burden of financially distressed farmers, it is essentially a transfer from tax payers to borrowers with an adverse bearing on the fiscal viability of states. Moreover, it impacts credit discipline, vitiates credit culture and dis-incentivises borrowers from repayment, thus engendering moral hazard with expectations of future bailouts."
Strong words, no doubt. But the writers of the impressive 363-page RBI report make one mistake. They presume that state chief ministers are practitioners of prudent economics, bursting with enthusiasm to keep their economies in pink.
The chief ministers, of course, practice what they foolishly believe to be practical politics, of which loan-waiver is one important part. In what can only be called an affront to the intelligence and human dignity of farmers, chief ministers of all political hues believe that loan-waivers fill farmers with an eternal gratitude that will send them in droves to press the right EVM buttons when elections come.
But farmers know better.
And in Karnataka, the farmers can only watch with bemused nonchalance, as both the Congress and the BJP take credit for rescuing them from the twin blights of drought and debt trap. Siddaramaiah claims that he is the knight in the shining armour that gods sent to Karnataka to save farmers and it's for the BJP to do the rest.
State BJP president BS Yeddyurappa believes he is the hero of the moment. Having threatened to hold a "massive farmers' rally" on 20 July if the loans were not waived, he now takes credit for what Siddaramaiah has done.
Huge win for BJP! @CMofKarnataka bows to pressure from Sri. @BSYBJP, announces farm loan waiver. pic.twitter.com/qY2Cs5FU7m

— BJP Karnataka (@BJP4Karnataka) June 21, 2017
Even the less than one-fifth of the farmers whose loans have been waived in Karnataka know that it's only a small and temporary reprieve. It's no more than band-aid on a cancer tumour. What happens to them and their crops next year is anybody's guess.
Farmers also know that only a combination of minimum selling price (MSP) and crop insurance can save them from both bumper crop and no-crop calamities. Agricultural economists have been shouting themselves hoarse, calling for government policies aimed at planning crops and managing deficits and surpluses in production.
But the cacophony of election drum-beats can drown all other noises.
Author tweets @sprasadindia
Politics
Punjab chief minister Captain Amarinder Singh also said that his government had already fulfilled 93 percent of the poll promises made in the election manifesto and would soon go up to 95 percent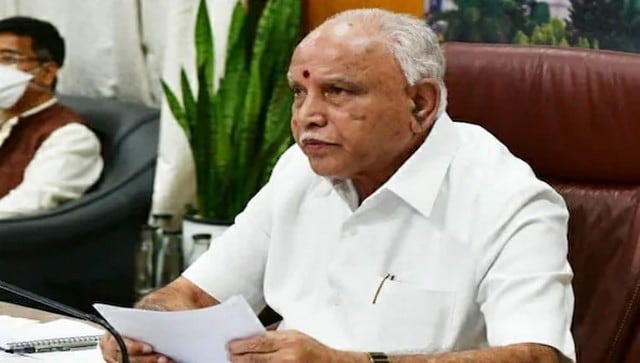 Politics
The 78-year-old Yediyurappa belongs to the older generation of politicians who started their service to the public as a teenager (in his case with the Rashtriya Swayamsevak Sangh) and did not hail from either a political or an affluent family
India
Nalin Kumar Kateel demanded an inquiry into the tape where the talk was about "removing the entire team" and said it was not his voice