There are stories that end and there are stories that are mere beginnings. Exactly 10 days ago, when O Panneerselvam checked in at Jayalalithaa's memorial on Chennai's Marina Beach, sat in silence for 40 minutes and then lambasted Sasikala, Tamil Nadu was stunned and elated. Numbers did not matter at that moment. The rebellion was enough.
Ten days later, Sasikala is in jail but still on the brink of power. Her side led by proxy Edappadi Palanisamy has the numbers, OPS has all of 11 MLAs where 117 is the minimum magic number to win control of the state legislature.
Sasikala's nephew, TTV Dinakaran is back as an AIADMK power broker. So, all instructions from the Bengaluru prison become his official business. Likewise, Sasikala's husband M Natarajan back on the prowl after years in the wilderness. These are all people who would not dare show up anywhere in Jayalalithaa's range of vision, but today with Jayalalithaa out of the day, they're crawling all over.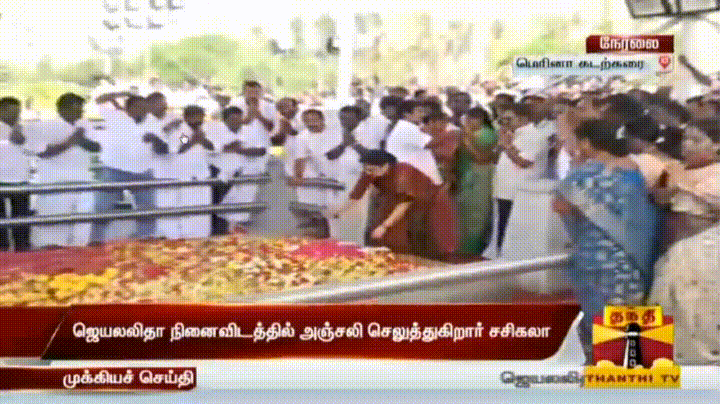 The political crisis in Tamil Nadu will end this week for sure — most likely tonight or latest in 24 hours as if it goes on any longer it will backfire on multiple stakeholders. But after all the drama, which started with OPS' revolt, the story that still needs to be written is how Sasikala's gang of MLAs stuck together. Who's the real glue? What, apart from the obvious promise of plum cabinet posts for a select bunch, is keeping them united despite such tremendous pressure? Why didn't they panic after the Supreme Court verdict and shift camps en masse? What is it that we don't know about this "large happy family" at Golden Bay Resorts? These are questions worth an epic.
When Sasikala, now prisoner number 3295 in Bengaluru, thumped Jayalalithaa's tomb three times and took a vow to destroy her enemies, she made one thing clear: whether she delivers on her promise from the comfort of Poes Garden or the grim interiors of Parappana Agrahara Central Jail is immaterial; what is crucial for Sasikala and her family is to capture power so that the enemy camp does not go too deep into the circumstances surrounding Jayalalithaa's death.
What about OPS, you ask? What of all this drama if his campers don't make it to the top? Well, they tried. They told Tamil Nadu loudly what we only used to whisper about: the Mannargudi Mafia is real and lethal.
Follow all that happened on Day 10 of the Tamilnadu political crisis here. To read our live blog, click here.
Firstpost is now on WhatsApp. For the latest analysis, commentary and news updates, sign up for our WhatsApp services. Just go to Firstpost.com/Whatsapp and hit the Subscribe button.
Updated Date: Feb 15, 2017 22:52:50 IST