Ramjas College clash: Rajnath Singh cautions police as Tiranga March by ABVP begins
As Delhi University re-opens on Monday, protests over the Ramjas College incident that shook Delhi University last week on 22 February, refused to die down.
As Delhi University re-opens on Monday, protests over the Ramjas College incident that shook Delhi University last week on 22 February, refused to die down.
Calling it a march for the country, the Delhi University Students Union will hold a 'Tiranga March' early on Monday, Hindustan Times reported. JNU students union (JNUSU) have called for a public meeting at the Administrative Block at 4 pm. On Tuesday, students and teachers from Delhi University (DU) and Jawaharlal Nehru University (JNU) have planned a march from Khalsa College to Arts Faculty.
Delhi University's Ramjas College had on Wednesday witnessed large-scale violence between members of All India Students Association (AISA) and the RSS' student wing Akhil Bharatiya Vidyarthi Parishad (ABVP) outside Ramjas College.
The genesis of the clash was an invite to JNU students Umar Khalid and Shehla Rashid to address a seminar on 'Culture of Protests' which was withdrawn by the college authorities following opposition by the ABVP. Khalid was jailed last year on sedition charges for allegedly shouting anti-national slogans.
Fearing DU like violence on its campus, Ambedkar University in the national capital postponed an event marking the 26th anniversary of the alleged Kunan Poshpora mass rape in Kashmir.
According to Hindustan Times, DUSU's Tiranga March led by ABVP will start at 12:30 pm from Ramjas College parking lot to the Faculty of Arts. In the evening, Nandini Sundar, a teacher at DU's sociology department, Rajeev Kanwar of Dyal Singh College and some DU students will address a public meeting at JNU against the violence at Ramjas College. "This is our call to re-assert right to freedom of speech and expression and raising voice against violence and our solidarity with DU students," said Mohit K Pandey, JNUSU president.
Tuesday will see another protest by groups of Left-wing students and teachers, who will march from Khalsa College to Arts Faculty against the stalling of the street play competition at SGTB Khlasa College. According to Hindustan Times, the competition was put on hold allegedly after the Akhil Bharatiya Vidyarthi Parishad (ABVP) objected to the content of some plays. Calling it a #FightbackDUmarch and #DUagainstGoondagardi, groups such as Pinjra Tod who have been fighting against discriminatory hostel rules, will also be a part of the march. The group has created a Facebook event for this march and invited students to join in large numbers. JNU students and teachers will also be a part of the march on Tuesday.
According to The Hindu, Kawalpreet Kaur of the All India Students' Union said: "Will the ABVP, the BJP and the RSS set the limits to free speech or decide what should be said and what not? Even when the organisers canceled the invitation to Umar Khalid hours before the event, why did the ABVP vandalize it? It clearly shows that the ABVP just has to create an atmosphere and crush the voices of common students which raise the issues of tribals and people of India".
Rajnath Singh's comments
Home Minister Rajnath Singh on Monday said he was in touch with Delhi Police over the situation arising out of the Ramjas College clash. The minister told journalists that he had asked Delhi Police to act with caution.
"I have told Delhi Police to practice restraint so that nothing goes wrong. I am constantly in touch with the police commissioner," he said.
The Delhi Police was widely blamed for not restraining the ABVP activists and also for assaulting students and journalists. Three policemen were suspended last week on charges of assault.
Kiren Rijiju's comments on Delhi University student's campaign
Minister of State for Home Kiren Rijiju on Monday wondered who was "polluting" the mind of a Delhi University student campaigning on social media against the ABVP.
Gurmehar Kaur, a Delhi University student and daughter of an army Captain who died in the Kargil war, launched a social media campaign against the ABVP in wake of the violence in Ramjas College.
Kaur posted a picture on Facebook saying: "I am a student of Delhi University. I am not afraid of ABVP. I am not alone. Every student of India is with me." She then received rape and life threats on social media by some who called her "anti-national".
In response to Kaur's campaign, the minister said: "Who's polluting this young girl's mind?"
Who's polluting this young girl's mind? A strong Arm Force prevents a war. India never attacked anyone but a weak India was always invaded. https://t.co/gXHkAGi9sh

— Kiren Rijiju (@KirenRijiju) February 27, 2017
Reaction of AAP leadership to rape threat issue to Delhi University student
Meanwhile, the AAP on Monday slammed the BJP for not condemning those issuing "rape threats" on social media to a Delhi University student who took a stand against the Akhil Bharatiya Vidyarthi Parishad (ABVP). "A girl is being threatened by rape on social media. Not a single BJP (Bharatiya Janata Party) or RSS (Rashtriya Swayamsewak Sangh) leader called it wrong or condemned it. Why?" Aam Aadmi Party (AAP) leader Ashutosh tweeted.
एक बच्ची को रेप की धमकी सोशल मीडिया पर दी जा रही है । एक भी बीजेपी/आरएसएस के नेता ने न तो ऐसे लोगों की निंदा की और न ही ग़लत कहा ? क्यों ? — ashutosh (@ashutosh83B) February 27, 2017
Delhi Chief Minister Arvind Kejriwal also attacked the BJP on Sunday over the issue and said it had now become a party of "hooligans" and "criminals".
Sharing a video of Kaur speaking about the "graphically detailed" rape threat she received, Kejriwal tweeted:
Just listen to this. THIS is BJP. They will destroy our country. Everyone must rise against their goondaism https://t.co/MoFm8wSMqD
"Threatening our daughters and sisters with rape; is this BJP's patriotism? Shame on these people," he added.
Delhi University teacher beaten-up during the clashes
Delhi University teacher Prasanta Chakravarty, who was roughed up during the recent North Campus clashes, has been hospitalised due to severe abdominal pain as a result of internal injuries.
"Passed out with shooting abdominal pain, at Fortis Noida emergency," he posted on Facebook.
He said he has been diagnosed with deep bruises and "concealed spasms" on the right kidney and his spine muscles have also suffered serious injuries. Chakravarty, an associate professor with DU, said people who assaulted him during the clashes appeared to be "some kind of mercenaries" and not students. He had alleged the involvement of outsiders in the violence between student groups ABVP and AISA.
Ramjas College ordered an enquiry to look students' involvement in clashes
Ramjas College on Saturday ordered an enquiry to look into its students' involvement in clashes over a seminar even as it resolved to stand by its teachers and students who organised the event.
The decision was taken at a staff council meeting on Saturday three days after the college became a battleground for the members of RSS-backed ABVP and Left-affiliated AISA.
"An enquiry committee has been constituted to probe the involvement of Ramjas' students in provoking or initiating the violence. Principal Rajendar Prasad will address the students and teachers on Monday morning urging them to maintain peace and not be scared of anything," a senior college official said.
"The staff council resolved to stand by the teachers and students who were organisers of the seminar," he added. Classes in the college were suspended on Thursday even as the administration had maintained that it was due to "administrative reasons" and not due to the violent situation on campus.
"We have also sought police presence for at least four more days to ensure security measures are in place until peace and normalcy are restored on campus," the official said.
"While the seminar will continue we decided to cancel the participation of these two students. It is not that we do not advocate freedom of speech but it had to be done keeping peace and harmony of campus in mind," the principal had said. While Delhi University authorities maintained that the varsity proctor's office was looking into the issue, the human resource development ministry had on Friday sought a report from the university over the issue.
Enquiry ordered by Delhi Commission for Women into alleged attacks on women by policemen
Delhi Commission for Women on Saturday had ordered an enquiry into the alleged attacks on women by policemen during violence at Ramjas college and had issued a notice to Delhi Police.
"We are of the view that these attacks on women protesters by policemen may also amount to molestation and need to be severely punished. The images of Delhi Police officers beating and misbehaving with women protesters are resonating across Delhi and India and have severely damaged the reputation of Delhi Police. It is a classic case of protectors turning abusers," said the notice issued to Joint CP, central Range.
"Further, the Commission is aghast to read newspaper reports alleging that Delhi Police claims it does not know who ordered the lathi charge on the protesters. Such statements raise suspicions about the politicisation of police and the matter needs to be investigated urgently," it added.
DCW Chief Swati Maliwal has pointed out in the notice that a similar "manhandling" of female students by policemen had happened last year when they were protesting in connection with the case of missing JNU student Najeeb Ahmed.
The commission has asked the police to respond within a week with information on "number of police officers (male and female separately) deployed in and around Ramjas College for the said protest, names and designations of the police cops clearly identifiable in the videos and photographs – who were seen punching and manhandling women protesters".
The Delhi Police had admitted "unprofessional" conduct on the part of some of its personnel during the clashes and suspended three policemen.
With inputs from agencies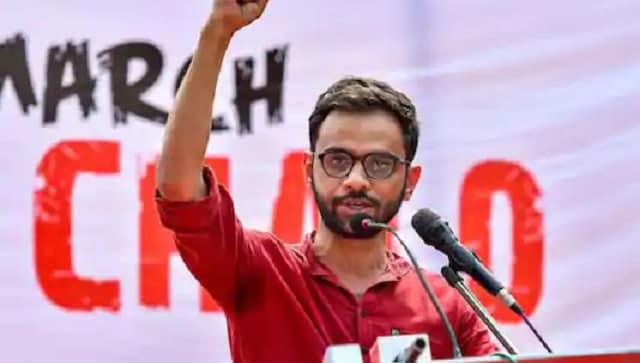 India
Umar Khalid, Sharjeel Imam and several others have been booked under the anti-terror law in the UAPA case for being the "masterminds" of the February 2020 riots
India
Arvind Kejriwal said that AAP will solve the problem of encroachment and people residing in unauthorised colonies will get ownership rights
India
Arvind Kejriwal said he didn't want to defeat anyone in politics but sought to make India the number one country in the world