Ramjas clash: Blocking DU students' right to protest stigmatises democratic credentials of BJP, ABVP
The statements by several BJP leaders including Arun Jaitley that students must limit activities to classrooms goes against the basic tenets of a university and political history of the ruling party at the centre
This must begin with the story of how a remarkable man became what he is today. As a young adult, he opted out of formal education after school because he wished to explore life in all its manifestations. Soon, he realised that his calling lay not in the metaphysical but in political campaigns, their mobilisation and management. Elders in the political outfit were keen for him to resume academics, but he refused, saying that the world of jobs was not for him. They argued that education should not be viewed only as the path to secure jobs and that knowledge and information had infinite uses, most importantly as a tool to empower society.
Eventually, the young man enrolled in Delhi University's correspondence department just as student-catalysed political turbulence hit Indira Gandhi's stable regime in 1974. Within a year she imposed Emergency and arrested key political opponents. The young man was instructed to evade detention and go underground. Over the next two years, he undertook several political missions that required the use of disguise and deception. He travelled to Delhi in railway compartments posing as a student visiting to attend contact classes while carrying "subversive" documents titled "Indian Press Gagged", "Facts vs Indira's Lies", "Twenty Lies of Indira Gandhi", "When Disobedience to Law is a Duty" and "A Decade of Economic Chaos". These were collected by RSS activists in Delhi and distributed to foreign delegates.
This man also learnt more about political subversion and protest movements from two university professors. When this extraordinary man was ferrying underground literature, another man, who later became his political colleague and aide, was president of the Delhi University Students' Union. On Sunday, 26 February, this person while addressing an audience in London School of Economics claimed that an "alliance of subversion" was triggering campus violence across India. Readers would have guessed the identities of the two people — Prime Minister Narendra Modi and Arun Jaitley.
Among countless others who engaged with national and state politics, the two would know the level of romantic appeal that protests hold for the youth. There is nothing more idealistic than believing that one has the power to stand up against state power. And, there is no truth bigger than what they believe is correct. The spirit of questioning is inherent in Indian culture. Shastradh or great religious debates have been integral to Hindu philosophical polemics. The rebels at home have gone to become great leaders though it must be said that all mutineers don't necessarily become influential politicians.
The challenge for political leaderships is to harness youthful dynamism, steer its power into nation-building and ensure that it does not end in political anarchy. This can be done by engagement and not with violence. Interaction can be facilitated only by dialogue and even though it may be difficult to convert the opponent per se, the aim should be to ensure that apolitical or neutral students are enlisted. Students' organisations need to talk with each other and not at each other.
If the idea is to draw the non-enlisted, it should be done with a display of intellect that can frame arguments which the brain processes and not with a naked display of brawn. Whether in the aftermath of the events in the Jawaharlal Nehru University in 2016 or now in Ramjas College, the ABVP's tactic has been to secure greater support by preying on the insecurity of the majority that they are being overwhelmed by the minority. To declare that only the ABVP's definition of nationalism is correct is not a democracy.
Back in 1974 when the agitation against Indira Gandhi's regime gained ground in Gujarat and Bihar before spreading to other parts of India, the ABVP was one of the principal organisations backing the protests. At that time the students' wing of the Congress, National Students Union of India was at the forefront of resisting protestors and endorsed the then prime minister's claims that Navnirman movement in Gujarat or Bihar's Chhatra Sangharsh Samiti were "anti-national" backed by a "foreign hand". For most of her tenure, Indira Gandhi exhibited political paranoia that all protests against her were part of an international conspiracy.
The ABVP and its backers including those in the government and the Bharatiya Janata Party, by resorting to the same tactics, display similar insecurity and pose a hurdle to the development agenda of Modi. Any stamp that he aspires to leave on history has to be on the basis of development and not for promoting sectarianism. After all, Modi's Beti Bachao, Beti Padhao programme will have a greater impact on India's future than the targeting of Gurmehar Kaur.
Moreover, by objecting and preventing a seminar or debate organised by rival students' organisations and physically attacking protest marches, the ABVP is jeopardising the political ethos which is behind its rise as a students' organisation of significance. It needs to be recalled that the ABVP was the first nationwide students' body and was established in 1949. On its website, the organisation states that though it is "above partisan politics". The ABVP accepts that "social activity cannot be non-political in a strict sense. ABVP believe that as citizens of the country students are bound to react to the socio-political situation". If the rivals are campaigning to promote their viewpoint on different issues, the answer to that lies in mounting a counter-campaign not lobbying to stop debate on campuses and using violent means to cow down rivals.
The call by several BJP leaders that students must limit activities to classrooms goes against the basic tenets of a university. At LSE, Jaitley asserted that there should be a debate whether India's territorial integrity can be questioned under the idea of free speech. But there can be no debate if there is violence against peaceful demonstrations and groups are targeted for holding a seminar. Moreover, there are questions if the word azadi or freedom has just a linear meaning or is it more a conceptual idea. Academic institutions must remain as the arenas of conflicting minds and themes. Victories achieved by words will have a greater meaning than those by letting loose state-protected goons. Blocking the right to protest government actions or put forth points that differ from the BJP's would delegitimise the political past of Modi as well as the past, present and even the future of several of his colleagues.
The writer is a Delhi-based writer and journalist. He authored Narendra Modi: The Man, The Times and Sikhs: The Untold Agony of 1984. He tweets as @NilanjanUdwin
also read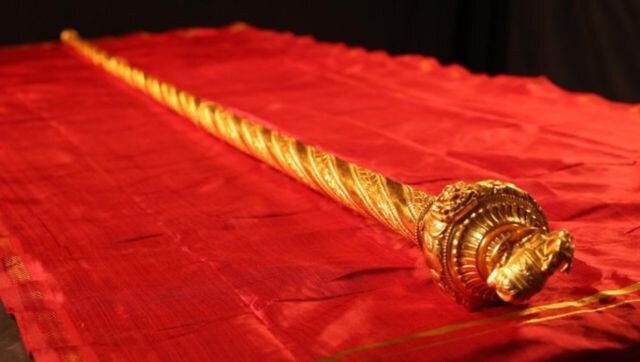 India
Prime Minister Narendra Modi will install the golden sceptre near the Speaker's seat. Traditionally called the 'Sengol', it has roots in Tamil culture
India
The Depsang Plains along with Pangong Tso are the two major areas of concern in the ongoing standoff along the Line of Actual Control (LAC) in eastern Ladakh.
Explainers
Political parties are divided over the inauguration of the new Parliament building by Prime Minister Narendra Modi. While NDA allies and some other parties – Naveen Patnaik's BJD and Shiromani Akali Dal – will be present during the event, at least 20 Opposition parties have decided to stay away