Rajasthan polls: From Muslim-dominated Tonk to agriculture-driven Shekhawati, a look at key regions and constituencies
As Rajasthan gears up to vote in the 7 December Assembly elections, certain electoral regions in the state seem to hold more power than others to influence the outcome.
Exit polls for the Rajasthan Assembly Election 2018 predicted a clear majority for Congress after polling ended on Friday (7 December). In the run-up to the polls, certain electoral regions in the state emerged to hold more power than others either because of the contestants in the fray or because of the constituent of voters in the region.
A day before counting of votes is set to take place in Rajasthan, lets take a look at some of the key regions and constituencies in Rajasthan that may have played a decisive role in the upcoming state elections:
Jhalarapatan
Jhalrapatan, a town in Jhalawar district of southern Rajasthan, comprises over 2,73,404 voters. Of this figure, approximately 15 percent are Muslims, 13 percent are SC-STs, OBCs stand at 11, Brahmins are 7 percent in number, Rajputs-Saundhiyas are at 12 percent, Dangis are at 6 percent, while Mali and Mahajans are at 5 percent each, among others.
Besides Jhalrapatan, Jhalawar district consists of Khanpur and two reserved Assembly constituencies — Manohar Thana and Dag. Long associated with the Gwalior family, the district has a large Rajput population even in the reserved constituencies, with Jats having little or no presence. Jhalrapatan is of note because Raje from the Bharatiya Janata Party (BJP) is contesting from this seat. She has won the Jhalrapatan seat thrice consecutively.
Raje's decision to contest for a fourth consecutive time from Jhalrapatan constituency immediately led to the speculation that she was grooming her son Dushyant Singh to contest the 2019 Lok Sabha polls. It is key to remember here that Jhalrapatan is part of the Jhalawar Lok Sabha seat, which is likely why Raje refused to budge, despite the BJP leadership wanting her to change her constituency.
Meanwhile, Congress fielded a fellow Rajput — Manvendra Singh, who yields a considerable influence owing to his political background and caste, to fight against Raje. It has been speculated that his candidature is a calculated bid to gather support from Rajput-Saundhia group.
However, since Manvendra hails from and had previously fought elections from the Barmer-Jaisalmer belt in western Rajasthan, his "outsider status" has become an arrow in BJP's quiver.
"The Congress could not even decide who their CM-face would be and now they are dreaming that a candidate with no social contribution would defeat our chief minister (Raje)," said Vimal Katiyar, BJP's state media in-charge, adding that the saffron will secure a landslide victory in Jhalrapatan, Tonk and Sardarpura.
Tonk
Tonk town in eastern Rajasthan is extremely important in the upcoming elections. Out of the over 2.24 lakh voters in the Tonk constituency, approximately 20 percent are Muslims and 17 percent are SC-ST's. Gujjar stands at 14 percent, Rajputs at 4 percent, Mali at 3 percent and Bhramin-Jat-Bairba's are at 5 percent each among others.
Not only is state Congress chief Sachin Pilot contesting from here, the BJP's only Muslim candidate in the state, Yoonus Khan, has also been fielded from this constituency.
What makes Tonk a game changing constituency is its thriving Muslim and Gujjar populations. Since both communities typically support the Congress government, Pilot would have had an easy win. He has also garnered the support of the erstwhile royal family of Tonk, which bettered his electoral prospects.
However, Khan's candidacy has added a twist in the tale. Therefore, it remains to be seen whether the Muslims would betray Congress. Even if 30 percent of the near 60,000 Muslim voters, switch sides and vote for Khan, then it might prove to be a difficult scenario for Pilot.
Tonk faces a lot of issues, such as unemployment, and lack of industries. The constituency is also facing a serious transport problem as well. The city has no railway link, despite there being a demand for years.
According to reports, drinking water scarcity is also quite severe in the area. Both Tonk city and the villages in the district get drinking water supply on alternate days for a few hours.
"Most days, we get brackish water in supply," News18 quoted one resident as saying. "Drinking water comes on every other day and lasts for an hour at the maximum," he added.
Sardarpura
In Sardarpura, there are a total of  2,27,141 voters, of which 1,17,120 male and 1,10,021 female. Approximately 20 percent are Rajputs, and 18 percent are Mali. Brahmins stand at 5 percent, SC-ST's are at 9 percent, and Kumhar-Jat-Vishnoi's are at 9 percent among others.
Two-time chief minister Ashok Gehlot will be contesting the elections from Sardarpura, a constituency nestled in the heart of the Marwar region of the Thar desert. The AICC general secretary won four consecutive Assembly elections from this seat and has been the legislator in the area for the past two decades.
Meanwhile, the BJP has reposed trust on Shambhu Singh Khetasar, who lost the 2013 elections by over 18,000 votes to the Congress. Khetasar gained media attention after a photograph of him urinating near a wall in Ajmer, right next to a campaign poster featuring Chief Minister Vasundhara Raje, went viral on social media.
According to reports, Khatesar wanted to contest this time from the Osian seat where he came second in the 2008 polls while contesting as an Independent. Osian is 70 kilometres away from Sardarpura.
Of the 11 elections held in Sardarpura formed in 1967, the Congress has won seven times. In the 1998 elections, the Congress got a majority and formed the government.
Shekhawat
Northern Rajasthan's semi-arid Shekhawati region, dominated by the Jat community, comprises Sikar, Jhunjhunu and Churu districts. The Congress party, which won only five of the 21 seats in 2013 after bagging 13 in 2008, is relying on Jat politics in the State as it banks on anti-incumbency against the ruling BJP, The Hindu reported. 
According to reports, 48 percent of the region wants the government to change, whereas 41 percent support the ruling BJP.
Farmers issues are most prominent in the region, including loan waivers, crop prices, and cow vigilantism. "Farmers from Shekhawati played key roles in peasant agitations against the British," Amra Ram, Rajasthan CPM secretary and leader of All India Kisan Sabha, who led a farmers' agitation in Sikar in September 2017, told The Times of India.
"Whenever farmers protested, they have forced governments to reverse decisions. Recently we protested for loan waiver and the government agreed to meet our demands. In 2016, the government increased electricity rates, but backtracked following our protests," said Ram.
Anti-incumbency is also on the rise in the region, which has reflected in opinion polls. Many have suggested a loss for the ruling BJP, citing failure to address the farmers' grievances and unemployment.
Pali
Pali, which lies in southwestern Rajasthan, is the state's largest district, and accounts for 43 Assembly seats and is crucial in the upcoming polls. Other districts in the state include Jodhpur, Jaisalmer, Barmer, Nagaur, Sirohi, and Jalore. Pali comprises Marwar Junction, Bali, Pali, Sojat, Jaitaran and Samerpur constituencies.
The BJP won the Pali seat in the last two Vidhan Sabha elections. The party's Kesa Ram Choudhary defeated Congress' Khushveer Singh in Marwar 2013 by a margin of 13,000 votes.
However, according to a Hindustan Times report, political commentators do not see the BJP having the same luck in the 7 December elections.
"There is anti-incumbency against the Vasundhara Raje government. All sections of the society, including farmers, youngsters, Brahmins, Rajputs, SCs, and Muslims are unhappy with the government for not delivering on promises," Congress leader Rajendra Chaudhary told the newspaper.
Independent MLA Hanuman Beniwal, who is trying to forge a Third Front in Rajasthan's Khinvsar, said it will emerge victorious this time as people are fed up with the Congress and the BJP. "Youth, farmers, traders and all sections want a change. They are tired of the deception by the Congress and the BJP. Both are corrupt and have failed to provide development," says Beniwal.
Apart from the aforementioned regions, Udaipur and Nathdwara constituencies are also witnessing high-profile contests. In Udaipur, Congress has fielded former MLA Girija Vyas against state home minister Gulab Chand Katariya. In Nathdwara, former Rajasthan Congress chief CP Joshi is contesting against Mahesh Pratap Singh.
Click here to read more about the key candidates for the state polls.
Follow all the latest updates from the Telangana Elections here
Follow all the latest updates from the Mizoram Elections here
Follow all the latest updates from the Chhattisgarh Elections here
Follow all the latest updates from the Madhya Pradesh Elections here
Follow all the latest updates from the Rajasthan Elections here
Follow Firstpost's coverage of the 2018 Vidhan Sabha Elections here
Find latest and upcoming tech gadgets online on Tech2 Gadgets. Get technology news, gadgets reviews & ratings. Popular gadgets including laptop, tablet and mobile specifications, features, prices, comparison.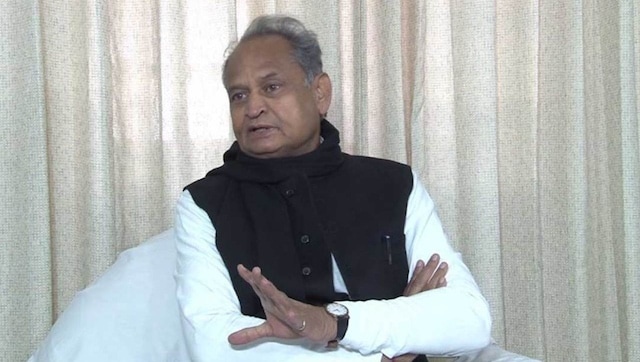 Politics
Decision was taken at the Congress Legislature Party meeting at the Fairmont hotel in Jaipur, where MLAs loyal to Chief Minister Ashok Gehlot are staying since 13 July
Politics
Rahul said this while participating in the Congress' online campaign to expose what it called the BJP's designs to topple the Ashok Gehlot government.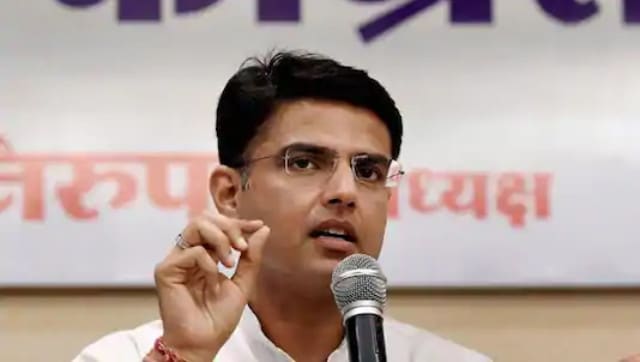 India
Bari MLA Giriraj Singh Malinga had recently claimed he was made that offer at Sachin Pilot's home, by the now-sacked deputy chief minister himself.