Rajasthan polls: Vasundhara Raje clings to Jhalrapatan seat to hold onto Jhalawar, improve son Dushyant's chances in 2019
Jhalrapatan is part of Vasundhara Raje's son Dushyant Singh's Jhalawar Lok Sabha constituency, which is probably why Raje refused to budge despite the BJP leadership wanting her to change her constituency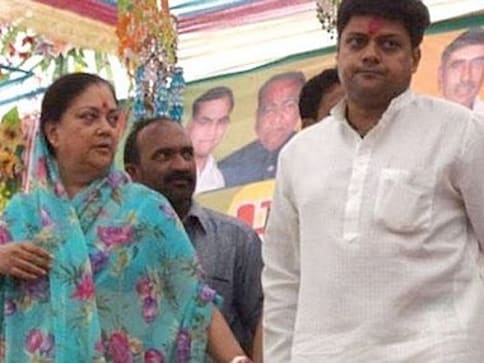 Jaipur: Chief Minister Vasundhara Raje Scindia's decision to contest for a fourth consecutive time from Jhalrapatan constituency immediately led to speculation that she was grooming her son Dushyant Singh to contest the 2019 Lok Sabha  polls.
BJP rebels were quick to hit out at Raje over her decision to continue with Jhalrapatan. Ghanshyam Tiwari, who quit the BJP to form his own outfit, dubs Raje an "outsider, who is bent upon promoting her son's political career". Independent MLA Hanuman Beniwal, also a former BJP man who formed the Rashtriya Loktantrik Party (RLP) and is causing serious problems for both BJP and Congress, said that an insecure Raje would never dare change her constituency.
Congress leader Sachin Pilot also chipped in saying, "The chief minister would get the real taste of electoral politics if she takes up the challenge of shifting to some other constituency."
The contestants in Jhalrapatan are an interesting lot. Raje's main opponent is former BJP leader Jaswant's Singh's son Manvendra Singh who was a surprise Congress choice. Mukul Chaudhary was angling for Congress ticket, but the party refused. Earlier, it was speculated that she may contest the election as an Independent candidate. However, she did not file nomination till the last day. Incidentally, Jhalrapatan is part of Jhalawar Lok Sabha seat, which is probably why Raje refused to budge despite the BJP leadership wanting her to change her constituency.
Dushyant, a two-time MP from Jhalawar, could not get a ministerial berth in the Narendra Modi cabinet which has not gone down well with the Scindia camp. Especially since three other Rajasthan MPs — PP Chaudhary from Pali, Arjun Ram Meghwal from Bikaner and Gajendra Singh Shekhawat from Jodhpur — became ministers.
Raje scotched all speculation of alternate constituencies like Lalsot and Dholpur and a double contest from Lalsot and Jhalrapatan, by quickly filing her nomination papers for the latter. Raje had refused Lalsot despite the fact that voters in the Assembly constituency, which was earlier held by BJP turncoat Kishori Lal Meena, had appealed to Raje to contest from there.
Raje also sprang a surprise by nominating Kirori Lal Meena's wife and former MLA Golma Devi Meena from Lalsot.
Subsequently, the BJP claimed that there was never any speculation about Raje's constituency.
"Some party workers were demanding that Raje contest from Lalsot or nearby constituencies," said BJP state president Madanlal Saini. But this demand was rejected during the first meeting itself, he informs.
"Raje couldn't fight from Lalsot because it is a reserved seat," added political analyst Sanjay Bohra.
"She was expected to fight from Dholpur. However, it was speculated that if she leaves Jhalrapatan, it will appear that she has lost control over Jhalawar. Moreover, the BJP high command had made it clear that no one will be allowed to change seats."
This is despite the fact that Raje contesting from Lalsot would have been a boost for the party in eastern Rajasthan.
Besides Jhalrapatan, Jhalawar district consists of Khanpur and two reserved Assembly constituencies — Manohar Thana and Dag. Long associated with the Gwalior family, the district has a large Rajput population even in the reserved constituencies, with Jats having little or no presence.
Since Dushyant has never been considered close to his Jat father Hemant Singh — he is seen more a Rajput than a Jat — the BJP sees him as the favourite to win Jhalawar seat in the 2019 polls. The chances of his win increases if Raje retains the Jhalrapatan Assembly constituency.
Probably that is why Saini is also determined to have Dushyant contest from Jhalawar. "There is no chance of changing Dushyant," the BJP state president recently said.
Interestingly, Raje and Congress leader Ashok Gehlot, are the only two politicians in Rajasthan who have never changed their constituency. Though Raje's electoral record beats Gehlot's performance hollow —  she won three consecutive Assembly elections in 2003, 2008 and 2013, besides being a Lok Sabha MP for five terms from 1989 to 2003 — Rajasthan has a record of defeating incumbent chief ministers. Ashok Gehlot replaced Bhairon Singh Shekhawat, then Gehlot was toppled by Raje, who then lost to Gehlot till she evened the score in 2013.
The authors are members of 101Reporters.com, a pan-India network of grassroots reporters
also read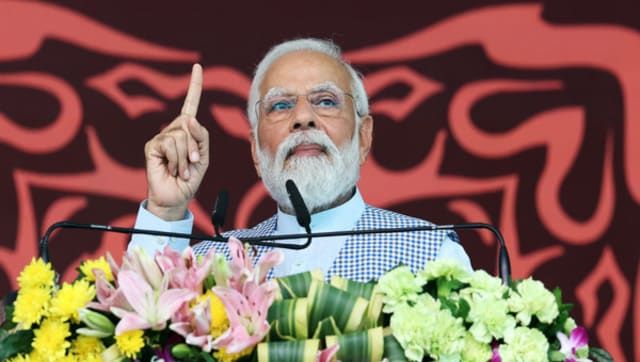 Politics
The rallies will be aimed at winning the 2024 general assembly elections from Uttarakhand by 51 per cent of votes
India
Bommai also urged the government to investigate alleged scams or irregularities that took place during the previous BJP and Congress governments, and let the truth come out
First Cricket News
Firstpost caught up with the Uttar Pradesh-born Dhruv Jurel on his conversations with his idol MS Dhoni, his ambitions and several other aspects.