Rahul Gandhi at LSE says the 2019 elections will be fought between BJP and a united Opposition
Rahul Gandhi yet again lashed out at the BJP and Narendra Modi government during an interaction with students at the London School of Economics.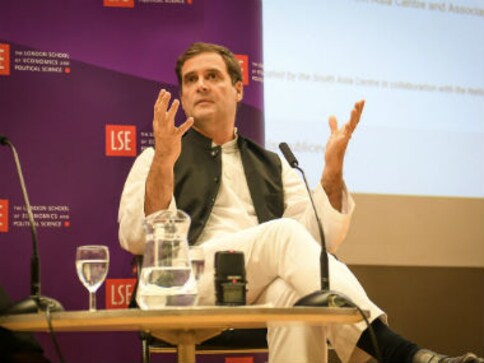 Congress president Rahul Gandhi on Friday yet again lashed out at the BJP and Narendra Modi government during an interaction with students at the London School of Economics.
"The next election is going to be pretty straightforward. It's going to be BJP on one side and the entire Opposition on the other side. Almost everybody on the Opposition, and also some members of the BJP alliance, feel that there is an encroachment taking place on Indian institutions. You saw four Supreme Court judges come out and say that they were not allowed to do their work," said Gandhi.
"There is a feeling in the Opposition that for the first time, an organisation is challenging the very idea of India. We need to defend the inclusive idea of India," he said.
"You can look at the UP and Bihar alliances as the central areas (for a united Opposition)," he added.
"What we are defending is the onslaught on the Indian Constitution. And the entire Opposition sees it as defending the nature of the Indian state," Gandhi said. "Our first priority is to defeat the BJP and stop the poison from being spread."
"We are actually constructing a manifesto for the Congress at the state and national level. We are also talking to allies on what a (united) framework would look like. There are also some parties that are not now aligned with the BJP," Gandhi said.
"I see this as an ideological battle. We are not going to make alliances with anybody who is not on our ideological platform," he added.
On the issue of minority rights, Gandhi said that since everyone in India contributes to its development, everyone needs to benefit.
"There are two big transitions taking place on this planet on a massive scale. There is the movement of Chinese people from their villages into their urban areas. The Chinese have organised it. We have a less organised, more chaotic and more organic structure," he said.
"Whatever we have achieved so far has been achieved on the back of all Indian people. If the whole of India has sacrificed to get us where we are, the whole of India has to benefit," he added.
"You cannot say: We are going to exclude tribals, Dalits, farmers, women. There shouldn't be a single Indian person who should feel that his or her voice is not heard," said the Congress president.
When asked about the strengths, weaknesses, opportunities and threats of the Congress, Gandhi said, "Congress is an idea that is very old. It is not a new idea, similar to the RSS, which is also an old idea. If you read our history, these ideas have been in combat for thousands of years."
"The RSS vision is a top-to-bottom hierarchy where knowledge is centralised. Congress vision is a decentralised structure," he said. "The Congress has this idea embedded deep inside it. You find non-violence in them (Congress leaders)," he added.
"Our weakness is that the Congress is not able to express that idea to people. People struggle to see that idea clearly," Gandhi said. "It's very clear what the BJP, RSS are saying. The RSS has spent a certain amount of time working on that idea. Gandhiji used to do that for us. That's where Congress has not kept pace. But the good news is that the idea is there in Congress."
"Congress has over time closed itself. The Congress needs to open itself. Congress needs to be precise about what it stands for," he added.
"The opportunity for the Congress for me is bringing in millions of Indians youngsters and delivering to them an organisation which empowers them to transform India," Gandhi said.
"Threat in the Congress: arrogance," he said.
"The reason Congress ran intro trouble in 2014 was because we found that there was an internal fight taking place between the old and younger generation. We have worked on that," Gandhi said.
When asked about his views on the 1984 anti-Sikh riots, Gandhi vaguely said that he was strictly against any form of violence.
"I think when Manmohan Singh spoke, he spoke for all of us. As I said earlier, I am a victim of violence. I know what it feels like. I am against any sort of violence," he said. "I condemn that 100 percent. I am 100 percent for punishment for people involved in any sort of violence," he added, after which the crowd broke into applause.
"People who haven't faced violence think that violence is something you see in movies. I have seen people whom I loved very much being killed. I have also seen the person who killed my father being killed and I can say that when I saw Mr Prabhakaran lying on the beaches in Jaffna, when I saw him being humiliated, I felt sorry for him because I saw my father in his place. And I saw his children in my place," said the Congress president.
When asked about dynastic politics, Gandhi said that even though him being part of a political family had helped him enter politics, he still had to struggle and fight elections like any other politician.
"I have fought three elections. So, the term 'dynasty' is not precise because I am actually elected. The important thing is that I operate in a democracy and I work with people. I get attacked by the Opposition, I learn, I react," he said.
"I have thought about some of these things in detail. The most important thing is what you actually bring to the table," he added.
Opinion
Banerjee's efforts were so successful that Viceroy Dufferin left India thoroughly upset and disappointed, and wheezed out his hypocritical contempt against an organisation he had himself helped create
World
The twice-impeached Republican, whose party lost the White House and both chambers of Congress during his term, makes his case for another four years with appearances in New Hampshire and South Carolina
Opinion
The BJP has a distinct advantage over the Opposition which is divided, bereft of any ideology and has poor organisational support