Punjab's drug abuse menace: Politicians are distorting facts, presenting half-truths
One of the key issues, if not the most important one, dominating the discussions around this year's Punjab Assembly election is that of drug abuse.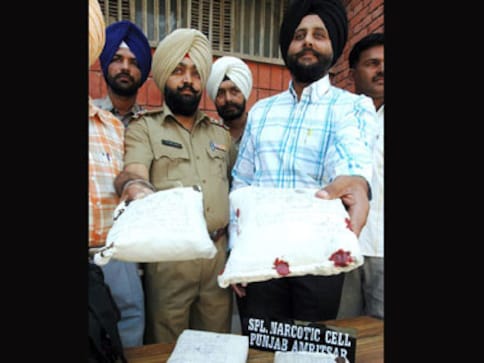 One of the key issues, if not the most important one, dominating the discussions around this year's Punjab Assembly election is that of drug abuse.
While Opposition parties like Congress and Aam Aadmi Party (AAP) are blaming the ruling Shiromani Akali Dal (SAD)-Bharatiya Janata Party (BJP) government for neglecting and even encouraging the rampant drug abuse in the state, the SAD-BJP government is accusing Opposition parties of distorting facts and insulting the youth of the state.
It is a different matter, of course, that much of the mudslinging and claims made by both sides are either false or just partially true. Let's take a look at some of these prominent claims:
Only 0.06 percent of Punjab's population found abusing drugs: Sukhbir Singh Badal
Apart from the fact that the ruling government has been claiming that the drug abuse problem in Punjab is not really as bad as it seems, Punjab deputy chief minister Sukhbir Singh Badal in February 2016 had said that "out of the 2.77 crore population of the state, only 0.06 percent was found abusing drugs, which is the lowest percentage across the nation".
Badal had cited a 2015 study. What he did not mention, however, was that the Punjab Opioid Dependence Survey (PODS), conducted by the Society for Promotion of Youth & Masses (an NGO) in collaboration with the National Drug Dependence Treatment Centre, All India Institute of Medical Sciences (Aiims), was not about all drugs, but just one type of drug — opioids.
The Aiims finding translated to 837 opioid-dependents per 100,000 people in Punjab, or 0.84 percent of the state's 28 million population. This alone is more than three times as much as the corresponding all-India figure for all types of drug dependents, based on a Ministry of Social Justice and Empowerment estimate of three million drug dependents nationwide, which is 250 per 100,000, or 0.25 percent of the Indian population.
This fact alone shows the extent of the drug abuse problem in Punjab, and the extent to which Sukhbir Singh Badal had distorted the facts. Just the number of opioid-dependents in Punjab was estimated to be over three times the number for all types of drugs in the country. By the way, the PODS also mentioned that there may be up to 860,000 opioid users in the state.
On 18 January this year, PTI had reported that till that time, Punjab had witnessed the maximum seizure of drugs worth Rs 1.78 crore (heroine and poppy husk) followed by contraband in Goa valued at Rs 16.72 lakh while such seizures in Manipur amounted to Rs 7 lakh.
An affidavit submitted by Harjit Singh, secretary of the state's Department of Social Security and Women and Child Development — citing a departmental survey — in reply to a petition filed by some drug rehabilitation centres before the Punjab and Haryana High Court in May 2009 had also said that "over 16 percent of Punjab's population is addicted to hard drugs".
Seventy percent of Punjab's youth affected by drugs: Rahul Gandhi
On the other hand, even opposition parties are involved in distortion of facts. Congress vice-president Rahul Gandhi had said earlier in January, "Four years ago, I said that 70 percent of the youth are affected by drugs. Badals made fun of me. Now the whole of Punjab is saying what I had said."
What the PODS revealed, though, is something completely different. "Based upon the analysis of the data, around 76 percent of opioid dependent individuals in Punjab are in the age group of 18 to 35 years," the report had said.
While the survey said that over 70 percent of opoid-dependents were youth in Punjab, Rahul claimed that 70 percent of youth were opoid-dependents in the state.
"Even by the extrapolated figures, Punjab's addiction level falls to somewhere between 10 to 15 percent of its population. That figure too is worrisome, but it is nowhere near Rahul's claim of 70 percent," said this News18 report.
Rajnath Singh blames Pakistan for drug abuse problem in Punjab
"Our neighbouring country Pakistan is definitely doing gadbad (mischief) on this (drug issue)," PTI had quoted Rajnath Singh as saying earlier in January. The home minister had basically held Pakistan responsible for the drug menace in the state.
Now, it is true that a lot of the drugs in Punjab come from Pakistan. "The drug lords from Pakistan have also roped in poor people on Pakistan's side who work in tandem with smugglers and couriers on this side of the border," said this article in Economic and Political Weekly. "Even the goods train ferrying cement into India from Pakistan via the Attari–Wagah route has been frequently used for smuggling heroin. Dozens of Pakistani and Indian peddlers are caught by the BSF every year," the article further said.
But the fact is that the "smugglers and couriers" and "Indian peddlers" in Punjab are also part of the nexus, something which Rajnath Singh did not address.
What is worse is that there have been serious allegations made against people associated with the Punjab chief minister. For example, several criminals in jail over drug charges have named Bikram Majithia as being complicit in drug trade, said the News18 report. Majithia, along with Sukhbir Singh Badal and Punjab Chief Minister Parkash Singh Badal, is understood to be the first line of leadership in SAD.
So, Rajnath was only partially accurate when he said that Pakistan was behind the drug menace in Punjab.
With inputs from agencies
also read
India
Congress leader Rahul Gandhi on Thursday said that Muslim League is a completely secular party and there is nothing non-secular about the outfit, drawing a sharp condemnation from the BJP
Explainers
Sanjeev Maheshwari Jeeva was a dreaded shooter and the aide of gangster-politician Mukhtar Ansari. Hailing from Muzaffarnagar, the 48-year-old worked as a compounder at a clinic before joining the underworld
Explainers
Researchers at the University of Massachusetts Amherst showed that nearly any material can be turned into a device that can harvest electricity from humidity in the air. The discovery has been dubbed the 'generic Air-gen effect'