Punjab Election 2017: After VVPAT snag, repolling ordered at 48 polling stations on 9 February
The Election Commission on Tuesday ordered repolling in 48 polling stations falling in Majitha, Muktsar and Sangrur Assembly segments in Punjab following malfunctioning in the Voter-Verified Audit Paper Trail (VVPAT) EVMs on 4 February
Chandigarh: The Election Commission on Tuesday ordered repolling in 48 polling stations falling in Majitha, Muktsar and Sangrur Assembly segments in Punjab following malfunctioning in the Voter-Verified Audit Paper Trail (VVPAT) EVMs on 4 February. The repolling will take place on 9 February.
Besides, the repolling will also take place at polling stations in Moga and Sardulgarh segments where EVMs displayed the votes polled during mock polls. "The repolling will take place at 48 polling stations because of the malfunctioning in VVPAT on polling day. The repolling will take place on 9 February," Punjab Chief Electoral Officer V K Singh said here on Tuesday.
He said polling stations where the repolling shall take place are in Majitha, Muktsar and Sangrur assembly segments where VVPAT developed snag. Singh further said that repolling would also be held at polling stations in Moga and Sardulgarh Assembly segments. The repolling has been ordered at 32 polling stations of Majitha (12), Muktsar (9), Sangrur (6), Moga (1) and Sardulgarh (4)and 16 polling stations of Amritsar Lok Sabha by-election, official said.
The EC had used VVPAT for the first time in Punjab at 6,668 polling stations in 33 assembly segments and two segments in Amritsar Lok Sabha seats. During the trial 538 VVPATs were replaced while during polling 187 VVPATs were replaced. Polling was affected at 25 polling stations in Majitha and ten each in Sangrur and Muktsar.
The Election Commission had even sought a report from the state election authorities about the malfunctioning of VVPATs which caused delayed in voting. After VVPATs developed snag, AAP national convener and Delhi chief minister had attacked the Election Commission and
tweeted, "Never has any election seen malfunctioning EVMs on such a largescale. Was it mischief done deliberately by or in collusion with EC."
AAP leader Sanjay Singh had even raised the matter with Punjab CEO, demanding extension in time where polling was affected because of VVPAT problem. VVPAT generates a receipt and allow people to verify if the vote went in favour of the candidate against whose name the button was pressed on the EVM.
In New Delhi, a Commission spokesperson said the decision was taken "in order to uphold integrity of electoral process", without specifying.
The poll panel said in some places voter verifiable paper audit trial (VVPAT) machines and EVMs were replaced due to malfunctioning, resulting in interruption of polling.
Out of 24,697 Ballot Units and 24,256 Control units used in Punjab 180 BUs and 184 CUs failed during the poll. This works out to 0.73 percent BUs and 0.76 percent failures during actual poll. In the case of VVPATs which were first time used in 33ACs, out of total of 6293 VVPAT, 255 (4.05 percent) failed  during actual poll.
India
In Bihar, Anju Devi will contest the by-election from Kusheshwar Sthan assembly seat and Chandan Singh from Tarapur, Paswan said.
Politics
Countries such as the United States, Argentina, Russia, Estonia, Thailand and South Korea in the past have utilised the blockchain methods for conducting voting processes for their citizens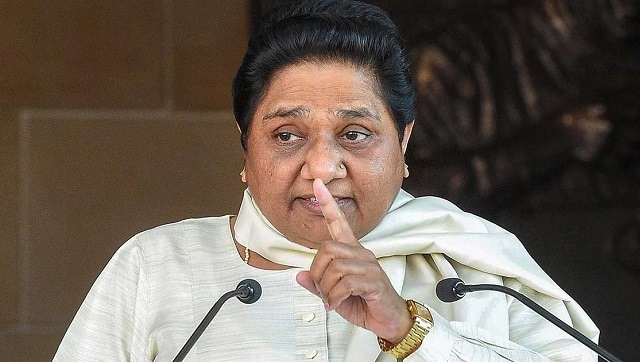 Politics
The BSP's statement is in line with its stated claim that it only gets funds from people with small earnings. The Mayawati-led party has maintained this stand for the past several years.