No-confidence motion: In speech, PM Narendra Modi sets agenda for upcoming polls, points to attack Congress
In his long winding speech, Narendra Modi clearly set the agenda, at least in terms of the talking points for his party vis-à-vis the Congress for the upcoming elections in four states and then in the big bang parliamentary election in 2019
It could be more ironic for the Opposition, particularly for the Congress, that while responding to a no-confidence motion on Friday, Narendra Modi sarcastically told Rahul Gandhi that may Lord Shiva give the Congress president enough strength that he brings another no-confidence motion in 2024, when the term of the next Lok Sabha and the next government would be scheduled to expire.
He said this in the middle of his about an hour-and-a-half speech and then repeated it to conclude his speech. The prime minister was either very confident of himself and his party to return to power in 2019 or he was being a plain optimist to build a favourable public perception and keep the morale of his workers high.
But then politics is about public perception and Modi, the master orator and communicator, was at his characteristic best. So much so that the man who had moved the no-confidence motion K Srinivas of TDP who had the right to make the last comment also acknowledged that during Modi's one-and-half-hour speech he "felt like sitting in a blockbuster movie".
At the end of the 12-hour-long debate, the opposition Congress and TDP sponsored motion was defeated with only 126 members supporting the motion and the government succeeded in getting numbers much beyond the strength of the ruling NDA. A total of 325 members voted in the favour of the government even though the current strength of the NDA is 314. That too when its restrained ally Shiv Sena's 18 members abstained from the debate and the voting. Remember, NDA got 325 votes even when there were just 451 members present in the House and had voted. The winning numbers for Modi and his government was an overwhelming three-forth.
The BJP strategists would go to town and ask its workers to carry the celebratory message across the country that on the conclusion of four years of the Modi government the NDA was getting stronger and the so-called Opposition unity or Mahagathbandhan was a big hoax.
In his long winding speech, Modi clearly set the agenda, at least in terms of the talking points for his party vis-à-vis the Congress for the upcoming elections in four states — Rajasthan, Madhya Pradesh, Chhatisgarh and Mizoram and then in the big bang parliamentary election in next eight months.
Though Modi responded to the issues raised by leaders of various parties sitting in Opposition benches, he especially picked on Rahul with strong point by point rebuttals and also picked on Sonia Gandhi for her reported remark, "who says we don't have the numbers (to throw Modi government out on floor of the House)". He even recalled Sonia's famous 1999 remark, "we have 272 and more are coming". His thrust was that it was the Congress' first family's arrogance that led them to making outlandish statements and claims.
The prime minister began by commenting on the most-talked-about action of the day — Rahul abruptly stopping his speech and hurriedly walking to the other side of the House, to PM Modi's seat, urging him to stand up and finally giving the latter a hug, even as the former kept on sitting on his seat, completely surprised by the move.
"When the discussion had only begun, it had neither concluded and no voting had taken place but he (Rahul) was in a tearing hurry that he came rushing to this side asking me `utho, utho' (get up, get up). He was completely unmindful that nobody can make someone sit at this place, nor can anyone remove someone from this place. One can sit here only with mandate and the blessings of the 125 core people. But he is in such a hurry. His arrogance is such that he says if he stands in the Parliament for 15 minutes I will not be able to stand here. Par main yahan khada bhi hoon aura data bhi hoon (But I am standing here and firmly sticking to that) because of the work that I have done in past four years."
He also ridiculed Rahul's assertion that Modi was afraid of him and thus was not making an eye-to-eye contact with him. The prime minister twisted it by saying how could a `kamdar' (a self-made working class man) look into the eyes of a `namdar' (a dynast). He recounted names of Subash Chandra Bose, Jayaprakash Narayan, Chaudhary Charan Singh, Sardar Vallabhbhai Patel, Chandra Shekhar, Deve Gowda, Pranab Mukherjee and Sharad Pawar, saying look at how Congress's first family treated them. He then commented on Rahul's wink.
From Dokalam to Rafale, the prime minister went on rebutting Rahul charging the latter of "childish attitude" on issues of national importance and security. He did not shy away from displaying his anger for Rahul calling the "surgical strikes" a "jumla strike". He tried to give an emotive pitch by linking it with the valour and morale of the armed forces who displayed extreme bravery and commitment in crossing the border and hitting terrorist hideouts in Pakistan-occupied Kashmir.
Responding to Rahul's other punchline that Modi had turned from a "chaukidar" to a "bhagidar", the prime minister swung it with pride with being a bhagidar with the fate of farmers, workers, students, artisans and the development of the nation.
Rahul and Congress would surely have to find new strategy to launch fresh attacks on Modi.
Find latest and upcoming tech gadgets online on Tech2 Gadgets. Get technology news, gadgets reviews & ratings. Popular gadgets including laptop, tablet and mobile specifications, features, prices, comparison.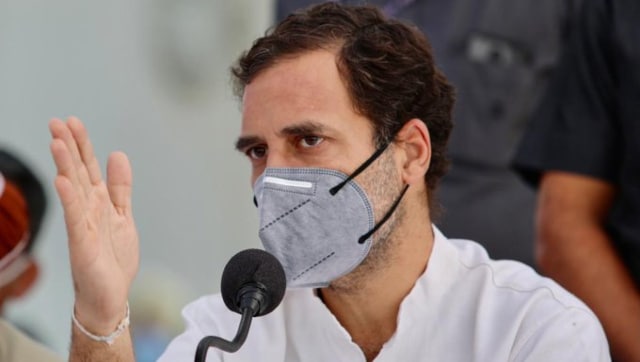 Politics
In a tweet, Prime Minister Narendra Modi had announced that he will address the nation at 6 pm today
India
Bankipur, the seat Luv is contesting, falls in the Patna Sahib Lok Sabha segment, where his father and ex-Union minister Shatrughan Sinha was defeated in the 2019 general election
Politics
The BJP attacked Rahul Gandhi and Priyanka Gandhi Vadra of being selective in cases of atrocities against women and questioned their 'silence' over the alleged rape and killing of a six-year-old girl in Punjab