Nitish Kumar allying with BJP improves his image, ends Bihar's long wait for Centre-state cooperation
Narendra Modi aligning with Nitish Kumar should be seen as the Centre aligning with Bihar; and a confluence of two strong, well-intentioned political leaders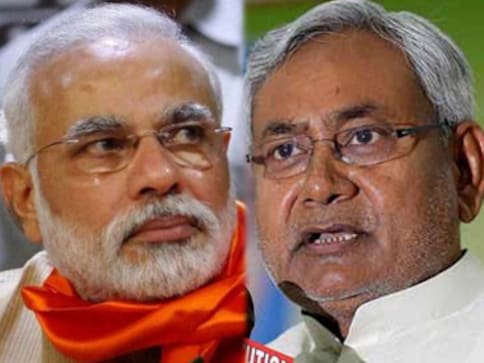 Mincing no words, Bihar chief minister Nitish Kumar on Monday asked whether "secularism means making properties and should only be used to win votes or serve people".
Taking the ongoing debate on secularism and the scathing attack on him for quitting the Mahagathbandhan (grand alliance) government, Nitish turned the entire discussion on its head and gave it a new perspective.
He made it clear that despite his erstwhile partners alleging that he sacrificed secularism by joining hands with BJP, Nitish couldn't compromise by supporting corruption.
Meanwhile, taking a dig at Nitish, RJD Supremo Lalu Prasad Yadav's son and former deputy chief minister Tejashwi Yadav tweeted on Monday morning "congratulating Modi for having a new disciple".
आदरणीय प्रधानमंत्री मोदी जी को हार्दिक बधाई।

भक्तों की संख्या में खुलकर आज एक और नतमस्तक परम शिष्य की एंट्री।

— Tejashwi Yadav (@yadavtejashwi) July 31, 2017
But, ignoring his critics and going a step ahead, Nitish was candid in saying that he had no qualms at being on Prime Minister Narendra Modi's side. He almost made it clear that the 2019 General Election to Lok Sabha would be a repeat show as Modi had already emerged as an 'unchallenged leader'.
"Modiji se muqabla karne ki kshamta kisi mein nahi hai (Nobody has the capability to challenge Modi)," Nitish remarked on Monday.
Without naming Lalu and his family — who have gotten embroiled in a series of cases related to corruption and amassing wealth and properties — but referring clearly to them, Nitish was candid in his statements. He hit out asking if secularism be used as a cover to make illegal properties.
After severing ties with the Mahagathbandhan and forming a new government with BJP's support, Nitish had come under severe attack from his former alliance partners — RJD and Congress — and others, who alleged that the Bihar chief minister had compromised by sacrificing secularism.
That was probably the sole weapon, the opponents (especially Lalu and his son and Bihar's deputy chief minister Tejashwi) had to malign Nitish.
Reams of newsprints have already been spent on articles and columns to prove that Nitish crucified secularism by joining hands with BJP. Many columnists even wrote that supporting a corrupt ally (read RJD) was better than divorcing from a secular alliance called Mahagathbandhan.
While addressing his first press conference on Monday after forming the new government, Nitish said with conviction, "I'm ready to face criticism from a section of intellectuals and columnists...and I had anticipated it...Had I supported corruption (by continuing with the alliance), ten times more number of people would have questioned my credentials, as I never supported corruption."
Whether it was anti-corruption, surgical strikes or note ban, Modi and Nitish have been on the same page. During the period of note ban, Nitish was the first to demand action on benami properties.
Nitish was right, when referring to the Bhagalpur riots incident, he said, "Secularism is an ideology. I don't need anyone's certificate on secularism. I believe in talking less, doing my work. Whether I allied with BJP or any other party, Bihar witnessed development. Whether it was related to giving compensation to Bhagalpur riot victims or developing kabristan (Muslim graveyards) across the state — it's my work that speaks."
The Bhagalpur riots of 1989 were one of the worst Hindu-Muslim riots in post-Independent history that witnessed killing of over 1,000 people in the Bhagalpur district of Bihar.
It was a real test for Nitish as a 'secular leader', who during his previous tenure in an alliance with BJP — as chief minister — had reopened the inquiry and ensured compensation to Muslim victims of the riot, who were ignored by the previous government. His then-ally BJP never objected to it and accepted the decision as a policy of the government.
"Based on recommendations of the inquiry commission, I had ensured that the victims who were ignored must get compensation at par with the victims of the 1984 Sikh riots," Nitish said.
Justifying his decision to quit the Bihar Mahagathbandhan government on the backdrop of the ongoing secular debate, Nitish asserted, "I asked Laluji several times and even Tejashwi, when he came to me after the cabinet meeting, to clarify their stand against the allegations of corruption and the CBI raids. Party supporters may agree to whatever justification you give, but what about the public? They did nothing. No clarification (was given) to (the) people who voted (for) us. Had they done it, things would have been different. The dilemma before me was either to work for the betterment of Bihar or compromise with corruption. I chose the first one. My decision was my party's unanimous decision."
But Nitish also made his stand clear that he is no 'Modi-bhakt', by saying that despite joining hands with BJP, he would back Gopal Krishna Gandhi for the post of vice-president of India. "I stand by the promise I made," Nitish remarked.
Dr Prashant Das, a professor in Lausanne, Switzerland, who originally hails from Patna and had witnessed the previous regimes with Lalu and his wife Rabri Devi as chief ministers of Bihar, told Firstpost, "The first term of Nitish's chief minister-ship positioned him as a harbinger of change. Beyond rhetoric, he showed immense political will to salvage hope for Bihar's constantly declining state of affairs. However, recently, aligning with RJD had significantly diluted his image."
"Modi aligning with Nitish, therefore, should be seen as the Centre aligning with Bihar; and a confluence of two strong, well-intentioned political leaders," Das added.
India
The loss of power, in the third week of August, came as a rude shock for the party which had, less than a month earlier, held with much fanfare a two-day conclave in Patna -- attended by Shah and BJP president JP Nadda
India
A special CBI court in Ranchi on 16 September had allowed Prasad's plea seeking release of his passport
Politics
Tejashwi Yadav also accused the BJP of making false claims and promises and dubbed the party as "Badka Jhuta Party" (big lying party)