Narendra Modi in Gujarat: Highlights of PM's visit to Surat, Silvassa and Botad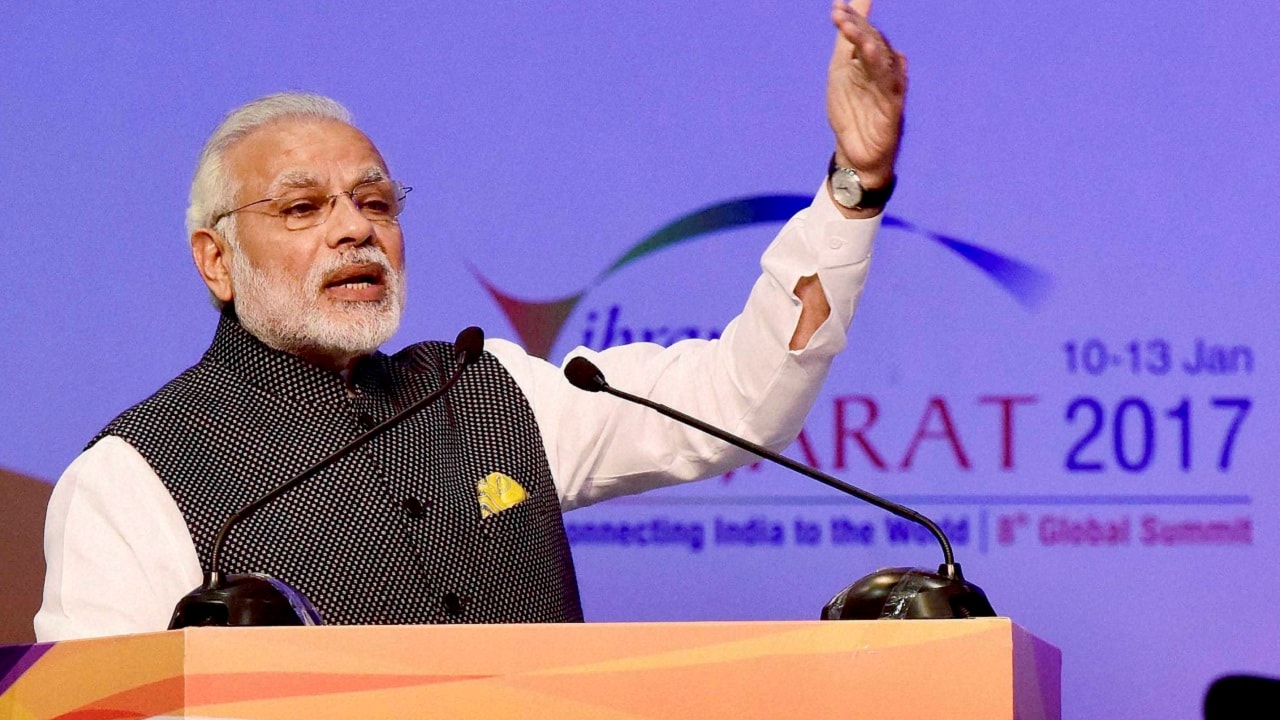 19:52 (IST)

PM Modi says clean drinking water augurs well for a healthier nation

19:35 (IST)

With the chants of 'Narmade, Sarvade' PM Modi completes inauguration

With the chants of 'Narmade, Sarvade' we welcomed water from the Narmada to Botad. pic.twitter.com/xYHyv1cpJE

— Narendra Modi (@narendramodi) April 17, 2017

19:14 (IST)

PM Modi assures farmers that soon technology will help change their lives for the better

We are working on the agriculture sector, invigorating it with new technology so that the income of farmers can be doubled by 2022: PM pic.twitter.com/bWgDi3MHfx

— BJP LIVE (@BJPLive) April 17, 2017

19:09 (IST)

PM Modi tells farmers,"We will need to make drip irrigation a key part of our lives"

Modi calls out to farmers and speaks of the importance of irrigation. Recalling the days of the freedom movement, he also asks the nation to be more grateful.

We did not have the privilege to die for the nation's freedom. But we have the opportunity to live for the nation & serve our people: PM

— BJP LIVE (@BJPLive) April 17, 2017

17:14 (IST)

PM to inaugurate Link-II pipeline canal

PM Narendra Modi will be inaugurating phase-I of the Link-II pipeline canal of the ambitious (SAUNI) Yojna in Botad. The Link-II will release water from the Narmada into 9 dams.

16:19 (IST)

Watch: PM Narendra Modi breaks security protocol, stops entourage to meet a 4-year old girl on his way

#WATCH PM Narendra Modi breaks security protocol to meet a 4-year old girl on his way to inaugurate Kiran Multispeciality Hospital in Surat. pic.twitter.com/vtLuleRMYV

— ANI (@ANI_news) April 17, 2017

15:48 (IST)

This is not a Congress govt but Modi's govt. Here you've to work for public: PM Modi at an event to inaugurate govt projects in Silvassa pic.twitter.com/FlsDc2z76K

— ANI (@ANI_news) April 17, 2017

15:46 (IST)

PM Modi urges people to use BHIM app to claim benefit of various government schemes like gas subsidy

15:37 (IST)

Every Indian must have access to housing facilities: PM Modi

15:35 (IST)

This nation belongs to each and every Indian. There is no question of discrimination against anyone: PM Narendra Modi

15:34 (IST)

PM Modi addersses people in Silvassa, Gujarat


Highlighting the BJP government's work in the Centtre, Modi said, "When we assumed office, I sought details on impact of development schemes in Dadra & Nagar Haveli & we worked on areas needing attention"

15:32 (IST)

PM Modi inaugurates several government projects in Silvassa, Gujarat

14:03 (IST)

PM Modi's Gujarat visit strategically planned to reach out to BJP's disgruntled vote base

The PM's power packed agenda for the day was strategically devised to take within the BJP's fold the disillusioned voters from the patidar community, tribals of the sothern Gujarat and water starved farmers from the Saurashtra region.

he started the day with inaugurating a hospital built by the Patidar community, then he went on to inaugurate a dairy processing plant in a tribal area and he is scheduled to unveil a irrigation facility to pump Narmada water in over 100 dams of the parched Saurashtra region, according to NDTV.

The time was ripe as many developmental projects laid out in this areas during Modi's chief ministerial stint were ready to reap. The prime minister's presence could only further drive home the developmental agenda BJP hopes to encash in the upcoming polls

13:54 (IST)

This is PM Modi's eighth visit to the state in past 9 months

13:04 (IST)

PM Modi inaugurates Sumul Dairy plant at Nava Pardi

The prime minister inaugurated a 25000 litres capacity dairy processing plant that is envisioned to improve cattle rearing prospects for the tribal population in the area.

12:49 (IST)

PM Modi to inaugurate dairy and cattle feed plant in Bajipura

The Prime Minister is headed to Bajipura village in Tapi district to inaugurate a cattle feed plant and ice-cream plant of Sumul Dairy. He will also lay foundation stone for dairy products plant at Nava Pardi.

11:15 (IST)

Modi urges diamond traders to excel in field of gems and jewels as well

Addressing a gathering of diamond merchants at Icchapur, Modi said that Indian diamonds are popular across the world. But the traders in India should now aspire to excel in the gems and jeweler market as well.




11:06 (IST)

Watch PM Modi speaking at the inauguration of diamond polishing unit




10:54 (IST)

India can't be run without people's support: Modi

Prime Minister Narendra Modi on Monday urged all citizens to serve the nation with their hard work and said that India cannot be run by the government without the support of its people.

"Our nation was neither built, nor can it be run by governments, kings and politicians, but only by the service and hard work of its people," Modi said while addressing a public meeting here in Gujarat.

The Prime Minister also said that India always had a culture of service which started fading away after Independence.

IANS

10:40 (IST)

Modi to inaugurate diamond polishing unit in Icchapur shortly

After leaving the venue of the multi speciality hospital in Surat, the prime minister would then head to Hira Bourse SEZ at Icchapur in the district to inaugurate a diamond polishing unit of Hari Krishna Export Private Limited.

10:38 (IST)

I had said that I will also inaugurate projects, of which I lay the foundation stones: Modi

Recalling one of his earlier statements, wherein he had said that he will also inaugurate the project he was laying the foundation of, Modi said that people thought he was arrogant. He said that this was not the case but he merely likes to see whatever job he takes up is finished to the end.


10:31 (IST)

I upset someone or the other everyday with my style of work: Modi




Many pharma firms are unhappy with my decision of cheaper stents, medicines: PM Modi in Surat,Gujarat pic.twitter.com/FwpFg34ZDu

— ANI (@ANI_news) April 17, 2017

10:24 (IST)

After Vajpayee, we brought a healthcare policy in India after 15 years: PM Modi

Addressing a gathering in Surat after inaugurating a philanthropic multi speciality hospital, Modi said that his government values the importance of a healthy society, which is why they are tirelessly working towards it. Modi said that it was his government that has brought in a healthcare policy after a gap of 15 years.

10:19 (IST)

This hospital built on hardwork, family values: PM Modi

"I value hardwork over money... And it doesn't matter whether this project cost Rs 500 crore or 5000 crore, it was built through the hardwork of the people here and it inculcates family values. I wish that no one should need it's services, but in case you do, I will pray that no one has to come here again," Modi said.

10:16 (IST)

Modi recounts healthcare measures taken by Centre

Speaking at the inauguration ceremony of a hospital in Surat, Modi said, "We have fixed the prices for around 700 medicines to ensure affordability for poor." He said that the government will ensure that the doctors prescribes only generic medicines so that monopoly of big medicine outlets can be broken.

10:12 (IST)

Swachh Bharat a part of preventive healthcare initiatives: PM Modi

While the health surveys across world have reinstated the importance of hygiene, no one has paid much attention to preventive healthcare measures in India. He said that his government's Swachh Bharat mission is a part of promoting preventive healthcare habits.

He said he was proud that his Surat has adopted the habit of cleanliness in such a way that they can be an example to other cities.

10:07 (IST)

Modi thanks people of Surat, says your love for me has remained the same

Modi, speaking of his connect with the city, said that people in other areas have probably changed the way they behave with him after he became the prime minister, He, however, said that Surat has always treated him like a family and he loves coming back to the place because it feels like home to him.


10:05 (IST)

PM lauds diamond merchants for building hospital, says these are traits of givers

Lauding the diamond merchants of Surat for undertaking the 500 crore project for people's welfare, Modi said that he was not surprised by what they did. He said that these people have known poverty and the pain of paucity. Therefore they won't sleep at night until they are satisfied that they have done as much as they could for the society.

09:58 (IST)

Was confused whether I should speak in Hindi or Gujarat: Modi

The prime minister, addressing a gathering after inaugurating a multi-speciality hospital in his home state said that he was unsure whether he should address his people in his mother tongue or Hindi. However, he said that he then chose to speak in Hindi because he felt that they have done a big thing and the entire should know about it.

09:53 (IST)

Multi speciality hospital a source of pride for entire Gujarat: Gujarat CM Vijaya Rupani

Lauding the 500 Crore project, the Gujarat chief minister said that the whole state was set up by a chamber of diamond merchants in the state. He said that the BJP government will take healthcare services to each and every village and fulfil the prime minister's dream of a healthy and prosperous Gujarat.

09:35 (IST)

PM to go to Icchapur area to inaugurate a diamond polishing unit of Hari Krishna Export Private Limited

09:28 (IST)

BJP on mission mode for 2019, sets new targets

Keeping its thrust on development agenda, the BJP has embarked on a mission to retain power in 2019, fine-tuning its strategy to woo the poor and a section of Muslims to expand its base. The Prime Minister's Gujarat visit, although is officially to inaugurate a range of projects, it is seen against the backdrop of the assembly elections scheduled to be held later this year.

BJP has never lost a election in the state since 2001 but many percieve that the long-standing unadressed Patel agitation over caste based reservations could dampen the saffron party's winning streak.

09:18 (IST)

PM to have a tight schedule today

Prime Minister Narendra Modi's power packed visit will not only see the PM inaugurate a battery of developmental projects, but the former Gujarat chief minister is also set to reach out to the voters ahead of the state assembly polls.

The BJP has not lost one election since Modi rode to power in the state in 2001 and he seeks to maintain the winning streak.

09:10 (IST)

Watch LIVE telaecast of PM Modi inaugurating Super Speciality Hospital in Surat




08:58 (IST)

PM Modi inaugurates multi specialty hospital in Surat

Prime Minister Narendra Modi inaugurates Kiran Multispeciality Hospital in Surat, Gujarat pic.twitter.com/8AZ8u4rW7H

— ANI (@ANI_news) April 17, 2017

21:38 (IST)

Narendra Modi to meet BJP leaders post dinner | CNN-News18

21:29 (IST)

Narendra Modi's roadshow concludes in Surat | ANI

Gujarat: Prime Minister Narendra Modi's roadshow concludes as he reaches Circuit House in Surat pic.twitter.com/LnPYf63VhG

— ANI (@ANI_news) April 16, 2017

21:24 (IST)

Narendra Modi arrives at Circuit House | CNN-News18

20:56 (IST)

Modi's roadshow arrives at Parle Point | CNN-News18

20:54 (IST)

Narendra Modi will meet BJP leaders in Circuit House | CNN-News18

After the 11-kilometre roadshow from Surat airport to Circuit House, Prime Minister Narendra Modi will meet leaders from the Bharatiya Janata Party. The roadshow has been delayed by nearly half an hour.
Prime Minister Narendra Modi is set to visit his home state of Gujarat on Sunday. The two-day visit assumes significance as the state goes to elections in November this year.
The main highlight of his visit will be a roadshow in Surat. Interestingly, the part of the road from where the prime minister's convoy will pass has been decorated with an 11-kilometre-long sari which depicts the various schemes launched by the government.
Surat (Guj): 11-Km long saree depicting schemes launched by Central Govt displayed on road from Airport to Circuit House ahead of PM's visit pic.twitter.com/6tM1g22cec

— ANI (@ANI_news) April 16, 2017
Modi, who is expected to reach Gujarat at 7 pm on Sunday, and will stay overnight in the city before embarking on a tour across southern Gujarat.  "He is visiting Surat for the first time after the BJP's landslide victory in the Assembly elections in Uttar Pradesh and Uttarakhand. We are very excited to receive him," NDTV quoted state BJP chief Jitu Vaghani as saying.
Later this evening, I will begin my visit to Gujarat as well as Dadra & Nagar Haveli, where I will take part in various programmes tomorrow. — Narendra Modi (@narendramodi) April 16, 2017
The prime minister also tweeted about his itinerary on his official Twitter account. He is expected to inaugurate various welfare schemes and development projects in the BJP-ruled state including inaugurating a multi-speciality hospital.
Tomorrow in Surat, will inaugurate a multi-speciality hospital at Katargam and a diamond manufacturing unit at Ichhapore. — Narendra Modi (@narendramodi) April 16, 2017
At another programme in Bajipura tomorrow, will inaugurate SUMUL cattle field plant & lay foundation stone for other projects at SUMUL Dairy — Narendra Modi (@narendramodi) April 16, 2017
Will lay the foundation of various irrigation schemes & inaugurate a drinking water scheme that will benefit people living in Tapi district. — Narendra Modi (@narendramodi) April 16, 2017
Tomorrow in Botad, will also witness the historic welcoming of the waters of the Narmada into the Krishna Sagar Lake. — Narendra Modi (@narendramodi) April 16, 2017
According to News18, Modi is also expected to go to Hira Bourse SEZ at Icchapur village in Surat district to inaugurate a diamond polishing unit of Hari Krishna Export Private Limited.
Modi's Gujarat visit is crucial to the fortunes of the saffron party ahead of the assembly elections due later this year. The visit is especially important in the backdrop of the two-year-long Patidar agitation for reservations in education and jobs, which many believe may have dampened the BJP's prospects to win 150 seats in the Assembly — a target set by party chief Amit Shah.
The Gujarat visit comes close on the heels of the prime minister's trip to Odisha. Although the visit was organised to participate in the party's national executive meet, the trip was doubled up as a chance to reach out to the people of Odisha, after the state gave the party a surprise win in recently conducted Panchayat polls.
Earlier in the day, the prime minister reached the Lingaraj temple in Bhubaneswar sharp at 9 am to offer his prayers and participate in a special Puja Arati. He offered flowers, bel leaves, milk, coconut water and water to the deity.
The prime minister spent around 25 minutes in the temple premises.
Modi also visited the temple of Goddess Bhubaneswari and Parbati, said Manoranjan Panigrahy, CEO of the Lingaraj Temple Administration.
"The prime minister was so enthusiastic to know about Lingaraj temple. He prayed for the welfare of the nation and 'Swachh Bharat'," said chief priest of the temple.
The BJP is holding its National Executive meeting in Odisha's Bhubaneshwar. The prime minister is also expected to make his concluding remarks during the meeting on Sunday. In the meeting, BJP is said to have decided to make the state "a lab for the Centre's various welfare schemes", with an eye on the 2019 Lok Sabha and Assembly elections in the state.
The new resolution assumes significance as the party has made "Look East" its new component in the run-up to the 2019 Lok Sabha elections in the state as well as neighbouring West Bengal, where Mamata Banerjee-led Trinamool Congress is in power.
With inputs from agencies
Firstpost is now on WhatsApp. For the latest analysis, commentary and news updates, sign up for our WhatsApp services. Just go to Firstpost.com/Whatsapp and hit the Subscribe button.
Updated Date: Apr 17, 2017 20:18:23 IST