Meghalaya exit polls: Congress, NPP emerge as strongest contenders in state Assembly election
The Congress exuded confidence of retaining power in Meghalaya while the BJP and regional parties were equally gung-ho about unseating the ruling party in the northeastern state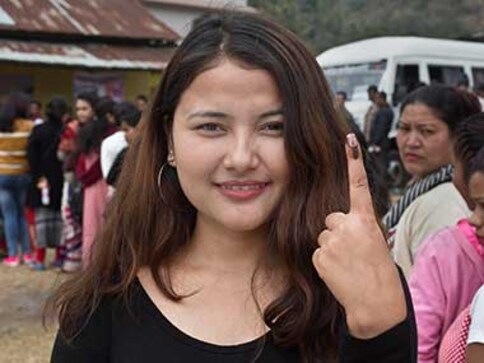 Although BJP went an extra mile to appease the Christian voters in Meghalaya, it's unlikely to form the government in the state by overthrowing Congress, a C-Voter exit poll said. However, ahead of the counting on 3 March both the parties are claiming to do well.
According to the exit poll, Congress will clinch 36.5 percent of the vote, followed by NPP with 29.4 percent. Despite its heavy campaigning, BJP only managed 16.6 percent vote share, while the UDP- HSPDP coalition had an 8.8 percent share and Others clinched 8.7 percent of the vote share.
The exit poll predicts 17 to 23 seats for NPP, 13 to 19 seats for Congress, 8 to 12 for UDP- HSPDP alliance, 4 to 8 seats for BJP and 5 to 9
seats for Others respectively.
The Congress — ruling the state for a decade — fielded candidates in all 60 seats, of which 59 went to polls on Tuesday. Seven of its legislators have since quit and jumped on to the bandwagon of the Bharatiya Janata Party, National People's Party (NPP) and newly floated People's Democratic Front (PDF).
Chief Minister Mukul Sangma, the chief architect of the Congress win on 29 seats in the 2013 elections, said he was confident of increasing the number of its MLAs in the new house. "I don't see any anti-incumbency. Instead, there is so much of pro-incumbency. People of the state have faith and confidence in the Congress," Sangma, Meghalaya's longest-serving chief minister said.
Congress president Rahul Gandhi, who visited Meghalaya twice in the past one month and campaigned in Khasi Hills, Jaintia Hills and Garo Hills regions, had told IANS: "We have the people's support and I am confident we will retain power in Meghalaya."
The BJP, fighting the polls alone by fielding 47 candidates, is equally confident of winning a good number of seats and forming a non-Congress government.
The NPP, an ally of the BJP with two MLAs, is hopeful of increasing the numbers, as five former Congress legislators are contesting on NPP symbol this time.
The combined regional alliance comprising United Democratic Party, Hill State People's Democratic Party and Garo National Council also was gung-ho about electoral victory.
The HSPDP and the UDP forged a pre-poll alliance with 36 seats in Khasi and Jaintia Hills, while the UDP tied up with the Garo National Council for 24 seats in the Garo Hills.
Here is a look at the C-Voter Meghalaya exit poll predictions:
With inputs from agencies
Follow counting of votes in Meghalaya LIVE
Follow counting of votes in the three North East states LIVE
Politics
Senior leaders and members of the Congress Working Committee (CWC) have been carrying out 'PM House ghero' in protest, while party MPs are holding a 'Chalo Rashtrapati Bhavan' from Parliament
Politics
In Delhi, party MPs will hold 'Chalo Rashtrapati Bhavan' from Parliament to register their protest over the issues; CWC members and senior leadership to participate in 'PM House gherao' tomorrow
Explainers
Sources have claimed that Radhakrishna Vikhe Patil, Chandrakant Patil, Girish Mahajan, Sudhir Mungantiwar will be inducted from the BJP camp. Meanwhile, from the Shinde camp, Uday Samant, Dada Bhuse, Sandeepan Bhumre, Sanjay Shirsat and Gulabrao Patil will likely join the cabinet