Meet Tassaduq Hussain Mufti: The reluctant PDP politician in the fray for the Anantnag Parliament seat
This is Tassaduq Hussain Mufti, son of late Mufti Mohammad Sayeed, kickstarting his political campaign for the Anantnag Parliament constituency that has been at the forefront of last year's agitation
Anantnag: The skies are overcast and a small gathering of the ruling Peoples Democratic Party workers are sitting cross-legged in a whitewashed hall of Dak Bungalow in south Kashmir's Anantnag district. An ordinary looking, bespectacled man sporting a French beard is sitting on a sofa, flipping through a maroon notebook, occasionally taking notes, as the speakers present their grievances.
This is Tassaduq Hussain Mufti, son of late Mufti Mohammad Sayeed, kickstarting his political campaign for the Anantnag Parliament constituency that has been at the forefront of last year's agitation following the killing of Hizbul Mujahideen commander Burhan Wani.
A cinematographer by profession, Tassaduq does not even remotely look like a politician. He prefers short and crisp speeches, doesn't make promises the way politicians do during electioneering — perhaps conscious of the political uncertainty outside the venue as he tells his workers to avoid risking their lives for his win. "We will win but not if you play with your lives," he says to loud applause and cheers from the workers. Most people at the venue know that campaigning for a political leader these days is fraught with danger. As the Valley is limping back to normalcy after the 2016 unrest that left close to hundred people dead and thousands injured. Anantnag and neighboring Kulgam were the epicenter of violence and it is here Tassaduq has decided to start his political career.
The only son of the late Jammu and Kashmir chief minister — who passed away last year while in office and paved the way for Mehbooba Mufti, his elder daughter, to become the chief minister, Tasaduq is fighting his maiden battle against the Congress state chief and political heavyweight Ghulam Ahmad Mir. What makes things worse for him is the unrest of 2016, marked by killings and a campaign of pellet-induced blinding of children.
Tassaduq doesn't steer away from facing these realities. A straightforward man who speaks in hushed tones, he minces no words in acknowledging the rage on the streets. "There is a strong reason that people feel the way they feel, in a certain way. I am sure it will have some effect on my candidature. You can't ignore something that has happened so recently,"he tells me as we sit in a corner of a room full of young party workers inside the Dak Banglow.
"It is a new place for me and I am not entirely comfortable. But it is a challenge and I have fought challenges throughout life to be where I am today," he says, "My presence here is to get everyone together and try to fulfil the dreams of my father and I am not reluctant today." The youngest of the four siblings, Tassaduq has hardly lived in Kashmir. He studied cinematography at the American Film Institute in New York. After his first film, Omkara, Ravi K Chandran, one of India's best directors of photography called him one of the "most outstanding cameramen in India".
Throughout life, he has stayed away from his family's political capital in the Valley but was pushed to suspend his artistic ventures, even if temporarily, and join the PDP on Mufti's first death anniversary. That day, he told a huge gathering that he was joining politics because he was inspired by his father's idea of what Kashmir could be like. Now in his first test, it is not going to be an easy ride. However, unlike Omar Abdullah who was buried under the load of expectation, Tasaduq is burden-free, something that can work to his advantage.
"The name 'Tassaduq' means sacrifice and he has made just one by giving up his lucrative and promising career by entering politics. Even if doesn't win this election, you can't doubt his integrity and honesty," Tariq Ahmad Rather, a shopkeeper on the KP Road in Anantnag, says. The Anantnag constituency — which will go to the polls on 9 April — had fallen vacant after PDP chief Mehbooba took over as chief minister. The constituency is spread over four districts, five police districts and 16 Assembly segments with a total of 13,27,638 voters, including 1,495 service voters, for whom 1,635 polling stations in 1,146 locations have been designated.
In public gatherings, most people demand government jobs from him and he politely answers by asking them to develop skills. Women give him handwritten letters; he skims through them and puts them in the left side of his blue blazer. When asked about the majority of people demanding government jobs, he says it is a necessity but other options haven't been explored either. "What has happened so far is that people have been employed without consideration for their skills; it has been going on for a long time and it will take time to set things right," he says.
"It is a sort of anarchy or some kind of chaos that has set in here for many years. I think it is going to take quite a while before the system is put in place and other things work the way they should be. There are government departments that are overstaffed while some are understaffed and most of them have one common problem. They are least concerned about work or have little or no inclination to do what they are supposed to do," he says
Departing from the conflict-loaded terminology, Tassaduq is more interested in nature.
"I talk about ecological restoration because there is great deal of economic opportunity in that. In our country, including Kashmir, you have to travel through a mess to get to some kind of place that is very beautiful and stunning. If you were to create spaces, there will be a great economic opportunity too," he says.
His primary interest is in the environment, ecology and preservation of cultural heritage of Kashmir. Even before he started taking an interest in the politics of the Valley, he was already working with a team of professionals brought from different parts of India and abroad to make suggestions in their fields, including the disposal of solid waste material at Srinagar's Achan dumping site and the Pahalgam tourist spot. He has been also making efforts to preserve Srinagar's Silk Factory, an architectural marvel set-up in 1860s, which is in a state of decay.
As people continue to throng the room, he becomes inaudible. I try to lean towards him to hear more of his plans but it is becoming difficult. I bid him adieu, hoping that the brutal politics of the state don't overcome his passion for unconventional work. Outside, as people struggle to gain entry into his room, I met Mohammad Abdullah Shah. Having lost his 29-year-old banker son who slipped in a canal in Bijbehra last year, Abdullah had come to tell the junior Mufti to help him land a job recommended for his another son by Jammu and Kashmir bank.
"This election, we will see", Shah tells me "whether people will vote for honesty or dishonesty. 'Nixon' as Tassaduq was called during his childhood, is different. He will represent freshness. He will bring truth and dedication into politics."
India
The Congress leader has made trips to Gujarat's Akshardham temple and the Mahakaleshwar temple in Ujjain in the past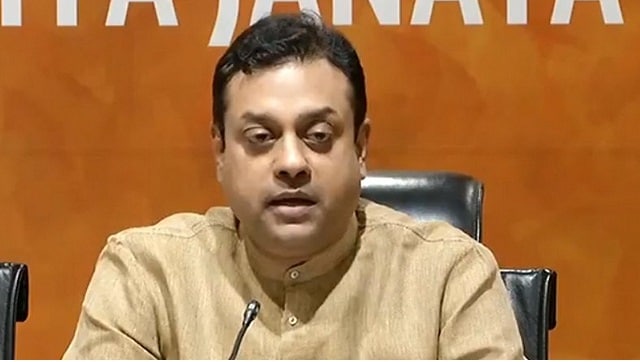 India
BJP national spokesperson Sambit Patra, in a press conference, alleged that the Congress sacrificed not only the Kashmiri Pandits but also the development of the region
Politics
On the socio-political front, the historic step of abrogating Article 370, which came into effect in 1950, and Article 35A, which came into effect in 1954, figures high on the list of achievements