MCD Election Results 2017: India needs the Aam Aadmi Party, but without Arvind Kejriwal
The election results for Municipal Corporation of Delhi have made one thing clear. The Aam Aadmi Party under the leadership of Arvind Kejriwal has lost its sheen. So what lessons does the Aam Aadmi Party need to learn from the stinging defeat in MCD elections?
The election results for Municipal Corporation of Delhi have made one thing clear. The Aam Aadmi Party under the leadership of Arvind Kejriwal has lost its sheen. So what lessons does the Aam Aadmi Party need to learn from the stinging defeat in MCD elections?
AAP needs to learn only one lesson. It is time for the party to disassociate itself from Kejriwal.
When AAP was formed in 2012, it was hailed as a 'people's movement'. It was an unique experiment in 'alternative politics' — a party that claimed to be born out of popular angst and support. Many Indians, who had hitherto shown absolutely no inclination towards politics, had supported AAP wholeheartedly, donating their time, money and expertise. I personally know many people who had taken sabbaticals from their high-paying jobs and professions to work for the party.
They had seen an agent of change in Kejriwal. As I talk to them today, I find many of them severely disillusioned and even disgusted with what Kejriwal has turned into. However, many of them continue to support AAP in the blind optimism that things will change. It is these grassroots workers and supporters of AAP who have to now reclaim the party from Kejriwal.
I have been a vocal and bitter critic of AAP and Kejriwal on more than one occasion, but I honestly think AAP needs to survive. However, it needs to disentangle itself from the web of Kejriwal's personal ambitions. AAP's strength lies in its large base of dedicated volunteers, who are ordinary people from all walks of life. They are not career politicians. For all its faults, AAP did inject idealism into Indian politics when it was formed. It is essential that that idealism stays in Indian politics. Kejriwal has turned the entire party into his PR machinery. It is time for dedicated party volunteers to reject that and steer the party back onto its original course.
The most important reason India still needs a political outfit like AAP is that for a robust democracy to function, one needs a healthy national opposition. Right now the Congress is in the doldrums. A young vibrant Congress without the Gandhis would do India a lot of good, but as the Gandhis are the scotch tape that holds the crumbling Congress edifice together, that is an unlikely scenario. All other parties like the Samajwadi Party, BSP, AIADMK, DMK, TMC and BJD are regional outfits.
There is an empty space on the national political scene that needs to be filled with a credible political alternative. AAP can become that alternative if it sticks to its original goals.
It is true that Kejriwal has been AAP's face right from its inception and it is largely his image that has driven the party so far. But Kejriwal's growing influence has eclipsed everything. He weeded the party of everyone who could have posed a credible alternative to him. Founder members like Yogendra Yadav and Prashant Bhushan were kicked out unceremoniously. Right now, AAP has been reduced to a third rate personality cult. But that is not what it started out to be. If the idea of AAP has to survive, it needs to be reclaimed from Kejriwal.
When AAP won in Delhi in 2015 with an unprecedented majority of 67/70, it seemed invincible and its supreme leader Kejriwal stood tall among competition in Delhi. Congress was a spent force and the BJP's Delhi unit was a rag-tag bunch of leaders who spent most of their time fighting each other. Delhi voters had reposed a lot of faith in Kejriwal, even forgiving him his past sin of resigning from the post of the chief minister. From a 'bhagoda', Kejriwal had turned into the big giant killer!
What happened in two years is a textbook case of disillusionment, disappointment and dissatisfaction. It did not take Kejriwal even half his term to squander away all the goodwill he had earned from the Delhi voters. The reasons for Kejriwal's epic fall are many. His thirst for power, his almost pathological obsession with Prime Minister Narendra Modi, his increasingly bizarre tweets, his daily juvenile confrontations with the lieutenant-governor, his bitter and unhinged criticism of all Central government actions (from surgical strikes to demonetisation) and above all, his complete abandonment of his responsibilities as the Chief Minister of Delhi.
Delhi voters elected AAP with such a brute majority because they believed in Kejriwal's slogan 'Paanch saal Kejriwal'. But in reality, Kejriwal hardly spent even five months in Delhi. He spent his time in office being a social butterfly, by flitting off to Goa and Punjab, by poking his nose into la affaire Rohith Vemula and JNU and by trying to build his image as a credible opposition to Modi in 2019. Delhi taxpayer's money was spent in a PR exercise for Kejriwal by putting out full-page advertisements in newspapers in states as far off as Kerala and Maharashtra. Dubious 'internal surveys' were publicised before the state elections in Goa and Punjab to predict a decisive win. However, nothing worked for Kejriwal at the national level. Goan voters soundly rejected his party and Punjab voters decided to give Congress a chance.
However, not one to be chastised easily, Kejriwal started a shrill narrative of blaming 'doctored EVMs' for his party's defeat. He even took to retweeting fake stories to buttress his argument. But the damage was already done. Even the Delhi voter has lost her enthusiasm for Kejriwal's antics as is obvious from the MCD results. Kejriwal should have had an inkling of the impending disaster from the Rajouri Garden bypoll results. Not only did the BJP wrest the seat from AAP, but AAP was shunted to third place, even behind the Congress, which is all but moribund in Delhi.
Kejriwal continued to be in the state of denial, blaming his candidate for the poll debacle. MCD was the next big challenge. Kejriwal fought MCD polls in his own name.
There was no AAP contesting MCD polls. It was only Kejriwal everywhere.
As his own former colleague and a founder member of AAP, Yadav gleefully pointed out in a letter to Kejriwal, "(Y)ou have converted your popularity into a sort of referendum in MCD elections. Your party is asking votes in your name and even AAP's name is missing from the election hoardings." Yadav also advised Kejriwal to accept the verdict of the people if his party lost in MCD polls and tender his resignation. However, Kejriwal is unlikely to do so on his own. Hence, it is imperative that sensible Aam Aadmi supporters take charge of the party and steer it back to its original purpose.
India needs AAP. But AAP doesn't need a power-hungry leader like Arvind Kejriwal.
India
The ''Mann Ki Baat'' programme is broadcast at 11 am on the last Sunday of each month through various channels of the All India Radio and Doordarshan
India
Prime Minister Narendra Modi in his address to the nation on last Independence Day had announced that a new university would be established in Ladakh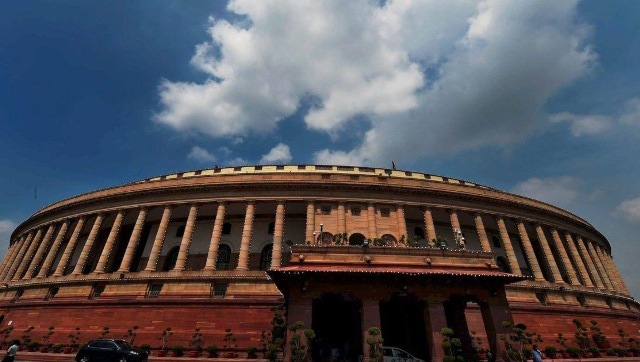 Politics
Monsoon Session of Parliament LATEST News Updates: The prime minister, while introducing ministers in the Rajya Sabha, said, Watch LIVE News, Latest Updates, Live blog, Highlights and Live coverage online at firstpost.com