Chungkham Taratombi Devi is an Indian citizen, a Manipuri and a mother. She is just another woman who many would not have known had her son Chungkham Sanjit Meitei not met with a gory death in a fake encounter on 23 July 2009 in the heart of Imphal.
And Sanjit is not the lone Manipuri whose body was fatally riddled by state-owned bullets in questionable circumstances.
For a state that has been battling insurgency for a long time, the 15 years of Chief Minister Okram Ibobi Singh's rule has been the bloodiest in its history so far when it comes to "administrative liquation", a term coined by the Supreme Court.
The "state-sponsored terrorism" became so frequent that an organisation called Extra Judicial Execution Victim Families Association (EEVFAM) came into being, which along with other bodies filed a case at the apex court seeking justice for the 1,528 victims killed between 1979 and 2012.
According to statistics compiled by Human Rights Alert, which is one of the petitioners in the EEVFAM versus Union of India case, a spike in extrajudicial killings was immediately noticed soon after Ibobi took over as chief minister in 2002.
"It started with 90 killings in 2003 and reached its peak in 2008 with 355 dead in doubtful encounters. The open killing of Sanjit by a Manipur Police commando Thounaojam Herojit Singh upon orders from his senior as confessed by himself is when a huge uproar against this trend started. The case was also filed in the Supreme Court in the same year," said Babloo Loitongbam, director of the Human Rights Alert.
"In Manipur, we have something called Unified Headquarters, that's pretty much in charge of security in the state with the police, paramilitary forces and the Indin Army part of it. Before Ibobi, all other chief ministers resisted such a security structure. But he went ahead with it and these extrajudicial killings just took a quantum leap. Almost 1,200 were killed during Ibobi's three tenures so far," said Loitongbam.
Demand for fresh CBI probe turned down
Sanjit's mother, Devi, wrote a letter to the director, Central Bureau of Investigation on 28 December 2016 with a "request to conduct further investigation on the basis of disclosure made by Shri Thounaojam Herojit Singh".
It's important to remember that the CBI had submitted a charge sheet on 9 September 2010 as well. However, the case took a dramatic turn when Herojit Singh "made an extra-legal confession through print and electronic media stating inter alia that he killed Chungkham Sanjit Meitei on 23 July 2009 as ordered by his superior, Dr Akoijam Jhalajit Singh, the then Additional Superintendent of Police, Imphal West (now holding the post of Superintendent of Police, Imphal East District, Manipur)".
However, the trial court turned down Devi's application for "further investigation" until the investigation agency moves the court itself seeking the same, something that it has not done so far warranting her December 2016 letter to the head of the CBI. It may be mentioned that the Bharatiya Janata Party (BJP)-led Narendra Modi government took office in May 2014, and before that both the centre and the state had a Congress government in power.
"I have been waiting for a positive outcome to my earlier application dated 27 January 2016 to the Superintendent of Police, CBI, Imphal Branch. However, since there is no response, I am constrained to approach your good office to look into the matter afresh and issue necessary directions so that a further investigation into the incident may be ensured," she said in the letter to CBI head.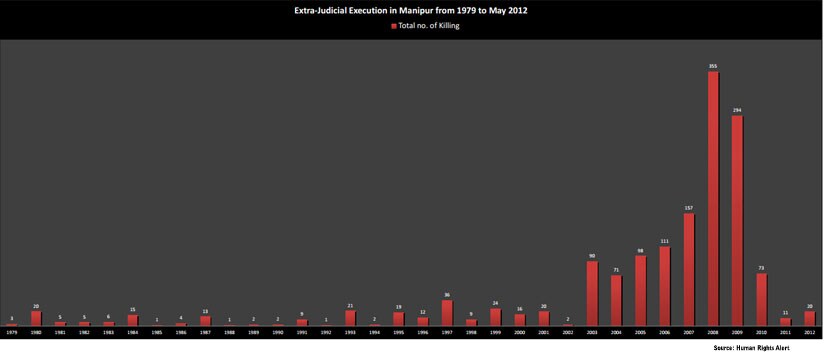 BJP jumps in: Politics on human rights?
According to a source, who did not want to be named, some leaders from Manipur BJP in view of the polls ahead — Manipur's state Assembly goes on polls on 4 and 8 March 2017 — approached the Prime Minister's Office seeking a thorough investigation into the extrajudicial killings during Ibobi's tenure. The letter addressed to the PMO, further wanted that Ibobi, who was also home minister of the state from 2002 to 2012, be sacked from office so that a fair probe can take place. Ibobi will return for a fourth term if elected to power in the upcoming polls.
"The Sanjit case was opened by the accused Herojit himself following his confession. Some of our leaders have 'unofficially' approached the PMO demanding a thorough probe," a senior BJP leader from Manipur told Firstpost on the condition of anonymity.
However, the Congress expressed ignorance about any such move.
"I have no idea. Now the situation is fine," said T Manga Vaiphei, Manipur Congress general secretary and Minister of Public Health Engineering Department, Labour and Employment, in an obvious attempt to steer clear of any controversy ahead of the polls.
This could be largely a political move from the BJP, but the fact is that the blood of many "innocent persons with no criminal record whatsoever" has been spilled on the streets of Manipur. Many of the victims "are later on conveniently labelled as militants", of course, this is not to prove or deny that Sanjit belonged to a banned organisation. But human rights in the state have been the biggest victim, particularly during Ibobi's tenure.
A missing human rights commission
"The situation is so pathetic that the Manipur State Human Rights Commission has hardly any existence. The commission has not been appointed despite a Gauhati High Court order. The Ibobi government has been delaying the process for the last seven years," said Loitongbam.
Even the Supreme Court in its verdict on the EEVFAM petition expressed its displeasure to this end.
"The Manipur State Human Rights Commission is defunct due to the non-appointment of members and non-allocation of resources despite an order of the Manipur Bench of the Gauhati High Court," the apex court said in its judgment.
The role of the Manipur Police in the last 15 years have also become a suspect with the Supreme Court coming down heavily on the force. "As a result of the failure of the Manipur police to register FIR not a single investigation or prosecution has commenced and the cries of anguish of the families of the victims have fallen on deaf ears," the judgment said.
Lamenting at the situation in Manipur, the Supreme Court said, "There is no doubt from the records of the case that Manipur has been and is facing a public order situation equivalent to an internal disturbance. The tragedy is that this situation has continued since 1958 for almost 60 years."
However, the highest court did not agree that a "war-like situation" has been prevailing in the state unlike the contention of both the centre and the state.
"The submission of the learned Attorney General is nothing but a play on words and we reject it and hold that an internal disturbance is not equivalent to or akin to a war-like situation and proceed on the basis that there is no war or war-like situation in Manipur but only an internal disturbance...," it said, making it clear that, "... When the State uses such excessive or retaliatory force leading to death, it is referred to as an extra-judicial killing or an extra-judicial execution...".
Sadly, in this maze of "rightness" or "wrongness" of the killings, apart from the person who got killed many families have got sucked into an unholy trinity of a dark future, insecurity and the travesty of justice.
Young widows of Manipur
For Renu Cakhellamgam, perhaps starting EEVFAM on 11 July 2009, was a moment of hope and despair simultaneously. Her husband Mung Hamzo, who was going through a bad phase due to drug addiction, was shot dead by Manipur Police commandos along with two of his friends hardly half a kilometre from his residence on 6 April 2007. Hamzo was not part of any banned outfit either.
"He was innocent. All I got was Rs 50,000 from a local MLA. The other two families also got Rs 50,000 each. They are done with the judicial inquiry but we are still waiting for a final report. The Armed Forces (Special Powers) Act also known as AFSPA has become a bane for Manipur. (It's) not only Ibobi. So many extrajudicial killings occurred even before his term. It went up during his tenure," said Cakhellamgam, founder president EEVFAM. A former evangelist who now devotes her entire time to EEVFAM, Cakhellamgam has a son who studies at Class 6.
Once known for the beautiful Loktak lake and the famous Sangai deer, has this blood-soaked history robbed Manipur off its charm?
"Manipur is a terrible place. Since the last decade, Manipur has been facing so many problems. Not only the army, the paramilitary forces and the state police are also involved in these extrajudicial killings. In most cases, the army is the mastermind although the trigger is being pulled by the Manipur Police commandos. The forces are getting massive power because of the AFSPA. We can't say we got justice till now," says Neena Ningombam, who lost her husband Nongmaithem Michael in a fake encounter on 4 November 2008 in Imphal.
A mother of two school-going sons, Ningombam now works for EEVFAM full time on an honorary basis while doing other things on the sidelines for her livelihood. She holds a grudge against Ibobi but more so on the women MLAs of Manipur.
"Ibobi's wife (L Landhoni Devi) is also an MLA. But no women MLA ever helped us. Being women they should know our condition better. However, they are too busy maintaining their coterie. The state police never punished the guilty," she said.
Ningombam's husband was a small-time businessman with no connection to any outlawed outfits. Although her husband had called her around 3.30 pm on the fateful day asking her to get in touch with the local superintendent of police for his release, she could never contact him later.
"The officer who apprehended my husband gave me the location where he was kept which was hardly a kilometre away from my home. But when I wanted to speak to my husband later, the phone was never given to him and was later switched off. Even the SP's wife whom we also approached failed to get any information. Later in the evening on the 9 pm news, I saw my husband's dead body claimed to be killed in an encounter 15 km away from my place," Neena said.
She, however, received a compensation of Rs 5 lakh from the state government, an admission that the killing was, in fact, a murder by the state. But that does not give her solace.
"What happened to the affected families? The state and the centre never cared. The culprits are mostly rewarded with promotions. Only a few got suspended briefly. There are so many young widows in Manipur. We are trying to save a generation from getting killed, from becoming widows," Neena said.
Updated Date: Feb 07, 2017 14:59:42 IST