Mamata using Kejriwal to project herself as third front leader; won't hesitate to strike hard bargain with Congress
West Bengal chief minister Mamata Banerjee has smartly used Delhi chief minister Arvind Kejriwal's continuing dharna to place herself in lead position in the proposed federal front.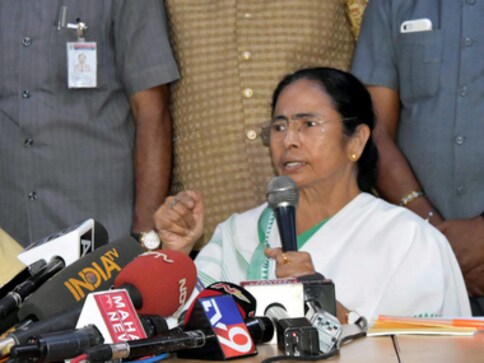 West Bengal chief minister Mamata Banerjee has smartly used Delhi chief minister Arvind Kejriwal's continuing dharna to place herself in lead position in the proposed federal front.
By taking three other chief ministers of varying parties and ideologies — Chandrababu Naidu, HD Kumaraswamy and Pinarayi Vijayan — to express solidarity with Kejriwal's sit-in protest and then jointly taking up the issue with Prime Minister Narendra Modi on the sidelines of NITI Aayog meet, Mamata has sent loaded messages to all concerned, particularly the Congress.
First, she didn't consult Congress leadership, at least publicly, before writing to Delhi lieutenant governor Anil Baijal and the four aforementioned chief ministers visiting Kejriwal's home, meeting his wife Sunita, and conveying the message — both to her and the people at large — that they stood with the Aam Aadmi Party leaders in their fight against Baijal and the Modi government at the Centre. By doing so, Mamata conveyed a vote of no-confidence in the Congress and the grand old party's leadership's claim to be in the fulcrum of any Opposition unity move.
The fact that Congress' newest ally, Karnataka chief minister HD Kumaraswamy, chose to take Mamata's side over its official alliance partner should be a cause for concern for Rahul Gandhi and his team. Kumaraswamy was also seen warmly shaking hands with Modi at the sidelines of the NITI Aayog meet with Mamata, Naidu and Vijayan. That picture has its own connotations. No chief minister of a Congress-ruled state was in sight when the meeting took place.
Second, Mamata's two days of activism in Delhi brought Congress' isolation to the fore. Congress' claims of a Mahagathbandhan or grand alliance lies in tatters, at least for now. The Congress has valid reasons to come out against Kejriwal but liberals and secularists have painted the grand old party as one of the villains of the piece. Their argument goes something like this: If the Congress could play second fiddle to Kumaraswamy to prevent BJP from coming to power, why couldn't it be subservient to Kejriwal in Delhi?
Mamata, on the other hand, seized the initiative and used the NITI Aayog meet and its sidelines to hit national headlines. She portrayed herself as somebody who had capacity to bring top leaders of other regional parties together to fight against the Modi government, both now and in 2019.
Third, in what perhaps was the most interesting aspect of Saturday evening and Sunday afternoon, the presence of Vijayan and Banerjee in the picture of four chief ministers. Within the CPM organisational structure, the Kerala lobby influences policy decisions. Though CPM is still opposing TMC in West Bengal, Mamata and Vijayan coming together has its own implications. In the era of Bahujan Samaj Party-Samajwadi Party and Congress-Janata Dal (Secular) tie-up, possibility of All India Trinamool Congress-Communist Party of India (Marxist) alliance can't be ruled out, and rightly so. If that happens, it would help Mamata further strengthen her position both inside and outside West Bengal.
Fourth, it should be noted that CPM general secretary Sitaram Yechury participated in AAP protests at Mandi House on Sunday. While he sweated it out under the sun along with the AAP and CPM cadre, AAP Rajya Sabha MP Sanjay Singh, riding atop an SUV, introduced Yechury and thanked him for his support.
Fifth, Mamata has, for quite some time been talking of unity of regional forces and has opened a dialogue with Telangana Rashtra Samithi, Telugu Desam Party, Janata Dal (Secular), AAP and others. However, she has not been seen as keen to open a dialogue on substantive issues including a larger Opposition coalition with the Congress. She publicly said she was opposed to the Congress' move to impeach Chief Justice of India Dipak Misra and also indicated that she didn't have confidence in Rahul's leadership.
Even at the grand show of Opposition during Kumaraswamy's oath-taking ceremony in Bengaluru, Mamata seemed more comfortable interacting with regional satraps than Sonia and Rahul. Her photo-op with Sonia, was more at the behest of Mayawati than her own accord or Sonia's initiative. Mamata practically had zero interaction with Rahul, at least on the dais. Mamata also didn't attend the iftar party hosted by Rahul at a five-star hotel in New Delhi.
Is Mamata looking at a non-Congress coalition against Modi-Amit Shah led BJP? It's difficult to find an answer now but she's making it clear she is not willing to play second fiddle to Rahul. Mamata has 34 MPs in the Lok Sabha as opposed to Congress' 44.
Sixth, CNN-News18 reported that Sonia's political secretary Ahmed Patel met Mamata on Sunday after the NITI Aayog meet with a specific agenda: To seek her support for the post of deputy chairman of the Rajya Sabha, which is set to fall vacant once PJ Kurien's term as member of the House ends (the Congress has not renominated him).
The BJP, which would like to have one of its members occupying their post, is the largest party in the Upper House. However, if all Opposition parties align and oppose the BJP candidate, then the ruling party might have a difficult time. Unfortunately for Congress, Mamata (13 MPs in Rajya Sabha) has not assured it of her support.
India
Delhi Chief Minister Arvind Kejriwal turned 54 on 16 August.
Politics
Arvind Kejriwal's Excise policy 2021-22 is believed to be a case study on how to siphon out government money to liquor cartels causing huge loss to the state revenue
Explainers
Sources have claimed that Radhakrishna Vikhe Patil, Chandrakant Patil, Girish Mahajan, Sudhir Mungantiwar will be inducted from the BJP camp. Meanwhile, from the Shinde camp, Uday Samant, Dada Bhuse, Sandeepan Bhumre, Sanjay Shirsat and Gulabrao Patil will likely join the cabinet