Karnataka polls: KPCC chief G Parameshwara says he is willing to be CM, but high command will decide
Karnataka Pradesh Congress Committee (KPCC) president Dr G Parameshwara says he wants to be the chief minister but will respect the high command's decision.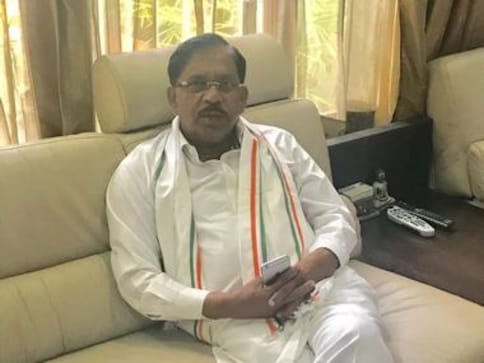 Bengaluru, Karnataka: Karnataka Pradesh Congress Committee (KPCC) president Dr G Parameshwara has had the privilege of working as a minister under three chief ministers – M Veerappa Moily, SM Krishna and Siddaramaiah. He is the longest serving president of the KPCC and a strong contender for the chief minister's post, if the Congress romps home in the state Assembly elections. The staunch Congressman and four-time MLA makes it clear that his objective is to see the Congress retain power in Karnataka, and exudes confidence that his party will get an absolute majority. In an interview with Y Maheswara Reddy of 101Reporters, the KPCC president, who is seeking election from Koratagere, Tumakuru district, explains how Congress is in the forefront and Opposition parties are in bad shape in the state.
There was confusion and chaos while selecting candidates for the state Assembly elections. There were murmurs that children of prominent Congress leaders were being encouraged to contest. What is your opinion?
There may have been a delay or some confusion in selecting candidates. Our objective is to get a majority. We gave preference to candidates who have the potential to win elections, since we need to cross the 113-mark to retain power in the state. We gave only five tickets to children of senior Congress leaders. The number is not huge, and not unusual when it comes to other political parties.
Congress leaders are attacking BJP for selecting candidates known for corruption. BJP leaders are also accusing Congress for selecting 'corrupt' candidates. What is your take on this?
BJP leaders have no programme or action plan other than making baseless allegations against Congress leaders. Let us compare the corruption and loss to the state exchequer during BJP and Congress regimes. The loss is huge during the BJP regime. BJP leaders have no moral right to criticise or make allegations against Congress leaders.
Prime Minister Narendra Modi, while addressing an election rally at Kengeri near Bengaluru, described Bengaluru as 'sin city'. Do you agree with him?
No. I will not accept such irresponsible comments on Bengaluru. Modi has insulted the people of Bengaluru by describing the city as 'sin city'. What crime have we done? Before talking about the law and order situation in Bengaluru, Modi should know what is happening in BJP-ruled states. A rape victim's father dies in police custody in Uttar Pradesh. What do you call it? I want Modi to treat Bengaluru as his own city. I don't know why he wants to show Bengaluru in bad light while the whole world is praising it for its potential in creating jobs and other business opportunities.
Former Prime Minister HD Deve Gowda alleged that the Congress has been trying to take away Muslim voters from the JD(S). Is it true?
How will the Congress take away Muslims from the JD(S)? They are not commodities in a shop. As a political party, we assured them of welfare and security in 2013. Now, we are approaching them with whatever good work we have done for their welfare. It is up to them whether or not to support us. If they like our programmes, they will certainly support Congress candidates. If they are not impressed with our programmes, they will prefer other political parties. I don't know how Deve Gowda made such a statement.
The Congress government had formed a House Committee to probe the scam involving Nandi Infrastructure Corridor Enterprises (NICE) owned by Ashok Kheny, but you gave him a ticket to contest from Bidar. How do you justify it?
It is the responsibility of the people of Bidar either to reject or elect Ashok Kheny. In a democracy, all have the right to contest elections. Let the Election Commission ban Kheny from contesting elections, then no political party selects him as its candidate. I have already made it clear to Kheny that Congress has nothing to do with his business interests. I told him the Congress will not come to his rescue if the judiciary takes action against him. Yes, I agree there are complaints against Congress leaders, but those are negligible compared with the allegations against BJP leaders.
There were rumours that you were defeated because people belonging to a particular community voted your opponent to ensure Siddaramaiah became chief minister. How did you reach out to that community in this election?
It is not true. I got more votes in areas where Kurubas are in a majority. They did not oppose me. The actual hassle was the straight contest between Congress and JD(S). BJP did not field a strong candidate. He got only around 3,000 votes. Had the BJP candidate got more than 10,000 votes, I would have been elected from Koratagere in 2013. Now, I am visiting all segments and meeting all communities. People sympathised with me for not making it to the Assembly in the last elections. They promised to vote for me this time.
You were home minister when the unfortunate New Year's Eve incidents took place in Bengaluru. You attributed them to the city's cosmopolitan culture. Do you still consider this as the cause for crimes against women in Bengaluru?
No, I never said cosmopolitan culture was the cause for the alleged molestation incidents during New Year celebrations in Bengaluru. The police had installed a number of CCTV cameras on MG Road and Brigade Road. No CCTV recorded such incidents. I am of the opinion that no molestation took place that night. The media had misquoted my statement.
What if you are not selected for chief minister's post?
As of now, our focus is to retain power in Karnataka. No Congress leader, including Siddaramaiah, Mallikarjun Kharge or I will claim to become chief minister if Congress returns to power. The Congress high command has directed all of us to work under Siddaramaiah's leadership for the Assembly elections. There is a process to select the candidate for the chief minister's post. The Congress Legislature Party (CLP) will select the candidate and he/she becomes chief minister if the high command agrees with the CLP's selection. I will respect the CLP's selection and obey the Congress high command's decision. Yes, I too want to become chief minister of Karnataka. I too have such ambitions but I am not born only to become the chief minister.
(Maheswara Reddy is a Bengaluru-based freelance writer and a member of 101Reporters.com, a pan-India network of grassroots reporters)
Politics
BJP national president Jagat Prakash Nadda will reach Jaipur on 19 May to hold a meeting with all the general secretaries
Politics
Former MLA and minister in the state Madhwaraj had tendered his resignation from the primary membership of the Congress party earlier in the day
India
PM Modi has time and again reminded everyone that leaders who hold public offices have their first and foremost responsibility to the people who have elected them