Karnataka polls: Congress manifesto a potpourri of time-tested freebies, copies jumlas that helped Modi win 2014
The Congress manifesto, released by party president Rahul Gandhi in Mangaluru, promises to create one crore jobs in Karnataka in the next five years and to give away free cell phones to college-going students in the 18-23 age group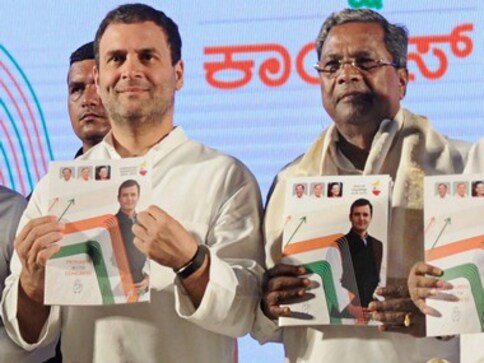 Take BJP's 2014 Lok Sabha election manifesto, drop it in a pot and boil it on low heat. Then add AIADMK's 2016 manifesto and the Congress' 2017 manifesto for Punjab. Stir it well and let it simmer. Now add BJP's 2018 Tripura manifesto and stir it again. Season it with jargon like "inclusive", "participative" and such head-spinning stuff. Serve it hot.
Never mind if the resulting whatchamacallit is a potpourri of old recipes. What you have got is the brand new election manifesto of Congress for next month's Assembly election in Karnataka. But the concoction has two most overpowering aromas: jobs and cell phones. Familiar ringtones? Never mind them either.
Among other things, the Congress manifesto, released by party president Rahul Gandhi in Mangaluru on Friday, promises to create one crore jobs in Karnataka in the next five years and to give away free cell phones to college-going students in the 18-23 age group. Unlike the promise of cell phones, the assurance of jobs leaves one scratching their heads.
Narendra Modi promised two crore jobs every year if voted to power in 2014, but his critics have been pointing out that not even two lakh new jobs have been created since he took over. Gandhi has been asking Modi repeatedly like a stuck record: Where are the jobs you promised?
The question to ask now is: How will Siddaramaiah dish out one crore jobs in his state in five years? By his own admission at an event organised by The New Indian Express in January this year, Siddaramaiah said his government had generated 15 lakh jobs in the last four years.
One crore jobs in five years mean 20 lakh a year, right? So that's more than what he did in all of four years.
If your head begins to spin, hold it. There's more: In July 2017, he said proudly that his government had set itself the target of creating 1.8 lakh jobs by 2020.
How does this target of 1.8 lakh jobs in three years turn into one crore in five years? No prizes for guessing, please. Elections can turn a mouse into a rhinoceros in a minute.
All that the new manifesto said by way of an explanation was that Congress, if voted to power, would kick off programmes for skill development, encourage entrepreneurship and increase the employability of youth.
Congress admirers and Left-leaning intellectuals must already be thumping their chests in triumph. With admiration in their eyes, earlier, they said that Siddaramaiah is paying Modi back with the same coin with his divisive politics. They can now be expected to gloat about Siddaramaiah's promise of jobs, by saying that he has his own jumlas.
And if it's indeed a jumla, it's many times bigger than Modi's since the prime minister's target is for the whole of India whereas Siddaramaiah's is confined to one state. When CPM promised 25 lakh jobs in five years before the 2016 Assembly election in Kerala, nobody, not even Pinarayi Vijayan took it seriously after he became the chief minister. Considering the track record of our governments, you can be reasonably sure that Siddaramaiah's undertaking will be no different.
Competitive foolishness
But if this promise of jobs is the Congress' bizarre way of mocking Modi, the party must be warned that an election manifesto is hardly the place for competitive foolishness.
Other assurances in the ragtag Congress manifesto include:
- Information Technology (IT) will be made a big driver of the state's economy by raising its contribution from the current $60 billion to $300 billion. Apart from being only slightly less difficult than bringing the moon to the Earth, this is an affront to people's intelligence since the state's budget amounts to just $3 billion;
- Free education to all students from Class I to XII in state-run schools. Right now only students from classes I to VII get it in state-run and government-aided schools;
- A statutory income commission to ensure "basic livelihood" for farmers;
- Raising women's share in government employment to 50 percent;
- Restoration of powers to Lokayukta to take up suo motu cases;
- And a proposal to enact a law to deal with vigilantism and moral policing.
But it's the promise of jobs that Congress wants you know is the piece de resistance. Siddaramaiah may pout his lips and ask in his 500-watt baritone: If Modi could win in 2014 by promising jobs, why can't I win by doing ditto? The question is not meant to be answered, just as promises are not meant to be kept.
Nothing to eat? Have a cell phone
And that takes one to another question: if Congress party's own Captain Amarinder Singh could win Punjab Assembly election last year by promising cell phones, why can't the same party's Siddaramaiah repeat the same trick in Karnataka? This is an easy one: Not winning Karnataka, but giving away phones. It's easier than creating a crore of jobs.
Have no doubt about it: the smartphone is the new player in the burlesque of Indian democracy. Nobody knows who holds the original patent for discovering its persuasive role in politics. But we know that in recent years, Jayalalithaa led the cellular rush. She promised free cell phones for all ration card holders before the 2016 Tamil Nadu Assembly election. She won. Then last year, Singh promised to give away free smartphones to those in the 18-35 age group who have passed 10th standard and have an annual household income of less than Rs 6 lakh. He won. Earlier this year, besides giving employment to every household, the BJP promised free smartphones to youth in the run-up to Tripura Assembly election. The BJP won too.
Is it surprising then that Siddaramaiah should tread the cellular path in his desperate attempt to retain power? Losing an election is worse than being called a copycat.
You may now change Marie Antoinette's infamous quip, "If they don't have food, let them eat cake" to "If they don't have food, let them have a 4G smartphone with 4000 mAh battery and 8MP camera".
But Siddaramaiah may argue that he is not letting Kannadigas starve either. He has the Anna Bhagya Scheme that offers free rice to the poor. If re-elected, Siddaramaiah will only be adding cell phones to his already long list of freebies which his government has been doling out.
The bottom line is this: Politics and governance have been made easy like changing a ringtone. Just distribute freebies illegally to voters along with notes for votes before polling. Then when elected, give away some more freebies legally from the taxpayers' money.
India
The prime minister said that his government is committed to linking the suburban areas of Bangalore with better connectivity
Politics
The complaint alleges that Yediyurappa as the then deputy chief minister in 2006 illegally denotified 15 acres and 30 guntas land in Bengaluru's Bellandur and Devarabeesanahalli that was acquired for an IT park
India
The High Court said this in reference to reports that the city civic body, Bruhat Bengaluru Mahanagara Palike, spent Rs 23 crore to repair roads in the city for the Prime Minister's recent visit