Karnataka polls: Siddaramaiah may hide anti-incumbency with bhagya schemes, but can't avoid tough battle ahead
Siddaramaiah should know that a long list of bhagya schemes do not automatically lead to a re-election bhagya for their inventor.
Bekku kannu muchchikondu haalu kudidante.
So goes a Kannada proverb. This means that the cat closes the eyes and drinks milk. The implication is that since the said cat doesn't see anybody, it pretends that nobody sees it.
Similar may be the case of Karnataka chief minister Siddaramaiah, who may have shut his eyes to the anti-incumbency around his Congress government. He doesn't see it; so he pretends nobody sees it.
Either it's this, or Siddaramaiah somehow convinced himself that there is no anti-incumbency, and he will march to the victory post, shouting all the way, 'Hip! Hip! Hurrah! Hurrah!' If there really isn't anti-incumbency, it's a marvellous achievement on his part in a state, which is horribly prone to it and where successive governments fell like trees in Bengaluru rains. Not a single Assembly election in Karnataka since 1985 has returned the incumbent ruling party to power. The 1985 election saw the return of Janata Party's Ramakrishna Hegde as the chief minister for a second time.
Ask Siddaramaiah about anti-incumbency, and he huffs with coy indignation: "What anti-incumbency? Where's it? We'll win." He even seems to believe that there is, though he doesn't call it that, a pro-incumbency tsunami. Pro-incumbency, of course, is love for the government, and anti-incumbency is the opposite of it: hate. And as novelist Nicholas Spars once said: "Love is like the wind, you can't see it but you can feel it." The same thing is true of hate. It's tough to spot either with eyes open or shut.
Despite all this, if Siddaramaiah indeed honestly believes that the Congress suffers no anti-incumbency, it might be because he thinks he has killed it with a variety of populist schemes. If indeed he has done that, he will go down in the history of Indian elections as a master political craftsman who discovered populism as an antidote to anti-incumbency, much like Alexander Fleming stumbled on penicillin in 1928 to kill bacterial infections.
These populist schemes include:
Anna Bhagya (free supply of rice and dal to the poor)
Ksheera Bhagya (milk to schoolchildren)
Shaaddi Bhagya (financial assistance to women of minorities at the time of marriage)
Krishi Bhagya (schemes for farmers)
Vasati Bhagya (cheap homes for the poor)
Arogya Bhagya (free healthcare)
Anila Bhagya (gas)
Shoe-Socks Bhagya (footwear for Class 1 to 10 students)
Pashu Bhagya (subsidized cattle for farmers)
Laptop Bhagya (free laptops for poor students)
And don't forget free dentures for senior citizens and cheap food at Indira Canteens.
Populism vs governance
Eulogising populist shenanigans as "welfare schemes" is like calling a drunk a connoisseur of alcohol. If Congress worthies are to be believed, these schemes help three-quarters of the state's 6.1 crore population, costing the state about half its budget every year.
Each scheme no doubt helps a particular section of the people to some extent, despite the inevitable pilferage and corruption that go with it. But a rash of piecemeal schemes of populism don't amount to governance. If it does, economists ranging from Chanakya to Karl Marx missed it.
Among other things, true governance means building infrastructure, creating jobs and raising living standards without discrimination. Free dole-outs to chosen segments of people, besides making a mockery of governance, amount to a reverse discrimination of the worst kind and turn citizens into lazy freeloaders. And all this comes at great expense of public money which must go into real, long-term creation of wealth for people.
And a long list of bhagya schemes do not automatically lead to a re-election bhagya for their inventor. Many beneficiaries can sponge on free benefits and still cock a snook at the ruling party. I have heard of people who relish a hearty meal at Indira Canteens with a hearty laugh over the gimmickry behind it. Populism alone can't win elections but can influence voter choice in combination with other factors, which include anti-incumbency precipitated by a government's failures on other counts.
A travel through Karnataka or visits to villages do not reveal any signs of a welfare state that the anti-Modi, pro-Congress and pro-Left intellectuals claim Siddaramaiah ushered in. Forget the suicides by some 3,500 farmers in five years, even the roads of Bengaluru are a shameful blot on the city's reputation as a world-class IT hub. That's the stuff anti-incumbency is made of. Opinion polls may be notoriously undependable, but repeated projections of a hung Assembly and a reduced majority for the Congress point to anti-incumbency at work. Among factors that contribute to it are the absence of true governance and development—or people's perceptions of these things.
Corruption is all-pervasive
As for perceptions, the feeling that Karnataka's Congress government is highly corrupt runs deep. The very sight of a road being dug up for repairing a sewerage line brings sniggers from passerby who see corruption in it.
Siddaramaiah may get away with this because this is the kind of corruption, which is all-pervasive but without a major scam exposed, that is neither new nor unique to the state. But even if exposed, corruption alone is rarely the cause for a party's election defeat in India.
If the Congress walks away with victory in Karnataka, it won't be an easy one, and it won't be because of the absence of anti-incumbency. Public perceptions of wrongdoing, if accompanied by other elements including the TINA factor, populism, communal and caste politics, can still ensure that an incumbent returns to power.
Didn't the BJP win the December 2017 election in Gujarat despite anti-incumbency which the Congress had claimed would see its defeat?
Politics
All eyes are on the big meetings in Patna – the one held by Nitish Kumar and the other being attended by the RJD, Congress and other smaller parties at Rabri Devi's residence. If the JD(U) decides to dump the BJP, Grand Alliance 2.0 is inevitable
Politics
Besides the four ministerial berths, the Congress has also sought the post of Speaker of the state Assembly, but Kumar is not keen on awarding that, the sources said.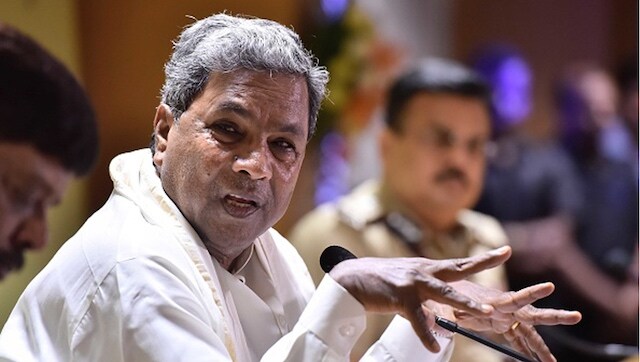 India
Siddarmaiah demanded Bommai's resignation over the deteriorating law and order situation in the southern state. His remarks came in wake of two brutal killings in Mangaluru