J&K by-polls: PDP faces internal turmoil as Shia MLA protests against key Mehbooba Mufti aide
The split within the PDP came to the fore on Friday with party's important Shia leader protesting against Mehbooba Mufti's aide chairing party leaders' meet.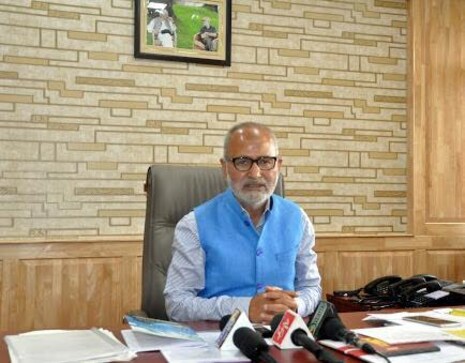 The split within the People's Democratic Party (PDP) came to the fore on Friday as party's influential Shia leader, Abid Hussain Ansari, protested against the presence of Minister for Public Works, Naeem Akhtar, at the party's election review meeting held in Srinagar.
Abid, party's MLA from Zadibal, walked out from the meeting mid-way after he learned that Akhtar, who is also the close aide of Chief Minister Mehbooba Mufti, would be chairing the meeting of MLAs and MLCs. Another party MLC, Saifudin Bhat, also left from the middle of the meeting protesting Akhtar's presence.
Sources said that a meeting of the party leaders including MLAs, Ministers, and MLCs of the three districts of Ganderbal, Srinagar and Budgam was convened at the party headquarter in Srinagar on Friday morning at around 11 am to draw a schedule for campaigning for the upcoming by-polls in Srinagar and Anantnag, but the presence of Akhtar, who is an MLC, irked Abid. He shouted that Akhtar had weakened the party and he can't chair the meeting, when he has no public support and has never fought the elections.
A former bureaucrat, Akhtar, was very close to Mehbooba's father and deceased former Chief Minister, Mufti Mohammad Sayeed, and he even managed to get a cabinet berth in Mehbooba's council of ministers while other elected MLAs were left out.
Former Revenue Minister and Chadoor MLA, Javed Mustafa Mir, also skipped the meeting stating that he was not feeling well. Javed has been critical of the coalition government government, apparently because he was miffed over not receiving a cabinet berth.
Mehbooba has dropped several other MLAs from her Council of Ministers, who had either won crucial constituencies or were ministers in her father's cabinet.
Mohammad Ashraf Mir, who defeated former chief minister and National Conference's (NC) working president, Omar Abdullah from Sonwar Assembly segment and MLA from Noorabad, Abdul Majeed Padroo, also didn't make it to Mehbooba's Council of Ministers.
While Ashraf was Minister of State for Power in Mufti's cabinet, Padroo held the Public Health Engineering (PHE) portfolio and had defeated NC heavyweight, Sakina Itoo, from Noorabad constituency.
NC was mulling fielding Itoo from Anantang parliamentary constituency, but after the NC-Congress pre-poll alliance, Congress state president, GA Mir, filed his nominations on 22 March from the seat. From Srinagar seat NC has fielded former chief minister and party president, Farooq Abdullah, who is pitted against PDP's Nazir Ahmad Khan. Khan had lost the Beerwah assembly election against Omar by a thin margin of 1,000 votes.
The dissensions within the party will significantly affect its electoral performance in the upcoming elections as it is already facing public resentment over the civilian killings in the seven-month-long unrest that was triggered after the killing of Hizbul Mujahideen commander, Burhan Muzafar Wani.
Interestingly, PDP has made Abid's nephew, Imran Ansari the overall incharge for the Srinagar parliamentary seat, who has recently resigned as a minister — apparently because he got a raw deal in the cabinet reshuffle. Imran was the Minister for Sports and was promised a better portfolio by Mehbooba Mufti. However, the chief minister inducted Amirakadal MLA, Altaf Bukhari, as the Education Minister and gave her close aide Akhtar the key PWD Ministry, in a recent reshuffle.
Another Minister, Syed Bashart Bukhari, who was divested of his portfolio as Minister of Revenue and made Minister for Horticulture had also resigned but joined back after he was persuaded by Mehbooba. Sources in PDP said that the Mehbooba had earlier held a meeting with former Deputy Chief Minister and party MP, Muzafar Hussain Baig, and her uncle, Sartaj Madni, before she had carried out the reshuffle.
The party cadre is also miffed with the way Mehbooba was running the party affairs. A senior party leader said that Mehbooba's brother, Tasaduq Mufti, had no political experience and yet he had been preferred as the party candidate on Anantang seat, only for being the son of late Mufti Mohammad Sayeed. Tasaduq recently asked voters not to risk their lives to come and vote for the party.
Meanwhile, the influential Shia leader confirmed that he had protested in the party meeting.
"I protested the presence of Naeem Akhtar in the meeting. He has no public support and he is ruining the party. Most of our party workers are annoyed with him.''
However he added that he would continue to support the PDP and its candidate, Nazir Ahmad Khan. "We have nurtured PDP and we will not allow it to be wrecked by people like Akhtar," he said.
PDP sources say that the support of Ansaris' would be crucial for the election results on Srinagar Lok Sabha seat as they enjoy a significant Shia vote bank. Shias have been traditionally participating in the elections even in Srinagar district, which witnessed low turn out in the previous elections.
PDP sources said that former Minister, Qazi Afzal, who was earlier considered to be the key contender for the Srinagar Lok Sabha seat, is also displeased with Akhtar over his interference in the election activities in Ganderbal. Afzal is the party incharge for Ganderbal district.
Two other ministers, Altaf Bukhari and Asia Naqash also skipped the meet but party sources said that they were both busy in Jammu in connection with the work of their departments. A senior party leader said that the meeting lasted for over one hour in which the details of the election campaigning for Srinagar Lok Sabha seat were discussed.
Srinagar seat will go to polls on 9 April while elections will be held on Anantnag seat on 12 April and the counting of votes on both the seats will be held on 15 April.
also read
India
Union Tourism Minister G K Reddy, Minister of State in the Prime Minister's Office Jitendra Singh, as well as Indian emissary to the G-20 Amitabh Kant, addressed the delgates
World
The G20 meeting delegates also visited Nishat Garden in Srinagar where they dressed in traditional Kashmiri attire and got themselves clicked
India
In a sharp retort, Jammu and Kashmir LG Manoj Sinha said that Pakistan "should make arrangements for food et cetera for its people. It is essential that civic amenities are restored there. India has moved much ahead from concerns like these."