International Women's Day 2017: When RK Roja speaks, her political rivals shiver
RK Roja has been called many unflattering things by her political rivals. But that hasn't stopped her from taking on her adversaries, including TDP supremo Chandrababu Naidu.
Editor's Note: In the run up to International Women's Day on 8 March, we profile little known women in South India who have fought against all odds in their local communities to bring forth change and transformation. While some of these women stand out as shining examples of the power of determination, there are others who must battle misogyny and harassment. With this series, we highlight not just the trials and tribulations faced by women in all walks of life, but also how individual women are triumphing against caste, patriarchy and discrimination. In part eight of the series, read about how actor-turned-politician Roja has now become the Achilles' heel of the Andhra Pradesh CM and TDP supremo Chandrababu Naidu.
RK Roja, 44, is perhaps the only legislator and for that matter a woman celebrity in Andhra Pradesh, who has become a target of derisive lampooning and public ridicule by her own tribe of politicians and policy makers.
Never has any other woman in public life been as abused, mocked and jeered at in public spaces of the state as actor-turned-politician Roja, a mother of two and MLA from Nagari. One of the best examples of such misogyny directed at her is that of Anam Vivekananda Reddy, earlier with the Congress and now with the ruling Telugu Desam Party.
"Roja — Chittoor Bellam — bokka, tulku batting ave (Roja, a jaggery mound of Chittoor — is a rusty old hag)," he said in a television programme in December 2016. "Roja nee noru gabbu (Roja, your mouth is a sewerage)," was his parting shot.
This is not the only crass and misogynistic comment faced by Roja. Here are some others by senior politicians and ministers:
"Roja is definitely an iron leg (sic; 'bad omen'). She had referred to YSR (late Chief Minister YS Rajashekhar Reddy) as a shaneswarudu (God of evil) when in TDP and after she joined Congress, she doomed him (YSR died in a chopper crash in 2009)," said AP minister Bojjala Gopalakrishna Reddy.
"Roja who has acted as a villain in films, is now trying to don the same villain role in Assembly also," says G Butchaiah Chowdhary, a TDP MLA from Rajahmundry.
"It is Roja who has to tour villages with covered windows as it could damage her make-up and not us (ministers)," said Panchayat Raj Minister C Annayya Patrudu.
"Did Roja say Kama CM? May be because of her knowledge about alleged call money sex racket she said it (sic)," said TDP MP JC Diwakar Reddy in the Assembly.
Roja is the first MLA in the legislative history of Andhra Pradesh and perhaps the country, to be suspended for an entire year from the state Assembly in December 2016. "The gravity of the indiscipline warranted stringent action against her. Though she expressed regrets over her behaviour in the earlier session, she did not mend her ways and repeated the same," said AP Assembly Speaker Kodela Sivaprasada Rao at the time, defending his endorsement of the harsh action on a first-time legislator.
The Speaker's action was upheld by the Privileges Committee and also the Ethics Committee of the AP Assembly. But a single judge bench of the AP High Court issued a stay on the action against Roja and directed the AP Assembly to allow her to function as an MLA. The AP government and Speaker refused to honour the court's injunction, preferring instead to file a counter in the Supreme Court.
The apex court, perhaps not wanting to meddle with the privileges of a Legislative Assembly, reversed the lower court verdict and also washed its hands of the entire issue by directing aggrieved legislator Roja to square the issue with the Assembly.  Following the Supreme Court direction, the BJP, which initially felt the action against Roja was 'high-handed', also did not intervene. "We were told that the Roja issue was taken personally by Chandrababu and that we should not intervene," said a senior BJP MP from Telangana.
"This shows that they were scared of criticism despite claims of pioneering women's empowerment and social change movements," says YSR Congress MLA Giddi Eswari.
"Whatever be her personality, Roja did deserve to be heard and participate in social activities as she represented over one lakh voters," says Marxist women activist Payam Padma of Telangana.
Roja was back in the news again in February this year when she was detained at the Gannavaram airport in Vijayawada as she arrived to attend the National Women's Parliamentarians conference. She was put in a room at the airport for an hour and later moved to a police station at Ongole in Prakasam district, 100 km away. The cell phone video from a police escort vehicle shot by her went viral on social media.
Refuting the charges that MLA Roja was kidnapped, as she alleged, DGP of AP N Sambashiva Rao said that she was detained on reliable information that she would stage a "protest drama to embarrass the state government". TDP leader Sobha Hymavati rubbished the allegations that Roja was kidnapped and said that Roja came not as a delegate, but to create a ruckus. The high voltage episode had clouded and shrouded the acidic and sexist remarks of the speaker Kodela Shiv Prasad Rao on the sidelines of the event that "women would be safe like parked cars if they stay at home".
From Film To Politics
Roja sprang to into the limelight in 1991 essaying the lead role in her first film, Prema Thapassu (Penance of Love), shot in the temple town of Tirupati. But today, almost 17 years later, her popularity and fame is due to her alleged hate-mongering.
While in the film industry Roja was known to be a helpful co-star — she assisted fellow actors in dialogue delivery, wardrobe and hair styling. Actors like Mumtaz, Khusbhu and Jayaprada spoke highly of her.
It was TDP supremo Chandrababu Naidu, the present Andhra Chief Minister, who inducted the firebrand Roja into the party, making her president of the women's wing of TDP. Like Renuka Chowdhary of the Congress, Roja came in handy to TDP leaders to slam the Congress party during the 2004 general elections which they lost, as did Roja in her maiden poll fray.
When the TDP lost elections again in 2009 general elections, TDP leaders termed her as an "iron leg". She exited the party and moved to the Congress and later to Jaganmohan Reddy's YSR Congress. In the crucial 2014 polls, Roja surprised everyone by winning the Nagari assembly seat in Chittoor district trouncing veteran, Gali Muddukrishnam Naidu of the TDP.
Ironically it was one-time mentor Chandrababu Naidu who exploited her acidic and bitter tongue to lash out at the Congress and other TDP detractors. She became a firebrand anti-Chandrababu campaigner for YSRC both in and outside AP Assembly once she moved. The TDP leadership became vexed with Roja's rhetoric against Naidu.
In one assembly debate, she dubbed him as 'CM' Chandrababu ("Call Money" Chandrababu) when the House debated the notorious call money racket in Vijayawada town (where women were sexually exploited when they were unable to repay loans).
Roja was a much sought after campaigner for both TDP and Congress due to her spicy rhetoric. But the same party leaders who patted her earlier could not stomach her lampooning them from the other side of the table in the Assembly and targeting Chandrababu Naidu.
It is a matter of relief for Roja that the year-long ban on attending Assembly ended on December 16, 2016 and she is all set to enter the new Assembly premises for the Budget session at Amaravati next week. "I have gone through the worst phase of my political career — ban for one year — for no fault of mine. Even after tendering an apology, the ruling party had targeted me with this kind of ill-treatment, which speaks volumes for the women's empowerment of Chandrababu Naidu," Roja told reporters last week.
[Note: There is a likelihood that Roja's suspension from Assembly could be extended by another year by the Privileges Committee. Roja had not appeared before the Disciplinary Committee of the Assembly to apologise for her comments on TDP MLA V Anitha and her apology was not considered "unconditional and satisfactory" by the Committee. The Committee is likely to submit a report to the Assembly during the Budget session which begins on 7 March, according to sources.]
When in TDP she let loose a fusillade against the Congress and its first family — Sonia Gandhi and Rahul Gandhi — to the delight of Chandrababu Naidu. Similarly, when she was in the Congress she lambasted TDP leaders and Naidu in typical Rayalaseema slang which made them furious.
"Your pants and dhotis will get wet when you see YSR's picture. That is why your (TDP) government has removed the great leader's portrait," said Roja in September 2015 when the TDP MLAs wanted the late Chief Minister YS Rajashekhar Reddy's life-size portrait to be removed from the Assembly lounge.
Earlier, in March 2015, commenting on the hooliganism of some TDP MLAs in the Assembly she said: "What can they do to me? They do not have the guts to rape me. They may either kill me or file a case accusing me of atrocities on SCs and STs. They cannot do anything more than that."
Roja is irrepressible, possibly because she has to be. Her defense is that her utterances flow out effortlessly due to provocation by her political rivals. "Whenever they provoke me, I hit back involuntarily," she says.
Some of Roja's equally acerbic remarks:
"It is not enough to develop the body. You should mature mentally," she told AP Labour Minister K Atcham Naidu.
"I did not beat my husband and go to a police station (to complain) like you (V Anitha, a legislator). I did not sleep with all and sundry (like you)," she said on TDP MLA V Anitha, who later filed a complaint against Roja for abusing a member of a scheduled caste.
"I will give you my sari. Wear it Bonda," she told TDP MLA Bonda Umamaheswar Rao during an Assembly debate.
Asked why she too makes sexist and misogynistic remarks when she claims that she champions the cause of women empowerment, Roja told Firstpost, "I am speaking in colloquial Telugu and I hail from Chittoor district where only such language drives home the point. There is nothing wrong in my comments. Are they vulgar or obscene? It is the TDP MLAs who are directly attacking my personality and making wild allegations."
Asked why she has not approached women organisations or human rights organisations over the abuse directed at her, Roja is very candid. "I am a public personality, both in legislative and also film space. I have lived all these decades by the strength of my personality and do not look for succour from such organised or corporate bargaining."
Asked whether the remarks against her have hurt her personally and also her family, Roja says. "I will be lying if I pretend that they don't. I try to keep my family away from all this. But they all know what I have been going through. They extend their support but also appeal that I should give up politics and return to the normal life of films, cultural activities and family."
Roja says that maybe one day she will give a thought to their wishes and go away from the public glare. Then she smiles and says, "I still have miles to go and achieve certain goals for society."
"When I joined TDP, I came with a vision and stars in my eyes about what all I could do for empowering women all around and strove to campaign for their political reservation, security and also economic independence. That goal is yet to be achieved. So I will remain standing and fight for them as long as I can," she told Firstpost.
On being asked whether the acrimony toward TDP supremo Chandrababu Naidu was personal in any way, Roja replies with a firm no. "It was Chandrababu Naidu who recognised my skills in the political space and gave me chance twice to be in the Assembly. But as time changed, even Chandrababu has become outdated and is heavily dependent on consultants in promoting his personality cult," she said.
They may call her 'motor-mouth' and 'iron leg' but none of that has reduced either the charm or the fan following of this strong woman from Chittoor. Roja is a rage, wherever she goes.
Also read parts one, two, three, four, five, six and seven of the series.
Politics
Before his death, Prasada Sr who had contested and lost against Sonia Gandhi for the leadership of Congress was totally disillusioned with the Congress and Gandhis, in particular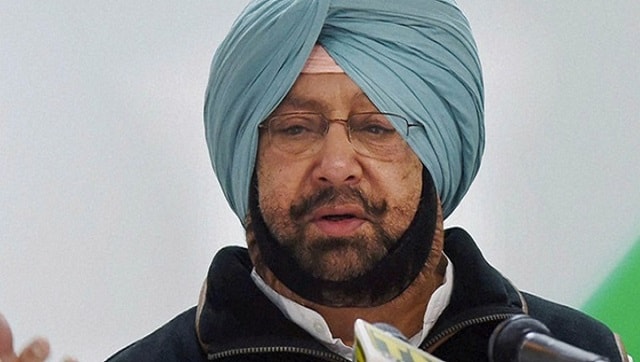 Politics
What appears to be a dispute between Chief Minister Amarinder Singh versus his former Cabinet colleague Navjot Singh Sidhu is turning out to be a conflict within the party with deeper faultlines
Politics
The Congress veteran said the top leadership should make a proper assessment of leaders in the party, asserting that 'one cannot make people leaders when they do not deserve it'