International Women's Day 2017: How S Ranganayaki became Tamil Nadu's water warrior
'Raja Vaaikal' Ranganayaki fought alone for a basic need for her entire village – water – and won
Editor's note: In the run up to International Women's Day on 8 March, we profile little known women in South India who have fought against all odds in their local communities to bring forth change and transformation. While some of these women stand out as shining examples of the power of determination, there are others who must battle misogyny and harassment. With this series, we highlight not just the trials and tribulations faced by women in all walks of life, but also how individual women are triumphing against caste, patriarchy and discrimination. Part I looks at S Ranganayaki, a farmer's widow who brought water to her entire village with her unstinting efforts. 
If not for a series of unfortunate events, from the death of her husband, to a poor agricultural yield, S Ranganayaki may never have become the person she is today. This farmer's widow took a pledge to take care of her family when her husband died, and today an entire community of farmers looks up to her as the woman who brought water to their villages and their lands.
The 'Raja Vaaikal' is a canal that draws water out of the Veeranam Lake, in the Cuddalore District of Tamil Nadu. There are over 30 canals that source water from the lake, but this is the longest, spanning a distance of 9.6 km, and feeding over 1400 acres of agricultural lands, and providing water to over 13 villages.
For decades, there was no water in this canal, depriving the villages and fields surrounding it of fresh water. The single-handed efforts of Ranganayaki, fondly called 'Raja Vaaikal Ranganayaki,' ensured that the canal was desilted and the agricultural yields in the area increased several-fold.
Ranganayaki, 65, hails from the Vadamoor village, around 13 km from the Veeranam Lake. "I thought I was destined to be yet another farmer's wife, but fate had other plans for me," she says. In 1993, her husband died of lung cancer. After his death, she was distraught. "I had three children, including a special needs daughter, to take care of, and we had no income," she explains. She learnt how to manage a farm from her father, and in 2001, she started managing a portion of his lands. With 23 acres to her name, she quickly realised that there was very little water in her village, both for drinking and for irrigation. The source of the problem was a block in the Raja Vaaikal, which carried water from the lake to the villages and the farms.
"When I enquired with other farmers, they all said they could not remember when water last flowed through the canal, and without water supply, the villagers had to travel several kilometers for good drinking water, and the farms were not being irrigated," Ranganayaki explained. Several villages had taken to sinking borewells, but this was not enough for their agricultural needs. This was when Ranganayaki decided to approach the authorities to de-silt the canal.
"I first approached the Public Works Department and submitted a petition to clear the canal," she says. Despite several letters, there was no action from the government, so she decided to take matters into her own hands. For the first year, she used her own tractor and paid for labourers to clear a part of the canal, which would allow water from the lake to reach the villages. "It was harrowing work. We could see a lot of hospital waste, used syringes, waste from nearby slaughterhouses and sewage waste, all blocking the canal. A large chunk of the money I spent went towards medical expenses for the workers," she said. Through her efforts, she managed to de-silt around 3 km of the canal, bringing water to five villages, and to over 400 acres of land.
Eventually, the authorities caught on, and the Cuddalore Collector at the time, Rajendra Ratnoo, sanctioned Rs. 1.75 lakh to clear the canal in 2007-08. "Once that happened, the annual release of water to the Radha Vaaikal during the agricultural season became an official event, with even ministers visiting our village," she says.
Since then, Ranganayaki has become a household name in the Veeranam area. According to R Kaviarasu, a landowner in the nearby Kaduvuli Chavadi village, without the efforts of Ranganayaki, there would have been several farmer suicides in the area over the past 10 years. "We have been suffering because of inaction of the government, and while most farmers are happy to just blame the government, Ranganayaki took matters in her own hands and made a difference," he says. "Most people blame the droughts of this year, but in reality, there have been poor agricultural yields in the past year," he added.
Over the past few years, Ranganayaki has been invited to speak at a number of events. "I am a school dropout, and I only finished Class Seven. To see several professors and other farmers listen to what I have to say makes me realise what I have achieved," she says.
Although she has achieved success in her endeavour, she says that life is still not easy for a woman landowner. "I am a part of a number of agricultural associations, and I was also declared the president of the Veeranam Lake Radha Vaaikal Protection Association, but even today most men find it difficult to accept me as a member," she says. For many of her awards, she has had to sneak away to receive them, and made sure that she does not display them publicly. "There is a lot of misogyny amongst farmers, and sometimes even farm labourers will charge more money to work for a woman," she says.
Despite this, she managed to make a profit from her lands, and it seemed that life was returning to normal. That was when, in 2013, tragedy struck her family again. Her eldest daughter died of cancer, and her son-in-law passed away soon after, leaving their two daughters in Ranganayaki's care. "It took me a while to recover from the death of my daughter, but I think it was a sign from the heavens that something I was doing was wrong," she said.
That was when she decided to cultivate only organic crops in her fields. "I attended a seminar in Chidambaram, where one of the speakers gifted me around 20 kg of organic seeds. It struck me then that pesticides may have caused my daughter's cancer, so I decided to grow only organic crops," she said. She was one of the first in her area to convert entirely to organic produce, and now she donates seeds to nearby farms to ensure that they also make the switch. "Unless the farms around are also organic, it is possible for pesticides to leach into my lands as well. This way, I am helping the entire community," she says.
In the last two years, along with her campaign to turn organic, she also took the lead in uprooting the Karuvelam tree (Prosopsisjuliflora). "A professor I met a couple of years ago explained to me how the Karuvelam tree was causing water bodies to dry up, and so even before the Madras High Court ordered the uprooting of the trees, I ensured that none of the villages along the Radha Vaaikal had any of these trees," she says.
S Shekar, a farmer from a nearby village talks of how Ranganayaki has been a trailblazer. "She is always innovating, and finding ways to turn her losses into profits. Whether it is fighting with the authorities to get water to her village, or roping in local labourers to uproot harmful trees, she is always in the forefront. Even at 65 years of age, she is one of the most active landowners in the area," he says.
Although she has been fighting for the rights of the farmers around her area for the past decade, this year was another bad one for her. "The drought ensured I had almost no yield from my farm. We hoped that Karnataka would send us some water, but that did not happen. The ground water in our villages is drying up, and unless there are rains, the future looks bleak," she said.
Instead of worrying about her problems, she says she is looking for new ways to improve the crop yield, and ensure that her land is fertile again. In the meanwhile, she is fighting for the rights of widows and elderly people in her area. "Many of them do not receive their pensions. Since I know how the government works, I help them get their money," she says. "I want every widow in the country to realise that life does not end with the death of their husband. In fact, that is when they need to find their true purpose in life," she says.
Also read parts two, three, four, five and six of the series.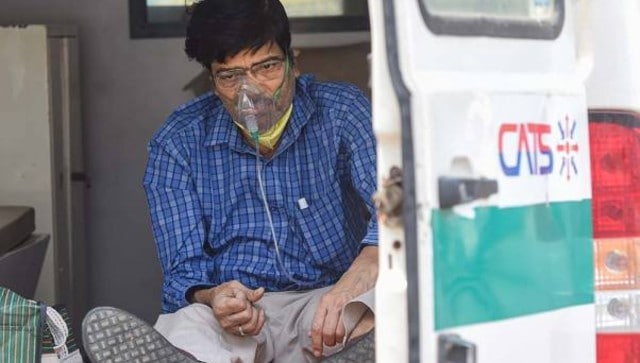 India
Coronavirus in India Latest News LIVE Updates: This, on a day when the newly-elected DMK government announced a full lockdown, set to begin on 10 May and end on 24 May
Politics
In the polls held for the 234-member Assembly, DMK swept past the majority mark to garner 133 seats, while Congress won in 18 constituencies
Politics
DMK won 133 seats and along with allies, including Congress, garnered a total of 159 constituencies in the 234-member Assembly