How the Narada sting dust could trigger Bengal's biggest political sandstorm
Former <em>Tehelka</em> staffers, who spoke on conditions of anonymity, said the timing of the Narada News sting was indeed intriguing.
An investigative journalist whose sting operation had upset the BJP apple cart in 2001 has — strangely — emerged as the party's soulmate in its crusade against the ruling Trinamool Congress (TMC) in Bengal.
And at the heart of the heat that is sweeping Bengal and causing discomfort to many, including the state's feisty Chief Minister Mamata Banerjee, is a bagful of unedited tapes.
Interestingly, it was the same modus operandi journalist Mathew Samuel had adopted 16 years ago: A sting with bundles of cash.
Some of the tapes, duly edited, are already in the public domain. But there are enough, strong indications in Kolkata that some more TMC heavyweights feature in the unedited tapes, which will now be handed over to the CBI, the country's premier investigating agency probing the 2015 scandal.
"Everyone in TMC is living in fear. Delhi had Radia and Essar tapes, Bengal's moment of shame is Narada tapes," says CPM leader Surya Kant Mishra.
"Once the BJP-led NDA government virtually ran Tehelka out of business and Mamata wanted BJP president Bangaru to resign. This time, she is stuck herself because all those on the tapes are her party members. Samuel has provided the perfect fodder for the BJP, he is the apple of their eye."
Among 11 TMC members on the tapes are a former Indian soccer captain and a former union minister. All of them could be arrested if the CBI names them in the FIR.
Currently recuperating from an operation in Kerala, Samuel says he did it for his love of journalism. "This is honest journalism to unearth corruption," he said in a telephonic conversation.
But his set of disbelievers remain as high as they were in 2001, especially after Samuel told the CBI that Rs 80 lakh in cash for the Narada sting came from KD Singh, a controversial businessman-turned-Rajya-Sabha-MP and a much-valued TMC member.
Samuel did not reply when asked why he took cash to conduct the sting from Singh, especially when the practice was in violation of global norms of funded investigative journalism as well as standards set by the Broadcast Editors Association of India — a body of television editors in India. He has not told the CBI whether he conducted the sting while he was with Tehelka or whether it was done post his resignation from the news magazine. He told the agency that at the time of his sting, he had no idea that Singh was a TMC lawmaker and thought Singh belonged to the Jharkhand Mukti Morcha (JMM). Not many are ready to buy his theory because Samuel — as editor of Tehelka — routinely interacted with Singh, the owner. "I will tell CBI whatever information I have to share."
Former Tehelka staffers, who spoke on conditions of anonymity, said the timing of the Narada News sting was indeed intriguing because Tehelka avoided scandals from Bengal because of Singh's connections with TMC. "There must be a strong motive for the sting beyond journalism," said a former staffer.
Sources in Delhi claim Singh allegedly asked Samuel to conduct the sting to show TMC in poor light and earn brownie points with the BJP-led NDA that had — in 2014 — swept to the Centre. He did it so that the Centre would go slow on a host of investigations the government agencies had initiated against Singh and his various companies.
But the move backfired after Samuel spilled the beans, saying cash for the sting came from Singh.
Singh, a Rajya Sabha MP and the controversial promoter behind Tehelka magazine and its shelved Financial World newspaper project, had been in the news for a host of wrong reasons. On the day of his election to the Rajya Sabha on the JMM ticket in July 2010, Singh was snared by a sting operation conducted by investigative portal cobrapost.com that showed he had paid his way into the Upper House of Parliament. His defection from JMM to the Trinamool resulted in violent clashes in Ranchi.
He was, in April 2011, stopped at Delhi airport with Rs 57 lakh cash that was allegedly meant for election funding. Taking a "serious note" of a Trinamool Congress parliamentarian carrying a "large sum of cash" on a flight to poll-bound Assam, the Election Commission had ordered transfer of the Air Intelligence Unit staff of the Income-Tax department on duty at the IGI Airport at that time.
Singh's company the Alchemist Group has been under the scanner of the economic offences wing of the Union home ministry for having artificially rigged the share prices in five companies — Usher Agro, Sel Manufacturing, Dhanus Tech, Pyramid Samira and Resurgere Mines. The probe started because of stakes picked up by two foreign institutional investors (FIIs) — Mavi and Somerset — with links to banned stock market operator Nirmal Kotecha, in Alchemist Realty. Kotecha had been banned from trading on the stock market in 2009 in a forgery scam involving Pyramid Saimira. Market regulator SEBI, aware of charges of share-rigging, is investigating why Alchemist Limited and Alchemist Realty did not make mandatory annual and quarterly account disclosures to the Bombay stock exchange (BSE) and the national stock exchange (NSE).
An official spokesperson from Singh's office said the Rajya Sabha MP will not offer any immediate comments about his involvements in the Narada sting but "will cooperate in all investigations" by Kolkata Police and its CID. "Mr Singh continues to be a member of Rajya Sabha and TMC." Strangely, Alchemist has pulled down all it websites, except its food outlet, Republic of Chicken.
But Kolkata is still on fire, and TMC leaders do not know what has hit them, ostensibly because the infamous 11 members of the Rs 65 lakh Narada sting operation are almost the same as those named as recipients in the Rs 15,000 crore Saradha chit fund scam. Worse, the involvement of an ex-student leader Shankudev Panda, considered extremely close to CM Banerjee, confirmed general perceptions in the city about connections between the party and sleaze cash. The March 2016 video footage, uploaded on the Narada News website, showed a number of high-profile TMC leaders, including former and present ministers, MPs and state lawmakers, receiving money in exchange of favours to a fictitious company. The visuals were quite similar to details listed in the chargesheet filed by the Central Bureau of Investigation (CBI) in its probe into the $6 billion Saradha Chit Fund scam.
Furious that Singh funded the sting against his own party, Banerjee - who had once gone slow on Singh's alleged Ponzi operations in Bengal - has pushed Kolkata Police to form a Special Investigation Team (SIT) to probe Singh, his company and two directors Kumarjit Singh and Pawan Verma using sheets of complaints by people who lost cash in ponzi schemes launched by Alchemist. Interestingly, the SIT has already included Samuel in its investigation because he conducted the sting on TMC leaders.
But there's a catch.
Cash lost in the Alchemist case is abysmally low, estimated at Rs 2.53 crore. And the chances of collateral damage in the CBI probe into the Narada sting is immense, it could even lead to a terrible loss of face for Banerjee and her spotless image in the state.
Worse, Banerjee has already lost the first round.
She had pooh poohed the order of Calcutta High Court judge, Justice Nishita Mhatre, in January when the judge said the Kolkata Police may not be able to conduct an unbiased investigation and that it may be advisable to get a federal agency to conduct the investigation. Banerjee pushed the state's legal representative to appeal in the Supreme Court. Not only was the West Bengal government's plea overruled by the Supreme Court but the bench also chided the Bengal law officer for remarks that the Calcutta judiciary was biased and asked for an unconditional apology. The CM's only relief was that instead of 72 hours, the SC allowed the CBI a month to conduct investigations and file FIRs.
TMC leaders in Kolkata do not know what has hit the party. "This is nothing but BJP's dirty game plan, the rulers of Delhi are trying to destabilise a very popular government in Bengal. Their game plan will not work," TMC leader Kalyan Bandhopadhyay said in an interview.
"Singh has backstabbed the party, he is now working for the BJP because he wants to get rid of all the cases lodged against him in his ponzi schemes and real estate businesses across India. Else, why would he fund a sting against his own party," asked Bandhopadhyay.
The Bengal CM has already rued her decision to include Singh into the party, blaming her move on Singh's association with former Left Front CM Buddhadeb Bhattacharya, considered a downright honest politician by many in the state, also in India. "I saw a picture of Singh with Buddhadeb and thought he (Singh) must be a good man," Banerjee said in her defence.
The move has boomeranged on TMC with Left leaders in Kolkata circulating a host of photographs of Singh with Banerjee's nephew, Abhishek, and other TMC leaders. They even circulated Singh's photographs with BJP leaders like Ravi Shankar Prasad and Piyush Goyal and Congress leader Kumari Selja to prove he was friend of "everyone".
"Mamata Banerjee is trying to save her skin because she is the same Singh who once helped her with cash, and now has put her party in trouble because he wants to get rid of his baggage (investigations against his companies)," says CPM leader Mohammad Salim.
Sitting happily in the middle of what is construed as Bengal's biggest political crisis is the BJP.
On paper, the party has claimed it has no link with Singh and merely welcomed the CBI probe. Under cover, the party has geared up all its machinery to take on TMC once CBI makes its chargesheet public. "I am confident the CBI inquiry will unmask many big TMC players,"says BJP state president Dilip Ghosh.
Till that happens, it will be sleepless nights for the TMC leadership. And also for Samuel in faraway Kochi. The TMC has CBI on its tail, Samuel has TMC on his tail.
He has already complained to the local cops that he feared for his life, and for that of his family members.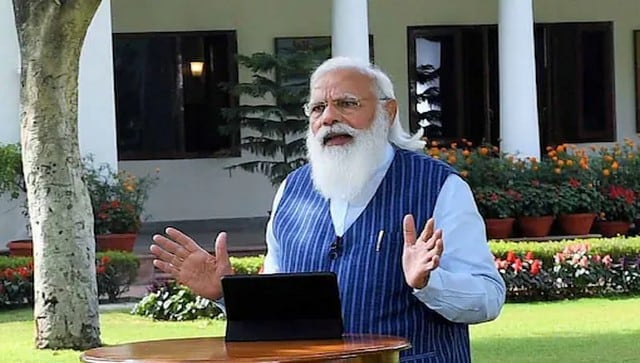 India
Hindus have lost their spirit of Kshatriya-hood. They have become selfish and self-centred, cowering at the very sight of any danger. Yet, it is not too late for them to wake up.
Politics
The Congress' senior election observer said any alliance with smaller parties for the Goa assembly polls is only possible if a party accepts that the Congress will be the pivot of the non-BJP formation.
India
Trinamool Congress spokesperson Kunal Ghosh said that the party wants the safety of minorities in both India and Bangladesh