DK Shivakumar kept Congress' flock together in Karnataka: All you need to know about the Vokkaliga strongman
Congress master strategist and Vokkaliga strongman are just some of the phrases used to describe DK Shivakumar, the man who held the Congress flock together ahead of the crucial trust vote on Saturday.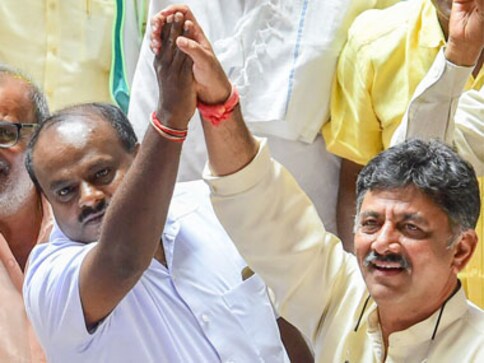 Congress' master strategist and Vokkaliga strongman are just some of the phrases that were used to describe Doddalahalli Kempegowda Shivakumar, the man who stood victorious as BJP's BS Yeddyurappa announced his resignation as chief minister on Saturday, a mere 55 hours after he took oath of office.
The next day, several media reports touted DK Shivakumar — DK or DKS as he is known within the Karnataka political circle — as Congress' point person for the alliance, the man who checkmated Amit Shah, the man of the match and the man who kept Congress' flock together in Karnataka.
He has expressed his chief ministerial aspirations since a long time, and reports suggest he is unlikely to be placated with a ministerial or deputy chief minister's post in a government headed by JD(S) leader HD Kumaraswamy.
With more than 30 years of political experience, Shivakumar was responsible for ensuring all Congress MLAs remained together to ensure a victory for the party in the scenario of a trust vote. He also ferried them to and from Hyderabad where all the 78 elected MLAs were holed up in a resort.
Involved in politics since college days
Hailing from an agricultural family in Kanakapura, the senior Congress leader made his foray into politics during his college days in Bengaluru, when he landed a leadership role in the Youth Congress, according to The News Minute. Shivakumar was the Karnataka State Youth Congress general secretary between 1983 and 1985. He made his political debut as a legislator when he was elected to the Zilla Panchayat in 1987.
First Assembly victory in 1989
During the 1989 elections, Shivakumar won his first Assembly election as an independent candidate from Sathnur Assembly constituency in Kanakapura taluk, defeating former prime minister HD Deve Gowda, and came to be known as the 'Tiger of Sathnur'. In 1990, he was appointed junior minister for prisons and homeguards when S Bangarappa became Karnataka chief minister. Even though the portfolio was insignificant, Shivakumar was noticed for his leadership skills and hard work at the age of 29.
When fellow Vokkaliga SM Krishna became chief minister in 1999, Shivakumar was made urban development minister. However, in the Congress-JD(S) alliance in 2004, Shivakumar was kept out of the ranks.
When Siddaramaiah came to power in 2013, he too kept his distance from the Congress leader. Shivakumar was eventually made power minister in January 2014.
Political rivalry with HD Deve Gowda
This seven-time MLA first went up against veteran politician HD Deve Gowda in Sathnur at the age of 25, and lost by a thin margin. His rivalry with the Gowda family began that time and sustained over the years.
In the 2002 Lok Sabha bypolls, Shivakumar lost to Deve Gowda but rose to fame again in the 2004 Lok Sabha general election, when he fielded newbie television journalist-turned-politician Tejaswini Sriramesh against the JD(S) supremo in Kanakapura, News18 reported. She won the polls by a landslide and cemented the trust of the Congress leadership in Delhi.
Richest Congress nominee in 2018 Assembly polls
Shivakumar emerged as richest nominee for the 2018 Assembly polls when he declared combined assets worth over Rs 700 crore in his poll affidavit. According to the nomination papers filed at the Kanakapura Assembly segment in Ramanagara district, about 55 kilometres from Bengaluru, Shivakumar, 55, declared his income and assets and that of his wife, Usha's, to be Rs 730 crore.
The Congress leader's income and assets have nearly tripled since the 2013 Assembly elections, when he had declared assets valued at Rs 251 crore.
Through the affidavit, Shivakumar declared cash and bank deposits worth Rs 95 crore, immovable assets including commercial buildings and land valued at over Rs 635.8 crore and gold, diamonds, and silver valued at over Rs 1.5 crore, among other assets.
Four criminal cases
According to myneta.info, Shivakumar has four criminal cases pending against him related to forgery, corruption, destruction of evidence, criminal conspiracy, etc. In 2017, the Income Tax department raided 64 locations connected to him in a tax evasion case, which reportedly unearthed crores of undeclared income.
No stranger to 'resort politics'
This wasn't the first time Shivakumar emerged as a crisis manager for the Congress. In June 2002, Vilasrao Deshmukh sent his MLAs to Mysuru amidst a political crisis in Maharashtra. Around 71 MLAs from Congress, NCP and a few Independents scuttled to a resort in Mysuru. It was Shivakumar who transported all of them back to Mumbai for the trust vote and ensured they cleared it.
Most recently, in August 2017, Shivakumar hosted Congress president Sonia Gandhi's close aide Ahmed Patel, at the Eagleton resort in Bengaluru. Patel was seeking re-election to Rajya Sabha. However, after a number of Congress MLAs defected to BJP, the party shepherded 44 of its MLAs to the resort, to prevent further possibility of horse-trading. This was just a week after he was embroiled in Income Tax raids against him.
Patel was narrowly re-elected after two Congress MLAs who flashed their ballot papers were disqualified by the Election Commission.
With inputs from PTI
also read
Explainers
Elon Musk's brain-computer interface company Neuralink has received approval from the FDA to conduct its first in-human clinical study. The firm wants to put coin-sized implants into human beings, which will allow people with paralysis regain motor function, restore vision, and treat brain diseases
Explainers
A shortage of over a dozen drugs has forced cancer treatment centres in the United States to switch medication for patients and even delay care. Experts say America is going through a 'public health crisis' and a rethink of the entire market for generic drugs is needed
Explainers
A new survey published in The Lancet Diabetes & Endocrinology journal estimates that over 11 per cent of people across India suffer from diabetes. Experts say diabetes is no longer a disease of the affluent and those in cities and warned that patients are getting younger and younger