Karnataka Election Result: As Congress-JD(S) MLAs head to Eagleton 'hideout'; a look at growing trend of 'resort politics'
Recent developments in Karnataka lay credence to a growing trend of party leaders carting their MLAs off to 'guarded' resorts in the face of a floor test.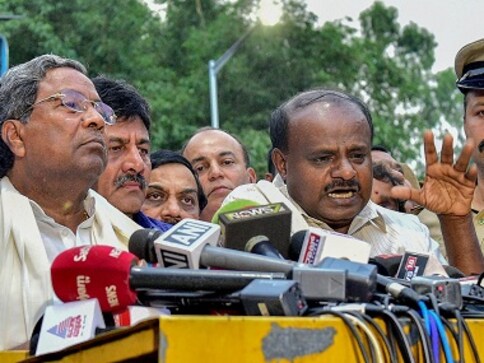 Just as JD(S) state chief HD Kumaraswamy, outgoing Congress chief minister Siddaramaiah and possible deputy chief minister G Parameshwar met late on Tuesday night, after the Karnataka election results threw up a hung House, conflicting reports of poaching of MLAs and horse-trading started doing the rounds.
With the Congress-JD(S) combine rounding up their numbers to 116 out of the 222 (a clear majority), they were faced with the grisly task of protecting their MLAs from 'poaching'. Reports late on Tuesday suggested that they may be moved to the Eagleton resort in Bengaluru to prevent them from defecting, thus laying credence to a growing trend of party leaders carting their MLAs off to 'guarded' vacation homes in the face of a floor test.
"Yes, definitely there is a plan. We have to safeguard our MLAs. We will let you know what the plan is," Congress' DK Shivakumar told ANI, on being asked if Congress MLAs in Karnataka will be shifted somewhere.
102 rooms booked at Eagleton resort outside Bangalore (of Ahmed Patel Rajya Sabah election fame). Call to be taken whether Congress MLAs will be herded there after meetings, reports @nagarjund. #KarnatakaVerdict pic.twitter.com/lcR10aUTVH

— Shiv Aroor (@ShivAroor) May 16, 2018
Resort politics not new to Indian polity
Pioneered in Karnataka by the Ramakrishna Hegde-led Janata Party government in Karnataka and followed swiftly in Andhra Pradesh by showman-politician NT Ramarao in the 1980s, "resort-politics" is the most open and vulgar evidence of horse trading in Indian politics.
And this trend is 'shamelessly' repeated time and again, as this Firstpost report points out: "When MLAs, who count as votes in the Assembly in a crunch situation, are kept in de facto house-arrest so that they are not lured by the Opposition, by cash or kind, is a virtual admission of horse-trading, or buying off, of legislators. But the parties involved, and their central leadership, are absolutely shameless. They do it again and again."
And, unless proved otherwise, for every episode of resort-politics, the MLAs concerned get substantial benefits.
This trend of moving MLAs to keep them from being poached by others has never been more pronounced than it is at the moment. The latest instance comes hot on the heels of AIADMK doing it twice last year.
This brand of politics, dubbed as "resort politics", has existed in India for quite some time. According to a MoneyControl report, "the first instance of such a move was way back in 1983 when Karnataka CM Ramakrishna Hegde decided to 'protect' his MLAs from 'Congress Vultures'.
Karnataka itself is seen as one of the favourite destinations for resort politics. Last year, the Congress had moved its Gujarat MLAs to a private resort in Bengaluru ahead of the Rajya Sabha elections.
In 1984, when actor-turned-politician and then Andhra Pradesh chief minister NT Rama Rao had gone to the US for heart surgery, the governor appointed by the Congress-led Union government had made N Bhaskar Rao the chief minister.
After NTR returned, as per this report by The New Indian Express, the governor asked him to prove his majority. As a precaution, NTR brought all Telugu Desam Party MLAs, including Chandra Babu Naidu to Karnataka. "They stayed close to a month in Dasaprakash Paradise. Hegde wholeheartedly supported NTR," the report quoted senior Congress MLC VS Ugrappa as saying. During their stay, the MLAs stayed in several star hotels in Bengaluru, he added.
A look at other instances of resort politics in India:
- In 1995, NT Rama Rao was faced with the possibility of his MLAs defecting from the party following an internal rift – from his son-in-law N Chandrababu Naidu. Naidu had back then moved 'loyal' MLAs to the Viceroy Hotel in Hyderabad. This had helped him to fend off 'poachers' and to successfully displace Rama Rao.
- In June 2002, Vilasrao Deshmukh sent his MLAs to Mysore amidst a political crisis in Maharashtra. Around 71 Congress MLAs, Nationalist Congress Party MLAs and a few Independents scuttled to a resort in Mysore.
- In late 2011, when Karnataka chief minister BS Yeddyurappa had to quit for his alleged involvement in illegal land deals and mining, he took 60 legislators under his custody at a super swanky resort on the outskirts of Bengaluru to ensure that his nominee Sadananda Gowda became his successor. Then less than six months later, Yeddyurappa shepherded them again to a resort to ensure that Gowda was booted out and he reinstated.
- Then recently, in February 2017, VK Sasikala had held 'loyal' MLAs in a resort days after O Panneerselvam resigned as the chief minister. After he accused J Jayalalithaa's close aide Sasikala of forcing him to resign, the latter claimed stake to form the government. Fearing defection to the rebel Panneerselvam-led faction, Sasikala moved 'loyal' MLAs to the Golden Bay Resort near Chennai.
However, before she could take over as the chief minister, a Supreme Court verdict sent her packing to jail in relation to the disproportionate assets case. Sasikala then selected Edappadi Palaniswami to become the chief minister.
- In August 2017, Congress president Sonia Gandhi's close aide Ahmed Patel was seeking re-election to Rajya Sabha. However, after a number of Congress MLAs defected to BJP, the party shepherded 44 of its MLAs to the Eagleton resort in Bangalore. Ahmed Patel narrowly got re-elected after two Congress MLAs who flashed their ballot papers were disqualified by the Election Commission.
With inputs from agencies
Find latest and upcoming tech gadgets online on Tech2 Gadgets. Get technology news, gadgets reviews & ratings. Popular gadgets including laptop, tablet and mobile specifications, features, prices, comparison.
Politics
The election to the LAHDC, which is the district's highest-elected body, is the first such exercise in the region since the Centre carved out the Union Territory from the erstwhile state of Jammu and Kashmir on 5 August last year
India
Union minister and BJP leader Prakash Javadekar alleged that Rahul and Priyanka "cannot see" atrocities against women in the states ruled by Congress
India
A power struggle between K Sudhakar and his cabinet colleague B Sriramulu, who was divested of the health and family welfare portfolio on Monday, is among the many reasons for Karnataka being third in terms of COVID-19 cases in the country