Congress, BJP rush to stitch alliances in Meghalaya, but undecided regional kingmakers may delay govt formation
Voters of Meghalaya have elected a hung Assembly, with no single party or pre-poll alliance securing enough seats to be able to form the government
Voters of Meghalaya have elected a hung Assembly, with no single party or pre-poll alliance securing enough seats to be able to form the government.
Senior leaders of both Congress and Bharatiya Janata Party (BJP) have rushed to the state to stitch alliances to woo regional leaders to form the government. A coalition will need to have at least 30 seats in the 60-member Assembly to stake claim to form the government.
The Congress and National People's Party (NPP) have emerged as the two biggest parties, winning 21 and 19 seats respectively. The BJP could win only two seats in the hilly state. An alliance of regional parties — United Democratic Party (UDP), Hill State People's Democratic Party (HSPDP), Garo National Council (GNC) — won eight seats whereas a new organisation, People's Democratic Front (PDF), bagged four seats.
The NPP, which has stated it is open to alliances, is part of BJP's North-East Democratic Alliance. Though the legitimacy of this alliance is questionable — BJP contested against NEDA members in Tripura and Nagaland — it is expected that NPP will go with BJP. Congress has called NPP a puppet of BJP.
The kingmakers
Addressing the media over his emphatic win in Pynursla, NPP bigwig Prestone Tynsong said that all the newly elected party MLAs will hold a discussion with party chief Conrad Sangma to decide their strategic direction. "We will know by tomorrow (Sunday)," he said.
Conrad declined to comment if his name will be proposed for the chief minister's responsibility. His sister Agatha Sangma, who won from South Tura after trailing behind BJP candidate all morning, has also been hinted at as a potential chief ministerial candidate.
Sources said the NPP is also in talks with the UDP-HSPDP-GNC alliance and the PDF. The UDP has joined hands with other regional outfits (HSPDP and GNC) and campaigned to form a government without help from any national party. This alliance now controls eight seats (UDP-6, HSPDP- 2, GNC-0). As on Saturday night, there was no concrete news about the UDP-HSPDP-GNC alliance's next move. The UDP has been in government with Congress before but it was sitting against it in the Opposition for the past five years.
Change in fortune
The fortune of Independent contestants exhibited a marked downward turn since the last Assembly polls. In 2008, there were five Independent MLAs in Meghalaya and the number increased to 13 in 2013. Between 2008 and 2013, their vote share increased from 13 percent to 28 percent. However, this time around, only three Independent candidates managed to win.
Regional parties had an improved showing in the election this time. In the 2013 Assembly polls, NPP had won just two seats, but this time around it emerged as the second largest party winning 19 seats. Other regional parties' endeavours also paid dividends as they were able to improve their tally. Their gains came at the cost of Congress, which won eight less seats than it had in the 2013 Assembly polls.
Some of the highlights of Saturday's results were Mukul Sangma (Congress) winning comfortably in both Ampati and Songsak, Alexander L Hek (BJP) retaining Pynthorumkhrah, and the unexpected defeat of PDF's key candidate PN Syiem and HSPDP's Ardent Basaiawmoit.
Addressing the media after his win in North Shillong, the sole winner from Khun Hynniewtrep National Awakening Movement (KHNAM), Adelbert Nongrum, said, "Wherever I have campaigned, I have made it clear that I will not compromise on the issues that benefit the genuine causes of the indigenous peoples."
Nongrum is known for his anti-immigration platform and reportedly, several BJP, Congress and UDP supporters from the constituency had extended their support to the KHNAM candidate.
Hung verdicts are not new to Meghalaya. There hasn't been a single-majority government there since 1972 (by the now-extinct All Party Hill Leaders Conference). Parties in the state don't get along and there have been 23 governments since the state was carved out 46 years ago. In this light, the electorate's verdict of a hung assembly is business as usual. In the next couple of days, the state's politicians will stitch together a coalition that'll hold until they have to do it again.
(With inputs from Kyrmenlang Uriah, a Shillong-based member of 101Reporters.com, a pan-India network of grassroots reporters.)
Find latest and upcoming tech gadgets online on Tech2 Gadgets. Get technology news, gadgets reviews & ratings. Popular gadgets including laptop, tablet and mobile specifications, features, prices, comparison.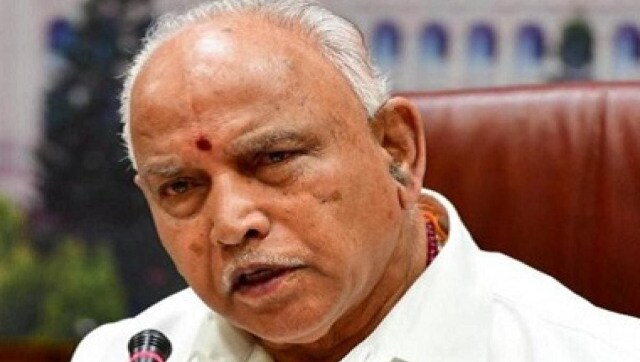 Politics
Earlier, Siddaramaiah, alleging that the BJP government has lost the people's trust, had said that the BJP never had the mandate to rule the state
India
Alleging that the Congress betrayed the farmers, Scindia blamed Digvijaya for the previous government's 'failures', adding that Digvijaya held the remote control of then chief minister Kamal Nath
India
The hospital's statement came on Thursday after media reports claimed that the BJP MP died while being treated for COVID-19