Centre's interference in Tamil Nadu politics undermines integrity of Indian Union, reflects a deeper malaise
An assault on the federal structure by incursion on Tamil Nadu's rights and affairs by the Centre in an assault on the unity of the Indian Union itself.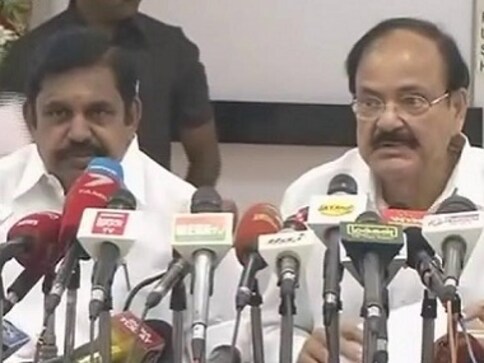 The death of J Jayalalithaa has created a flux in Tamil Nadu politics, where potential political and ideological realignments are in the works. Some of these can have long-term implications not only for Tamil Nadu but also for the Union of Indian itself.
BJP is playing the role of deal-maker between the two AIADMK factions. Megastar Rajnikanth's name did the rounds recently, about him joining BJP – a rumour that was squashed by the star himself. At the same time, the closeness of the BJP and AIADMK has thrown the Dravidian political space to the DMK like never before, which, under the leadership of MK Stalin, has been upping the ante on Centre's renewed Hindi imposition policies.
Next week, large sections of the non-BJP Opposition, especially the various state-based political forces as well as the Congress and the Left, will converge in Chennai on the occasion of the elder Tamil statesman and DMK supremo, M Karunanidhi's 94th birthday.
The political significance of this congregation cannot be underestimated. While this happens, the government of Tamil Nadu has come under serious criticism for bowing to the Centre, something that has been a point of utter shame in Tamil Nadu politics for decades.
Since the transfer of power from British hands to select native hands in 1947, the Union government has systematically sought to destroy the autonomous powers and rights of States. Delhi has been largely successful in this, in most places, but it has always faced stiff opposition in Tamil Nadu. For this is not a walkover state and Tamilians are not a walkover people.
Delhi's infringement on any rights of the Government of Tamil Nadu and hence of the Tamil Nadu people have typically met with stiff resistance, in political circles and among the public at large. Ever since the Congress was booted out of power in Tamil Nadu in 1967, no Delhi-headquartered party has ever been able to wield any kind of central position in the Tamil political narrative. This continues to be true to this day.
In terms of raising the first alarm on most issues of Delhi steamrolling state rights, Tamil Nadu has been the leader for decades and it marks the sophisticated understanding of the nature of the Indian Union and the relationship of its constituent ethnolinguistic nationalities to the Union. It has often marked the red line that Delhi dare not cross.
It is in this context that one has to keep in mind when looking at the furore that has erupted in Tamil Nadu, about Union cabinet minister Venkaiah Naidu's recent interference in Tamil Nadu state government's internal affairs.
Like an imperious sultan who has come down to a conquered area to take stock of activities, Naidu, made a statement while talking about ongoing projects in Tamil Nadu, where the Union government has some money at stake.
He said, "Our cooperation depends on your operations. Otherwise, there will be separation".  This is an extraordinary statement that goes against all rules and decorum of the federal structure and is a slap in the face of the much-touted PR line of "cooperative federalism".
Let us be clear about what this statement means. It means that the Union government is threatening to refuse to cooperate with a state government. Of course, cooperation here means money. Central funds are not generated by Delhi. It is revenue it grabs from states. The states have a right to these funds – these are not acts of kindness or alms.
This statement is especially derogatory to Tamilians as Tamil Nadu contributes a huge amount of revenue to the Centre and gets a very small amount in return – no state is fiscally victimised by Delhi to the extent Tamil Nadu is.
It is no secret that non-Hindi states produce revenues. Delhi hands these revenues largely to Hindi states by using bureaucratic smokes and mirrors like the Finance Commission. So when Naidu said that to Tamil Nadu, it naturally struck a very raw nerve.
But it didn't end there. Naidu really overstepped the line when he was found in the Tamil Nadu State Secretariat, reviewing scheme progress. And what was a sign of the compromised nature of the AIADMK at present was that Tamil Nadu chief minister E Palaniswami was found alongside Naidu during the review.
Respected veteran bureaucrat MG Devasahayam, said, "There was no need for a Union minister to jointly review government projects with the chief minister. The chief minister's post is high in stature in the States and at the most, such a review can happen in a common place and not in the Secretariat. This is only (an instance of) a Union minister trying to dominate a chief minister, against the federal structure of our country."
Naidu claims that this was only a "departmental review", but never clarified why Karnataka or West Bengal or Kerala or Odisha never call him on such departmental reviews. Naidu is the Union cabinet minister for Housing and Urban Development. These two subjects are in the concurrent list and the role of the Union government is one of financer.
The state is not constitutionally obligated to share details of its autonomous decision making. Delhi is not some owner whose contractor is Tamil Nadu, such that it can go in and question Tamil Nadu on project progress.
Just like Tamil Nadu or West Bengal ministers cannot go to Delhi and sit with Union cabinet ministers in their departmental meeting and demand an explanation why funds were not released.
Delhi routinely withholds funds without any explanation. It is sad but not illegal. The Union government and the state government do not share some parent-child or boss-underling relationship. They are equal stakeholders in a system where each stakeholder has a different function – that is the basis of Union, Concurrent and State lists.
Within the Union affairs list, the Union government is autonomous. Within the State list affairs, the state government is autonomous. Neither is accountable to each other. Peace is maintained by one not stepping into the other's domain.
Naidu, by his action and pronouncements in Tamil Nadu last week, did just that. The fact that now Tamil Nadu government has given up so much space voluntarily shows the depth of political compulsion that AIADMK faces vis-a-vis the BJP. Given that BJP is only a marginal political force in Tamil Nadu, this disproportionate influence of BJP in government matters is a subversion of democracy.
However much each faction of the AIADMK tries to claim Jayalalithaa's legacy, in practical terms, both O Panneerselvam and Palaniswami have capitulated and bowed in front of Delhi on issues that Jayalalithaa, as chief minister, took an uncompromising pro-Tamil Nadu rights stand on.
These include giving up opposition to GST, not challenging NEET, signing up for UDAY scheme and most importantly, not protesting the allocation formula changes of the 14th Finance Commission, that hugely transfers money from Tamil Nadu to high population growth states of the Hindi belt. It is indeed a situation, where rights of a state are being bartered in exchange for holding on to political power. BJP has never had it so good in Tamil Nadu.
While the first rank state in terms of protection of state rights gives up its core principles, one can witness the rise of other non-Hindi states, who are asserting their constitutionally guaranteed state rights like never before.
And in that, West Bengal is fast taking the pole position. Both West Bengal and Kerala have now made respectively Bangla and Malayalam compulsory in all schools of all boards. IAS and IPA officers of West Bengal cadre have now been instructed not to share any information with the Union government, without prior permission of the state government.
If that sounds odd, try the opposite test. Does any Union government bureaucrat in an official capacity share any Union government information with a state government, without permission from the Union government? The answer is no. West Bengal has simply asserted a right that it had and one that the Union government has always enjoyed. What is good for the goose is good for the gander.
West Bengal has severely curtailed central deputations of its bureaucrats. The official reason is that there are a lot of vacancies in West Bengal and not enough IAS officers. The real reason, as discussed in political circles, is that West Bengal wants to prevent an unholy nexus developing between West Bengal cadre IAS officers on central deputation and the Union government on sensitive matters of the State government, that can be used to destabilise the state.
State chief minister Mamata Banerjee has also made it clear to West Bengal civil service officers that they work for the state government and that Delhi cannot independently order them around. She said at the annual general meeting of West Bengal Civil Service (Executive) Officers Association that, "Instructions are coming from Delhi these days. Remember that you work for the state (government). You inform us but do not implement things on your own."
States do not have any similar advantage of getting state civil service officers to be sent on central deputation on a large scale, to get information about the inner workings of Delhi and reporting it to the state government. Any imbalance of power in a federal system is a recipe for disaster.
In fact, regarding a situation very similar to Naidu's "review" of projects where there was a central funds component, West Bengal showed the door to two NITI Aayog officials that Delhi had sent to oversee "funds flow monitoring".
Mamata responded strongly to this unilateral interference stating, that, "In the name of State Treasury Integration they (Centre) are trying to control the financial system of the state. This is undemocratic. They are an elected government, so are we. They don't have any right to interfere in our affairs. Previously, they sent two officers for this purpose but we didn't allow them and now they are forcing it upon us."
While Centre-State tussles are part of any federal system. We are increasingly witnessing deep structural invasions by Delhi into state government affairs. There are protests in many states, with some being especially vocal like West Bengal and some erstwhile vocal ones like Tamil Nadu becoming silent due to the compromised political position of the ruling party.
These times are crucial for the long-term future of the Indian Union. The federal structure is part of the basic structure of the Indian Union. An assault on the federal structure by incursion on state rights and interference in state government affairs in an assault on the unity of the Indian Union itself.
First Cricket News
PM Narendra Modi and Australian PM Anthony Albanese were in attendance at the start of fourth India vs Australia Test in Ahmedabad.
Opinion
India under Prime Minister Modi has fully endorsed the United Nations in its "Think equal, build smart, innovate for change', motto, with regard to women's empowerment
World
Kishida, who is on a two-day trip to India, said he hopes to promote a vision of a free and open Indo-Pacific, a Tokyo-led initiative for greater security and economic cooperation that is geared toward curbing Beijing's growing assertiveness.