Cauvery verdict: Small mercy from SC may give big boost to Siddaramaiah's election propaganda in Karnataka
Is the SC verdict on Cauvery dispute really as big a victory for the Congress in Karnataka as it is made out to be? Siddaramaiah will certainly claim so.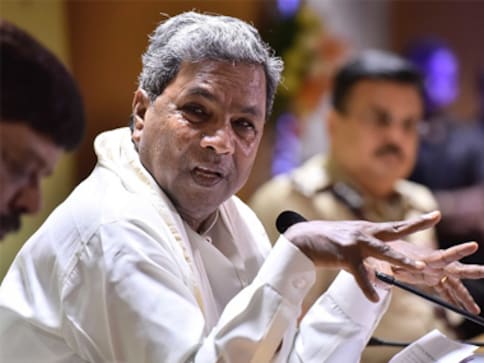 By now it has become a tired cliché to say that elections are a game of perception, but they indeed are. Even before Supreme Court Chief Justice Dipak Misra turned over the first page of his marathon judgment on the Cauvery dispute, and the full details of it were out on Friday morning, it was hailed as a huge victory for Karnataka.
And Karnataka chief minister Siddaramaiah was unwilling to disagree with that perception. For he can now claim that the apex court's verdict is a good "omen", as he faces Assembly elections in a couple of months time.
The verdict, a big boost for farmers on the face of it, came just minutes before Siddaramaiah began to read out the state's budget, which itself was packed with a huge bonanza for the agricultural sector. All this sent the chief minister and his Congress colleagues into a state of ecstasy, singing songs of victory.
At the same time, this has pushed the state's BJP, which has been at a loss to know how to deal with the political savvy of Siddaramaiah, deeper into a state of listlessness. The party is making a desperate attempt to regain power which it lost five years ago because of corruption, poor governance and internal bickering. It now has to revise its strategy, if there ever was one.
Is it really a victory for Congress?
But is the Supreme Court verdict really as big a victory for the Congress in Karnataka as it is made out to be? Consider these facts:
When a tribunal was set up in June 1990 to resolve the Cauvery river water dispute, Karnataka demanded a share of 465 tmcft (thousand million cubic feet) of water. In its award in 2007, the tribunal awarded Karnataka 270 tmcft, slightly more than half of what it wanted. Tamil Nadu was allocated 419 tmcft against its demand for 562. This left both the states unhappy. Eleven years later, the Supreme Court on Friday raised Karnataka's share to 284.75 tmcft — an increase of 14.75 tmcft.
As late as Thursday night, the Karnataka government was confident of a hike in its share by "at least" 30 to 40 tmcft. But never mind that. Nobody is talking about it. Everybody in the Congress is happy.
And now, think about the amount of water Karnataka must release to Tamil Nadu every water year, which is from June to May. In 1991, the tribunal had said in an interim order that the state must release 205 tmcft of water every water year to Tamil Nadu. This had led to anti-Tamil riots in Karnataka.
In its final award in 2007, the tribunal reduced it to 192 tmcft, still leaving the state upset. This led to the periodical fracas between Karnataka and Tamil Nadu and to a Supreme Court's intervention whenever the rains failed and there was not enough water in the river.
On Friday, the Supreme court reduced this quantum of annual water release by Karnataka by 14.75 tmcft, which meant that the state's overall share went up by this amount.
If the Cauvery dispute has remained unresolved for more than a century, it's because of the difficulty in sticking to the tribunal's allocations during bad monsoons. When the rains fail, there isn't simply enough water for the farmers for both the states. The tribunal's insistence that Karnataka must release 192 tmcft of water — 134 tmcft of it during the four months from June to September — turned into a ridiculous proposition whenever the southwest monsoon, which the state should get during this period, failed.
The apex court's reduction of this quantum by a marginal 14.75 tmcft makes no great difference to farmers when the monsoon fails and there just isn't any water. Of this additional water that will be available to Karnataka — if there is enough water — 4.75 tmcft is meant for the drinking water needs of Bengaluru.
But all this wouldn't stop Siddaramaiah from claiming that, under his leadership, the state was able to argue its case effectively before the Supreme court and bring solace to the Cauvery basin farmers in southern Karnataka.
It is in this part of the state that the Janata Dal (Secular) of former prime minister HD Deve Gowda and his Vokkaliga community pose a challenge to the Congress and where the BJP is hopeful of making significant inroads.
Mahadayi will make it double whammy
And luckily for Siddaramaiah, the farmers in parts of northern Karnataka are incensed over a perceived denial of the water that is due to them because of the state's dispute with Goa over the sharing of Mahadayi river. This is the part of Karnataka where the state BJP president BS Yeddyurappa's Lingayat caste is strong and where the party did well in the 2008 election and came to power.
A tribunal that is looking into the Mahadayi row may come up with an interim order of its own very soon. If it's favourable to Karnataka, Siddaramaiah will take credit for it. If it isn't, he will blame the BJP for it. The Congress has been on the warpath saying neither the NDA government at the Centre nor the BJP's chief minister of Goa Manohar Parrikar has been of any help to Karnataka in helping the state's farmers.
The BJP is confused and rattled over the Mahadayi dispute, even after the little drama that party president Amit Shah recently enacted by asking Parrikar to write a helpful letter to Yeddyurappa. In the fitness of things, he should have written it to Siddaramaiah. But that will come to mean nothing if the tribunal rejects Karnataka's demands.
The BJP may have to think of a new story — or two new stories — to tell farmers in the southern and northern parts of the state if it wants their votes.
For now, it's advantage Siddaramaiah. Or so it seems. Elections are rarely what they seem they are.
Author tweets @sprasadindia
Explainers
Not much was known about Bhupendra Patel outside Ahmedabad before the BJP handpicked him to replace Vijay Rupani in September 2021. His elevation came over far bigger names such as the then deputy chief minister Nitin Patel, Praful Khoda Patel, and Mansukh Mandaviya
Explainers
From Australia to the US, Sweden and India, scream therapy seems to be gaining ground with women. But the concept first advanced in 1970 by American psychologist Arthur Janov has left experts unimpressed
Explainers
Elon Musk's brain-computer interface company Neuralink wants to put coin-sized implants into human beings. It aims at allowing the mind to control complex electronic devices, letting people with paralysis regain motor function, restoring vision, and treating brain diseases