By-election results 2017: From Congress' solid show to AAP's rout, here are five key themes from bypolls
The results of the 10 Assembly seats where bypolls were held on 9 April have been declared – BJP has won five seats, Congress three, TMC one and JMM one.
The results of the 10 Assembly seats where bypolls were held on 9 April have been declared – BJP has won five seats, Congress three, TMC one and JMM one. BJP recorded a gain of two seats while Congress, TMC and JMM maintained their position. BJP gained one seat from AAP in Delhi and the other one from BSP in Rajasthan.
A close scrutiny of the results reveals five key themes:
BJP continues its victory march
The Bharatiya Janata Party (BJP) has maintained its electoral momentum, which has been visible across municipal and state elections over the last few months. It retained the three seats it held in Himachal Pradesh, Assam and Madhya Pradesh.
In Assam, BJP won the state elections comfortably last year, hence the result was along expected lines. In Madhya Pradesh, BJP has been in power for the past 14 years. The Bandhavgarh seat fell vacant since BJP's sitting MLA, Gyan Singh, won the Lok Sabha bypolls of Sahdol last year. His son, Shivnarayan, has now won that seat.
But the real heartening news for BJP came from Rajasthan. This by-election was touted as a referendum on state chief minister Vasundhara Raje's government and she has come out with flying colours. BJP had fielded BSP MLA BL Kushwah's wife from this seat.
Rajasthan has a history of voting out incumbent governments for the past three decades. Hence, Congress has a good chance in 2018 state elections despite this setback and Sachin Pilot needs to work much harder.
Arguably the biggest boost for BJP has come from Delhi, where an Akali Dal candidate contesting on BJP symbol snatched the Rajouri seat from the Aam Aadmi Party (AAP). This will give a fillip to its bid to retain the MCD polls to be held 10 days later, on 22 April. It remains to be seen though whether this win will become a trend in the capital or not.
The BJP candidate in Kanthi Dakshin in West Bengal finished second, surpassing the Left and Congress. It bagged 30.97 percent vote share – three times the vote share it recorded in the last Assembly polls in 2016. BJP looks well placed to emerge as the main opposition party to state chief minister Mamata Banerjee in West Bengal, in 2021, if it plays its cards well.
Congress holds onto its ground
There is some good news for the Grand Old Party as well. It managed to hold onto its tally, retaining one seat in Madhya Pradesh and 2 seats in Karnataka. Though the Karnataka seats are strongholds of Congress, it's a blow of sorts to Yeddyurappa's efforts to make a comeback in 2018. Congress increased its margin in both these seats.
Deve Gowda's party JDS did not contest these elections, which seem to have helped Congress candidates. A big sigh of relief for Siddaramaiah as these polls were made out to be a prestige issue. JDS will play a key role in determining who wins 2018 Karnataka elections.
In Ater in Madhya Pradesh, Congress looks to retain the seat. It is leading by 10,000 votes after the 17th round of counting. It seems that a sympathy wave helped Congress retain the seat. However, too much should not be read into the impact of this victory on the MP polls next year.
In Delhi, the Congree party candidate managed to finish 2nd from the Rajouri seat, with 33.23 percent vote share (+21 percent). This has raised hopes for a good show in the upcoming MCD polls and the revival of party fortunes.
Congress, which could not open its account in Delhi in 2015, is hoping for a strong comeback in the MCD polls. A portion of its vote bank – comprising Dalits, Muslims, poor class – which moved to AAP seems to have come back, at least in this seat.
AAP routed in Delhi
AAP finished a poor third in the Rajouri seat, with 13.12 percent vote share (-33 percent). Congress has made a strong comeback. AAP had managed to snatch significant vote share from Congress in the 2013 and 2015 state polls.
Congress' improved performance is in fact bad news for AAP. This might also affect its MCD polls performance. This is a big blow for Chief Minister Arvind Kejriwal and his gang. He may come out and blame the electronic voting machines (EVMs) again, but this would not go down well with the public.
Not much time is left and the party has to do serious introspection as to why it lost so badly. The presence of Yogendra Yadav's Swaraj Party could also harm AAP in the MCD polls.
Regional parties maintain their strongholds
Trinamool Congress (TMC) and Jharkhand Mukti Morcha (JMM) have managed to retain their seats. While TMC was widely expected to win, BJP had hoped that Jharkhand chief minister Raghubar Das' government's performance will help it snatch Litiparah from JMM. However, the margin is lower compared to last elections.
Dynasty rules the root
While a feeling persists that the young new India doesn't like dynasty politics, and this is considered one of the key reasons for Rahul Gandhi's failure, these polls prove otherwise. Both candidates who won in Madhya Pradesh are sons of ex-MLAs. The BJP candidate who won in Rajasthan is the wife of an ex-BSP MLA.
To conclude, these bypolls brought good news for both BJP and Congress. BJP continues to record strong performances in all electoral outings whereas the Congress holds onto to whatever is left with it. Regional parties like TMC and JMM also dominate in their strongholds.
We need to watch out if these trends will hold true in the upcoming MCD polls later this month and the Assembly elections due in Himachal Pradesh, Karnataka and Madhya Pradesh next year.
The author is an independent political commentator and co-author of the book 'Battle of Bihar'. He can be reached @politicalbaaba
India
The IMD, meanwhile, said Gujarat is very likely to witness an "active wet spell" till July 27, with the likelihood of light to moderate rainfall at several places and isolated heavy to very heavy rainfall.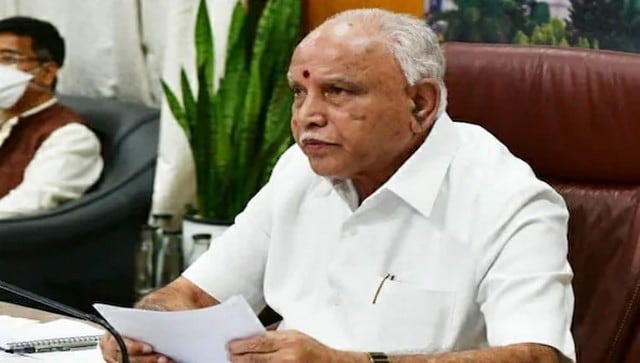 Politics
The 78-year-old Yediyurappa belongs to the older generation of politicians who started their service to the public as a teenager (in his case with the Rashtriya Swayamsevak Sangh) and did not hail from either a political or an affluent family
News & Analysis
Pegasus is a spyware suite sold by Israeli company NSO Group to "vetted government clients". It is used to compromise and conduct surveillance on targeted Windows, Mac computers, and also Android and iOS smartphones