The Shiv Sena might well be the party with the most seats in the BMC election, but the undisputed winner of this year's civic body polls in Mumbai is the BJP.
From 31 seats in 2012, the party nearly tripled the number of its corporators this time around, winning 80 seats.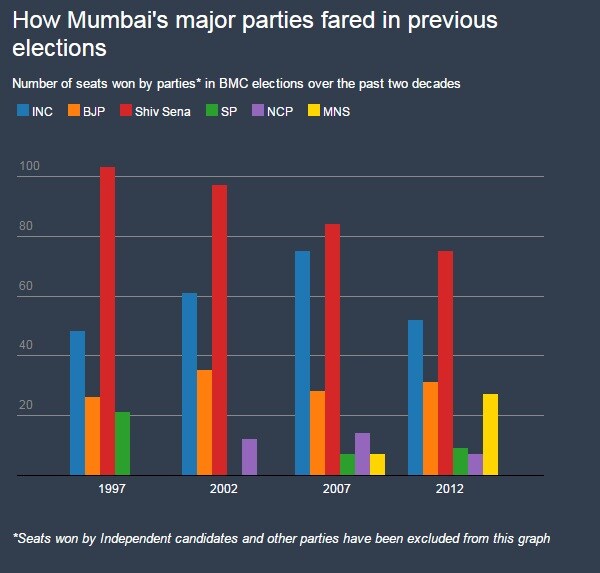 When you compare that with the Sena's performance (from 75 to 84), it's barely a 15 percent increase in the number of seats.
However, the way Mumbai has voted, it is impossible for either party to be the ruling party without doing one of two things:
The first would be a highly improbably post-poll alliance with the Congress, or an unofficial tie-up at the very least.
The second would be, and in a throwback to the Assembly election of 2014 and the Kalyan-Dombivali Municipal Corporation election in 2015, to form a post-poll alliance with each other.
It must be borne in mind that to touch the magic figure of 114 seats (to be the ruling party), even if the BJP or Sena was to tie-up with the MNS (seven seats), NCP (nine seats), ABS (one seat) and four Independents, the party would still fall short of the magic number. The Samajwadi Party's six seats and AIMIM's three seats do not figure in the equation since neither of these parties would ever tie-up with the Sena or BJP.
And so, at present, the second option — a post-poll Sena-BJP alliance — appears more likely.
Firstpost is now on WhatsApp. For the latest analysis, commentary and news updates, sign up for our WhatsApp services. Just go to Firstpost.com/Whatsapp and hit the Subscribe button.
Updated Date: Feb 23, 2017 17:17:16 IST