Arvind Kejriwal's 'no truth' politics adds a new dimension to the 'post truth' era
Arvind Kejriwal is championing an era of No-Truth politics.
The world is still grappling with the idea of Post Truth, an idea where objective facts are less influential in shaping public opinion than appeals to emotion and personal belief. Brexit and victory of American President Donald Trump are latest events, which are cited as manifestation of the Post Truth era. How will the Post Truth phenomenon shape the world is anybody's guess.
But there is a new phenomenon emerging closer home. We have a new party, the Aam Admi Party [AAP], led by Arvind Kejriwal, a former Indian Revenue Service officer, whose fancied himself as a self styled anti-corruption crusader. Perhaps probity in public life and certain honesty was implied when he promised a 'new' kind of politics.
But a few years down the line, it is anything but that. Arvind Kejriwal is championing an era of No-Truth politics. He probably thrives on attention and doesn't mind going to any extent to remain in news. So much so that lying brazenly is also fair game. In the run up to the Punjab election, Kejriwal through his official verified Twitter account shared an allegedly leaked IB report which gave AAP an insurmountable majority. IB reports don't get leaked like this and even ordinary folks on Twitter were quick to point out this fact. But facts and logic are the least of Kejriwal's concerns. Just to show his party ahead, Kejriwal didn't blink twice before sharing fake news, which also potentially raised question on IB's reputation.
This is not all. Not so long ago, he shared photograph of a bank robber, who had hung himself for the fear of being caught, and called it a case of suicide by a common man in the wake of demonetisation!
मोदी जी, ये देखिए। अब तो इस देश के लोगों पे रहम कीजिए। आख़िर क्या दुश्मनी है आपकी जनता से। ग़रीब की इतनी हाय मत लीजिए। https://t.co/26FPOwYTwo — Arvind Kejriwal (@ArvindKejriwal) November 20, 2016
One however has to admire Kejriwal's ability to solidly stand behind a lie and not delete his obnoxious tweet even when the original tweet [he quoted] was deleted! These are not isolated instances. There are many such and here is a piece that gives a peak into Kejriwal's top lies in 2016.
The extent of Arvind Kejriwal's brand of No-Truth politics just doesn't stop at him. It is institutionalised in the party that was ironically born of an anti-corruption movement. AAP's office bearers, taking a cue from their supreme leader, fake opinion polls of reputed organisations and post them with impunity.
So brazen is their approach, that even a public denial by the concerned polling agency does not shame them!
Not our numbers, they are fake. https://t.co/wcpI4mGAYO

— Today's Chanakya (@TodaysChanakya) February 1, 2017
Further a quick look at the party's Facebook page will show that they have no compunction in misrepresenting facts even if it means cheating their own supporters.
For instance, the post below seems to suggest that it was Prime Minister Narendra Modi, who made a derogatory comment that was later expunged by the Speaker. The fact is that no statement of the Prime Minister has ever been expunged by the speaker at any point!
In fact it was Congress leader Mallikarjun Kharge, who reduced the level of debate by calling everyone in the national freedom movement who wasn't part of the Congress a 'dog'.
It doesn't stop here; they used an old image to make a point that the BJP was splurging on advertisements post demonetisation. Again, the fact is that no such ads were issued by BJP post demonetisation (not that it is a crime if BJP issues ads) does not seem to matter!
Indian politics has seen several characters in the past who have sustained their political career at the intersection of lies, deceit and buffoonery but Kejriwal is unique in the sense that he seamlessly fits into each of these.
Being in politics is a tough choice people make out of an inherent motivation to serve people. However, it is not unusual to see people lose sight of the larger goal and scum to political expediency. Lalu Prasad Yadav, who came into politics through Jay Prakash Narayan' anti-corruption movement in the 70s and ended up getting convicted for corruption in the multi crore fodder scam is a prime example of how horribly wrong things can go. Kejriwal seems to be headed the same way.
It is one thing to worry about the origins of dubious Whatsapp messages globally. But to turn a blind eye towards such falsehoods and canards being spread by a democratically elected Chief Minister of an Indian state is just inexcusable and criminal. I hope people who lament about the Post Truth era speak out against it!
But for now Paul Joseph Goebbels, the Nazi propagandist would be proud of Arvind Kejriwal.
The author is the BJP's National Head – Information and Technology.
India
This is the first major election after Bhupendra Patel took charge as the chief minister of Gujarat
Politics
Twenty Years after being in power, first as Gujarat chief minister and then as country's prime minister, Modi's biggest strength remains his ability to focus on processes without worrying about end results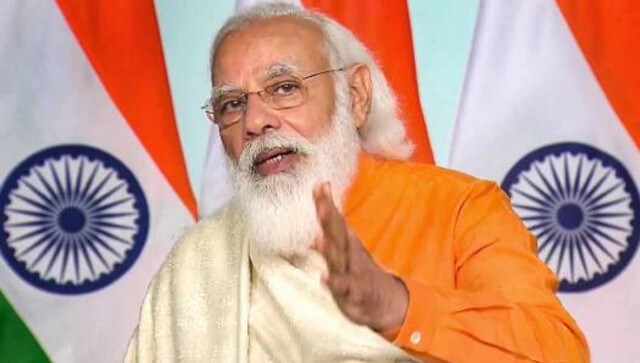 Politics
BJP President JP Nadda extended his congratulations to Modi for completing 20 years in public office, saying that as "a 'Pradhan Sevak', he has made India a global power