Arun Jaitley says GST rolled out in nation's interest, will not blink twice if reforms benefit India
Addressing a GST Conclave in Chennai, Arun Jaitley said that the GST was not an easy tax reform to implement and there are people who wanted to stall reforms.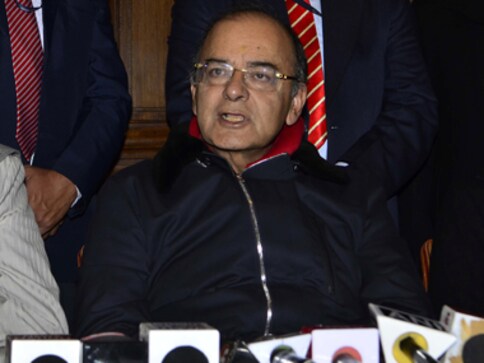 Chennai: Union finance minister Arun Jaitley on Sunday said the government would not blink first against the Opposition if there are larger national interests involved.
Addressing a GST Conclave in Chennai, he also said that the GST was not an easy tax reform to implement and there are people who wanted to stall reforms.
"If reform is of national interest, then do not blink. There are people who would trip you and will never allow reforms," Jaitley said.
Stressing that GST regime will make the economy more efficient, he said that the industries that are opposing the tax reform are doing it to avoid paying income tax.
Citing Jammu and Kashmir that also agreed to implement GST seven days after others joined, Jaitley said it was the power of economic integration that forced the state to join GST.
The state's traders pointed out to their government that people would buy goods from Punjab where it would be cheaper than their own state due to the absence of input credit if they are not part of GST regime.
Jaitley also said that within the GST Council there was cooperative federalism whereas outside people opposed the tax reform, but due to the people's support for GST, the opponents had to backtrack.
On the ease of getting the input credit, Jaitley said those who file their GST returns honestly will get it automatically and there will not be a need to interact with any tax official.
As to the existence of multiple tax rates, he said it was to prevent inflationary pressure.
"We kept the tax rates on food items at nil or in the lower slabs," Jaitley added.
Jaitley also said the next generation would be horrified to note the kind of indirect taxation — multiple taxes across the states — that the country had prior to GST.
He said interface with a tax official will lead to corruption and many businessmen thought it is better to be outside the tax bracket and the net result was that India became a tax non-compliant nation.
According to him, following the GST regime, the tax base would increase while the weighted average tax rate would come down.
Jaitley said Prime Minister Narendra Modi has forced major changes during the last three years, creating an environment that is business friendly.
He also added that the days of bankers losing sleep over after borrowers willfully not repaying their loans running into thousands of crore are over, with the government bringing in the Insolvency and Bankruptcy Code.
Jaitley also promised that the GST Council would consider the representations made to him by the industry bodies.
India
During the searches conducted at the premises of office bearers and members of JeI various incriminating documents and electronic devices were seized
India
Curfew was imposed in Bhaderwah in Doda district on 9 June following communal tension in the wake of protests over remarks by now-suspended BJP spokesperson Nupur Sharma on Prophet Mohammad and some social media posts by local right-wing activists in her support
India
The Union minister also said that the StartUp culture in Jammu and Kashmir is now evolving with women seen building their startups in every sector which is a positive thing in itself and will enthuse others towards StartUps