Amit Shah's Bengal visit: A symbolic warning to Mamata Banerjee and groundwork for rapid rise
It is quite evident from Amit Shah's ongoing three-day visit of West Bengal that the battle for 2019 has begun in right earnest. Mamata Banerjee's bastion is of course not the BJP president's sole destination.
Editor's note: This is the first part of a two-part series on Amit Shah's three-day tour of West Bengal, a visit that coincides with an inflection point in Bengal politics and promises to redraw the state's political landscape. The first part deals with BJP's tactical moves as evident in Shah's itinerary and interactions with different stakeholders. 
It is quite evident from Amit Shah's ongoing three-day visit of West Bengal that the battle for 2019 has begun in right earnest. Mamata Banerjee's bastion is of course not the BJP president's sole destination. His 15-day organisational tour spans West Bengal, Odisha, Gujarat, Telangana and Lakshadweep in a bid to spread BJP's national footprint in places where it is weak and to consolidate its power in areas where it is the incumbent. It is not without reason, though, that Bengal was chosen as Shah's first pit stop.
Being the 24x7 politicians that they are, Narendra Modi and his trusted general are well aware that in 2019 BJP's biggest challenge will come from the pressure of expectations, not any mythical, unified monolithic Opposition. It stands to reason therefore that the party must expand footprint, and do so rapidly in places where it has the right atmospherics and yet weak structural strength.
Bengal fits the bill. With 42 seats, the state can give BJP a nice cushion against erosion of voter support elsewhere. It is also a tactical move because geo-politically Bengal presents the right conditions for BJP's rise and a larger battleground for its nationalist narrative.
For years, the BJP remained a marginal player in the state with a nominal presence among the non-Bengali, trader communities in the state's metropolises and a smattering of support in north Bengal. That changed in 2014. The Modi wave saw an unprecedented spurt with BJP cornering 17 percent votes. The party, however, lacked the organisational strength and grassroots muscle to sustain that momentum. In subsequent years, its vote share even suffered a mild erosion. Infighting, lack of direction and absence of a home-grown mass leader remained crucial obstacles.
It is at this juncture that the saffron unit benefited from the massive churn under way in Bengal. The germination of this churn lay in 2011, when Mamata finally cracked open the Left's 34-year-old citadel and stormed to power. Her rise to power was a momentous shift in Bengal politics. Mamata outdid the Left at its own game and co-opted leftist politics with a degree of fervor that even the Left found difficult to match. She took up land acquisition struggle at a time when the Left, under Chief Minister Buddhadev Bhattacharya, was trying to shake off decades of regressive policies and taking a pro-industry turn.
Mamata took this opportunity to snatch away Left's calling card. Having co-opted leftist politics, she then moved towards replacing Left's feared organisational structure with that of her own. In subsequent years, the Left lost its politics, structure and even some of its prominent leaders and scores and scores of cadres to an ascendant TMC. The Bengal chief minister had nearly annihilated all opposition by the end of her first term.
She didn't need to therefore commit the kind of tactical error that ironically paved the way for BJP's rise.
In order to secure her Muslim votebank which the 2011 Census pegged at 27 percent (a conservative estimate in a state prone to large-scale infiltration), Mamata took a decisive turn towards identity politics. For all its faults, the Left Front steered clear of mixing religion with politics during its 34-year-rule. Mamata's move to actively woo the Muslim votebank was perhaps because she didn't want to leave even the slightest chance for Left to stage a comeback.
She was well aware that her one-time dalliance with BJP would be held against her by a desperate Left which had few other weapons to fire. As the Left increased its rhetoric, Mamata started indulging deeper and deeper in politics of religion with Muslim appeasement forming the core of her focus. She used state machinery to further of her appeasement politics and in so doing, ignored the possibility of Hindu backlash — secure perhaps in the belief that Bengali Hindus will put their cultural identity ahead of their religious identity.
In her many acts of appeasement — monthly stipend to imams and muezzins, curbing Puja rituals in favour of Muslim processions, 'secularising' ubiquitous Bengali words, turning a blind eye to acts of lawlessness and violence committed by one community — a storm was brewing.
As Catch News points out in a 2016 report: "West Bengal has witnessed a spike in communal violence during Mamata Banerjee's tenure. There have been the infamous Canning and Deganga Riots and communal incidents increased to 106 in 2013. The previous five years witnessed about 12-40 communal incidents."
Minhaz Merchant notes in his piece for Daily O, "Dhulagarh is only the latest symptom of West Bengal's descent into a communal cauldron instigated by violent TMC cadres. If the thuggishness of the CPI(M) was notionally secular, the viciousness of the TMC is unabashedly communal. Riots are its preferred way of life."
The BJP saw in this appeasement politics a chance for consolidation of Hindu votes and it has since taken bold strides in importing the kind of religious fervour typical in Hindi heartland but unheard of in Bengal. The sticks and swords of Ram Navami celebrations and around 150 processions in different parts of the state indicates that a larger consolidation of Hindu votes is no longer a pipe dream.
The BJP central leadership has taken note.
Shah's visit is a vital cog in this design. The party knows that right at this moment, it cannot compete with the TMC in terms of organisational strength, people-to-people connect or booth-level mobilisation.
Shah's effort during this trip, therefore, has been three-pronged. He has tried to pitch Modi's development model as an alternative to Mamata's politics pointing out how the TMC government has become involved in several corruption scandals. He has attempted to firm up BJP's vertical structures in areas where it has some sort of presence — this explains why he began his trip in Naxalbari in north Bengal. He has also tried to make it a trip of symbolism, challenging the might of Mamata government by visiting her backyard, interacting with people in her own constituency.
The Naxalbari start requires a bit of explanation. The hotbed of armed rebellion in late 1960s that soon spread to other parts of the country, these areas in north Bengal have provided pockets of support for the BJP. It also carries a lot of symbolism. The BJP, as the recent Kanthi Dakshin bypoll results showed, is growing at a fast clip but almost entirely at the expense of the Left. What better way to project this ideological shift than to start a tour in the place from where ultra-Left radicalism took off?
Shah's visit in Naxalbari isn't just symbolic. It also carries a lot of political sense. North Bengal has seen many instances of cattle smuggling into Bangladesh. The PTI reports that BSF jawans on Tuesday stumbled on to an 80-metre-long tunnel being dug through a tea garden by suspected cattle smugglers near the Chopra-Fatehpur border outpost. The tunnel, says the report, was found in north Bengal adjacent to Kisanganj.
The Union Ministry of Home Affairs, in a recent affidavit, has submitted before the Supreme Court that cattle smuggling along the Indo-Bangladesh border is continuing at an alarming pace. According to a report in Live Law, a total of 1,78,801 cattle were seized near the border between January and December 2016 of which 1,28,440 (76.1 percent) were from West Bengal alone. According to the MHA affidavit, violent encounters led to 35 lives being lost in last three years, including five BSF personnel while 302 BSF personnel have been injured.
Naxalbari, where local population has been facing threats from cattle smugglers, gives BJP the platform to consolidate its base.
Shah's visit in north Bengal also included an outreach to representatives of the middle class in Siliguri where he skillfully introduced the topic of Bengal's lack of industry and deteriorating law and order. As The Economic Times notes in a report, "Law and order has reached its bottom in Bengal. In Bengal, where there used to be the reverberation of Rabindra Sangeet of Nobel Prize winner poet Rabindra Nath Tagore, now only explosion of bombs are there," he was quoted to have said.
Days before Shah made the comment about Bengal's 'bomb industry', a report in The Indian Express points out that at least seven people were killed in an explosion at Darbarpur village in Birbhum's Labhpur on Friday during the manufacturing of crude bombs.
In the unique vortex of Bengal politics, BJP is getting a lot of help from its toughest adversary.
The second part will deal with TMC and Mamata Banerjee's counter moves to checkmate BJP's rise.
India
One of the key mistakes that critics and Modi's political opponents make is to perceive his governance style as episodic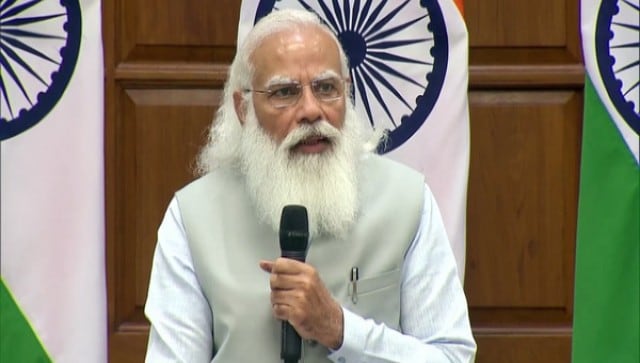 Politics
Leaders, including from the TMC and the CPM, also said that when the pandemic and issues related to it can be discussed on the floor of the House, what was the need to go 'outside'
Sports
East Bengal's ongoing problems with their investors has put the team's participation in this year's Indian Super League in doubt