After thumping UP win, BJP all set to take over Congress' southern citadel of Karnataka: SM Krishna to join party soon
After sweeping Uttar Pradesh and Uttarakhand, the BJP juggernaut looks to take over the southern citadel of Karnataka.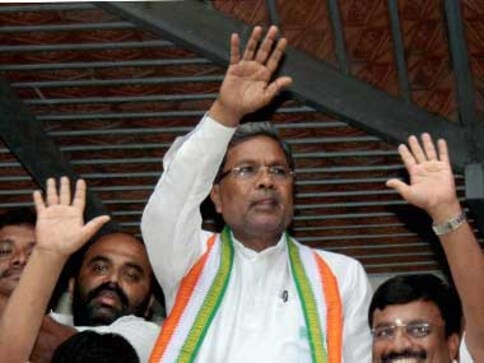 After sweeping Uttar Pradesh and Uttarakhand in the recently-concluded Assembly elections, the Bharatiya Janata Party (BJP) juggernaut is looking to take over the southern Congress citadel of Karnataka. Carrying forward its aim of creating a "Congress-mukt" India, the BJP will be looking to penetrate Karnataka, make a comeback in the state, where it was in power between 2008 and 2013.
Currently, the state has a Congress government, under chief minister Siddaramaiah, and is pegged for elections in the first half of 2018. The saffron party, however, will be looking to wrest power from its principal rival.
SM Krishna to join BJP
The BJP's first major coup ahead of next year's election was to rope in former external affairs minister SM Krishna. The former chief minister and Congress leader is expected to be formally inducted into the party on Wednesday.
Immediately after the Uttar Pradesh win, Karnataka BJP chief BS Yeddyurappa tweeted that he is confident of such a performance in Karnataka next year.
I am confident that people of Karnataka will vote for BJP similar to UP & ensure BJP's magnificent victory in the up coming assmbly election

— B.S. Yeddyurappa (@BSYBJP) March 11, 2017
"As the budget session of Parliament will resume from Tuesday, I will also be in Delhi to personally welcome Krishna into the party fold," the former BJP chief minister of the state said.
"Krishna will join our party in New Delhi on 15 or 16 March after meeting party's national President Amit Shah. He will also call on Prime Minister Narendra Modi later," another BJP official told IANS on the condition of anonymity.
Krishna, 84, resigned from the Congress on 29 January after 46 years of association with the grand old party for "being sidelined by its leadership". According to Economic Times, Yedyurappa has set a target of winning 175 seats after the party's emphatic victory in Uttar Pradesh. In this regard, the BJP is already on a campaign overdrive. According to another Economic Times report, the party's youth wing has begun a programme to boost its booth-wise presence to seek votes.
Krishna is a Vokkaliga leader and the saffron party hopes that his entry may help it to gain the support of the community which is one of the three largest caste groups in the state — the other two being the Lingayats and Dalits. According to a report in the Scroll, even if Krishna doesn't fetch Vokkaliga votes, the party may take advantage of his clean image in Karnataka politics.
Other senior Congress leaders who have already crossed over to the BJP are former chief minister S Bangarappa's son Kumar Bangarappa and Dalit leader V Srinivasa Prasad.
Pressure on Siddaramiah to deliver
With the Congress gradually disappearing from the political landscape of India, Karnataka and Himachal Pradesh (and now Punjab) are the only three major states where the Congress is in power.
With Congress losing Uttarakhand and possibly Manipur, the pressure on Siddharamiah to retain Karnataka for the Congress is high. However, with the Congress winning Punjab, the party is confident of beating anti-incumbency and returning to power in the southern state, reports have said.
"Unlike Uttar Pradesh, we have a strong party cadre in Karnataka and a government that is relatively less corrupt than the previous BJP one. They also do not have credible leaders, only the same old faces, We will certainly face anti-incumbency. But we have to and will work doubly hard to retain Karnataka," a senior Congress leader was quoted by Economic Times as saying.
The next big test for Siddaramaiah is the 9 April by-elections for the Nanjangud and Gudlupet Assembly constituencies where the ruling Congress is in direct contest with the BJP.
UP election results unlikely to impact other southern states, except Karnataka
Political pundits, however, are doubtful if the Uttar Pradesh election results will have any impact on any of the southern states except Karnataka. Fellow scientist at Himachal Pradesh University Ramesh Chauhan told PTI that barring Karnataka the Uttar Pradesh results will not have any positive impact in the south for the party.
"The humongous victory of BJP in Uttar Pradesh will embolden the saffron party to spread its wing down south, but not before reclaiming power in Karnataka, which is a corridor of power for BJP," political scientist Sandeep Shastri told PTI.
On next year's assembly elections in Karnataka, Shastri said BJP might not project a chief ministerial candidate and instead adopt a strategy as it did in Uttar Pradesh and Uttarakhand and press the central leadership including Modi to lead poll campaigns. Asked how he sees the growth scalability of the BJP in southern states after reclaiming power in Karnataka, Shastri said the saffron party would try to dislodge the Congress in Kerala and piggy back with one of the AIADMK factions.
"Except Karnataka, I don't think the UP results will have any bearing on Tamil Nadu and Kerala for another three to four years," Shastri added.
With inputs from agencies
Business
Earlier, Bommai had repeatedly urged the Union government to declare the Upper Bhadra project as a national project as "it will help get a central grant of Rs 16,000 crore". He had also met Sitharaman, multiple times and requested her to allocate funds for the project
First Cricket News
Set a winning target of 245, MP ended day three at 58 for no loss after bundling out the opponents for 93 in their second innings.
India
A two judge bench of the apex court had on October 13, last year delivered opposing verdicts in the hijab controversy, and urged the Chief Justice to constitute an appropriate bench to adjudicate the case that stemmed from a ban on wearing of Islamic head covering in Karnataka schools