After a fire ravaged four floors and damaged most of the Maharashtra secretariat, the state cabinet has granted approval to the plan to rebuild most of the floors of the Mantralaya at a cost of a little over Rs 81 crore.
And after being destroyed by a fire, the building will reportedly lay emphasis on facilities to prevent a recurrence of it.
According to a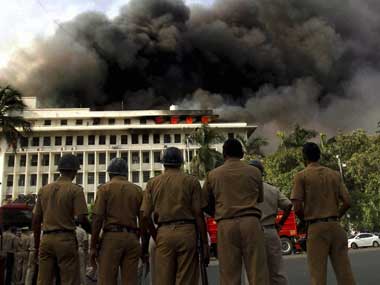 The fire in the Maharashtra secretariat on 21 June destroyed four floors. PTI[/caption]by-cabinet-for-Mantralaya-makeover/Article1-906807.aspx">Hindustan Times report, there will be a separate fire station set up only to cater to Mantralaya, the building will have state of the art fire detection and fighting systems and gas cylinders in the canteens will be replaced by piped gas.
Special emergency exits and escalators are also planned.
An Indian Express report said that the cabinet had approved of the plan to hire Raja Aederi as the architect of the project and a high power committee headed by the Chief Secretary has also been appointed to handle the renovation of the building.
Aederi was appointed for an earlier renovation of the secretariat and was deemed best suited to carry out the renovation of the building.
And with the new floor plan additional space will be created for offices on each of the floors, the Times of India reported.
Updated Date: Aug 03, 2012 17:19 PM