Oh to be in London: Vada pav for a quid!
At a vada pav joint in London, once the crowd got so big, the cops came calling.
London: The vada pav needs no introduction. On Mumbai's roadsides; at railway stations; the beaches; nooks and crannies and roundabouts; outside colleges, schools and playgrounds, it is everywhere. It's the perfect quick-fix snack. And three of it is a wholesome lunch.
(For those who haven't had one — it is  Mumbai's very own burger stuffed with spicy potato dumplings deep fried in gram flour batter. Add spicy garlic chutney to the mix and you have a winner.)
A vada pav craving is hard to quieten. Who'd know that better than Mumbai boys Subodh Joshi and Sujay, who opened the Shree Krishna Vada Pav at the Isle of Man in London. They knew the venture could not fail. "With the number of Indians here, I was sure this wasn't going to fail. It was a calculated risk."
And today, theirs is one of the handful of vada pav shops that are making a killing in  areas dominated by people from the sub-continent.
Subodh and Sujay came to the Isle of Man almost a decade ago, finishing their hotel management from the British-owned island before working their way up the ladder in hotels in the country. And it has paid off handsomely as their  outlet is now famous for being a specialist in Indian fast food.
"We wanted to start something of our own and luckily met a Polish guy who sold us a small corner shop. Things started with us chopping the vegetables and preparing the vada pavs ourselves, before we moved to a slightly bigger shop round the corner," says Subodh.
"We didn't even have money for leaflets or any other form of marketing. What we did was distribute free samples to whoever walked past our shop... that is how people came to know us."
Currently, they are located at a prime corner in Hounslow's High Street, an area which has enough Indians to keep the shop running, and a restaurant which boasts of more than 25 Indian dishes. Sujay says out of every 100 customers, 20 are white.
But what really clinched it for them? "The authenticity of our food no doubt. It was my wife's recipe and she is pretty good at Maharashtrian dishes and we told ourselves that if we're selling something like this, it has to be just like India.
"Most of our customers want something which reminds them at home. I can assure you that one bite of our vada pav will take you away to the streets of India for a moment."
It's easy to believe what he says; you can see constant in-and out of people even at 10 in the morning.
"Oh, this is nothing!" exclaims Sujay. "If you come in the evening you won't have a place to stand. Once there were so many people that the police came. We didn't have enough seating area at that time and people would just stand outside in the summer and eat. We had to tell the police that everything was fine, and tell you what, he is now a regular customer."
I was directed to the joint by a friend in London, who said this to a tweet on my hunt for a vada pav: 'The one in Hounslow? Oh yea it's really good!'
What was surprising was seeing a few British people stand in line for a pani-puri at a separate counter.
For me, and others like me, the killer deal is the price. For just one pound, it's a filling meal. Add 50 pence and that'll buy you cutting chai. Convert that to the Indian Rupee and you will think it's insane. In the UK, though, there is nothing better than a vada pav... for a quid.
Arts & Culture
Bovan won the 2021 International Woolmark Prize and the Karl Lagerfeld Award for Innovation, becoming only the second designer to win both awards in the same year.
Entertainment
Scott was known for her elegant creations in lush fabrics; among her many influential customers was former first lady Michelle Obama.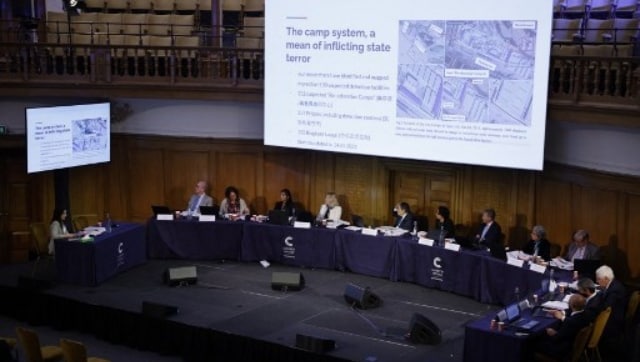 World
Witnesses described squalid conditions and brutality in camps in the northwestern Chinese region of Xinjiang, with one claiming that a woman had died after undergoing forced sterilisation