This story is part of our DocuWalk series. Read more here.
Text by Neerja Deodhar | Photographs by Zahra Amiruddin
Optimism is a funny thing; you can be completely immune to it if you aren't invested in a cause. On the other hand, you can be fully consumed by it, if you really want something to work out.
I learn this as I see the sun go from cutting through clouds to nearly setting in Mumbra — a suburb of Thane district, two hours away from Mumbai. I've been waiting outside the gates of a sports ground for nearly 45 minutes. Around me are school girls of different ages, excitedly pulling on knee-high socks and studded shoes, pumping air into footballs with industrious fervour. Their coaches don't share the sentiment; they're concerned about whether or not the girls will be able to play. Sure, they were told they could use the ground, but the gatekeeper won't relent until he hears from the authorities.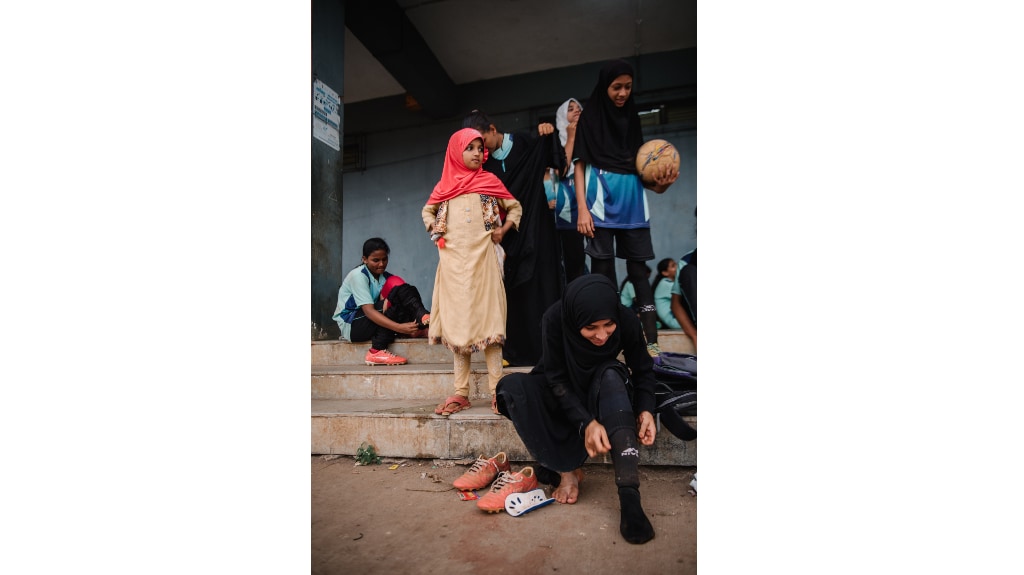 Is this a constant struggle, I ask Muskan Sayyed, a coach who works with Parcham, the organisation that facilitates these football practise sessions. Yes, she says, with a shrug. Seven years ago, Muskan was one of these young girls — among the first ever in the community to train and play.
And yet, the seemingly endless wait has not dampened the girls' spirits at all.
Though Muskan is a little miffed, she's sure that they will practise — at a ground close by, if not this one. At this point, my photographer and I are invested too; it would be a shame to see people this enthused let down by bureaucratic hassles.
Soon enough, the gates open and the girls rush through.