Editor's Note: The recent spate of racially-motivated attacks against Indians in the US has raised several troubling questions. The principal among these produced by heightened xenophobia; go back to your country. Firstpost set out to interrogate the messy, complex and dislocated experience of being Indian in America; is this my country? The series that resulted, Homeland, is a compendium of interviews, analyses and opinion pieces.
In this, the second part, read about how a loose coalition of South Asian Americans are forming rich community through open mics and panel discussions.
***
Sometimes, it feels as if we are all adrift, unmoored from the culture of our people and from one another. We are carried along the current, following the political and cultural eddies and tides of this land. But with drift is the implication that the trajectory cannot be charted. And sometimes, we drift toward one another.
Subcontinental Drift, commonly referred to as SubDrift, is a loose coalition of South Asian Americans who create ephemeral but meaningful tide pools for people affected by this drift. Organisers in far-flung American cities put on monthly open mics and panel discussions in community spaces and bars. SubDrift was founded in the nation's capital, Washington DC, but has since expanded to include New York, Boston, Seattle, and San Francisco, among other cities.
SubDrift is celebrating its tenth year bringing South Asian artists and performers together. Guests are welcome get up onstage and read poetry, sing and dance, perform spoken word, and do comedy. Generally, there will be a few performers who have been approached to be a part of the show ahead of time.
I have attended and performed at a SubDrift event or two myself. The spaces are intimate. People are friendly and willing to chat. Mostly, I felt as if I was tucked into a safe pocket in a warm coat, surrounded by brown people who were willing to recognise our collective humanity, shared and unique. This is what safety means to me.
Adi Nochur, a Boston-based urban planner, has been co-organising SubDrift Boston for nearly four years.
"The name Subcontinental Drift reflects this notion of being adrift between two worlds, be it America, be it somewhere in South Asia. How do we navigate that and find ways to express these dichotomies through art and performance? It's a name that's very evocative and very true to that narrative," Nochur says.
When I spoke to Nochur about growing up Indian in America, we found that we had both attended countless "Indian" parties. We talked about the performative nature of South Asian culture and the antakshari parties our parents had thrown while we were growing up in the northeastern part of the US.
Seattle-based SubDrift co-organiser Ash Bhoopathy wondered whether his child would ever have the opportunity to attend such parties. The formula was familiar to us all.
"It was the Styrofoam plates and the same daal and roti. All the girls would play together and all the boys together while all the women sat together and all the men sat together and talked about real estate or something," Bhoopathy says, chuckling.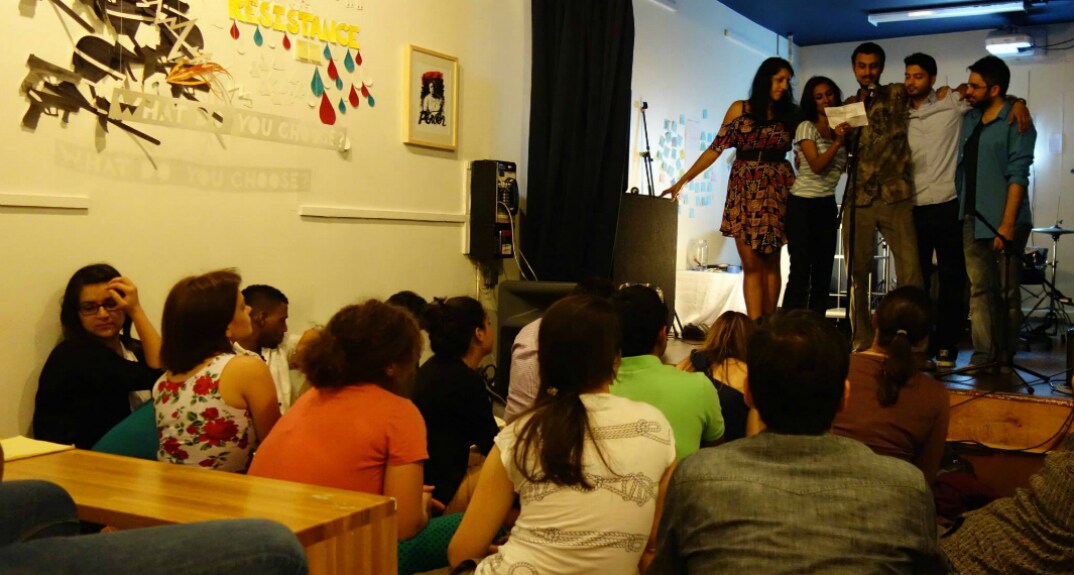 In the US, most non-white people endure long journeys, painful and celebratory, to arrive at a coherent sense of identity. As we grow and our worlds widen, we learn that we have political and social identities.
"I didn't recognise [Indian identity] as a racial identity initially," Nochur says. "I started diving into environmental activism in college and became part of student organizations developing racial justice analysis around this work."
Nochur told me about hearing the term "person of colour" for the first time and realising that he identified that way as well. We discussed cultural versus racial identity. Culture is more nuanced and specific to personhood than race. Though we cannot escape our racial identities, our cultural identities are worth preserving because they give us context and continuity. They anchor us to our pasts and give us something to pass to our children.