An ordinary Friday turned out to be not so ordinary, when 20-year-old Gurmehar Kaur agreed to meet me. Peeking from behind her phone at a nondescript beauty parlour in suburban Mumbai, Kaur was perhaps the most wonted 20-something I had ever met. It was hard to imagine that just recently, Kaur was branded an 'anti-national' by a large section of the country.
"Hi, I am the journalist who has been hounding you for the past two weeks," I said. Kaur giggled and extended her hand and said, "You weren't the first, not the last and definitely not the worst."
While I was looking for a place to sit, Kaur told me how she needed to do something about her look — to make herself less discernible in public. "Is that why you are changing your hair?" I asked, and realised that Kaur did not have the same worries as any other 20-year-old.
"So, what is it that you want to know, considering they (the media) probably have more information about me, than I do of myself," she asked.
"Everything," I said.
***
On a weekend at the end of February, social media was in a frenzy over a photo of a Delhi University student who had shared a message about the student wing of the Rashtriya Swayamsevak Sangh — the Akhil Bharatiya Vidya Parishad (ABVP). The story in a nutshell: Students of Ramjas college had planned a seminar called the Voices of Dissent and the key speaker for that event was JNU student Umar Khalid. There was a difference of opinion between the two leading student union groups — ABVP and AISA (All India Students Association - the Communist party's student wing). The ABVP objected to Khalid's talk on freedom of speech and expression. The reason they cited was Khalid's involvement in last year's incidents which led to clashes over Khalid, along with Kanhaiyya Kumar and Anirban Bhattacharya being charged with sedition.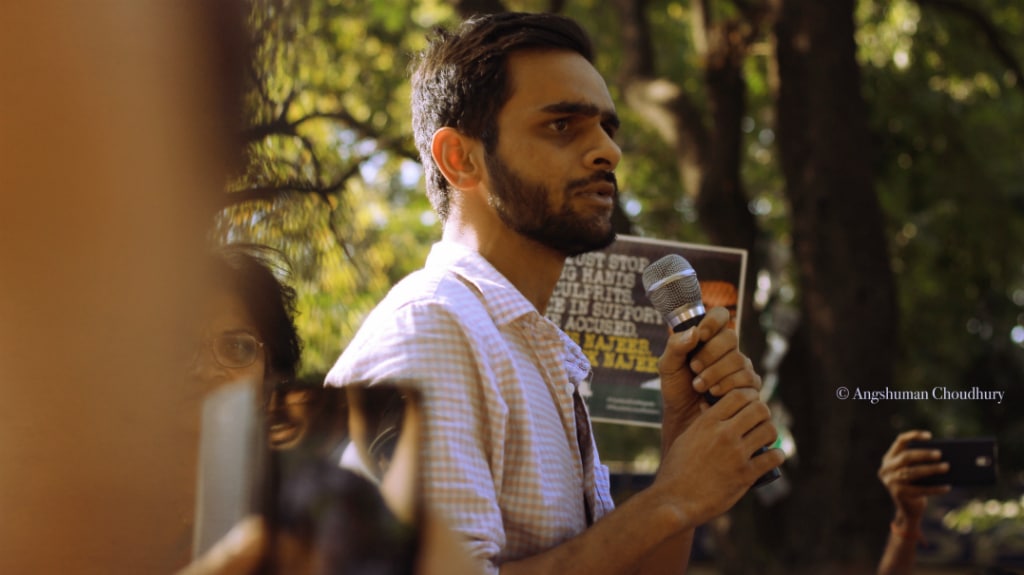 The night that Ramjas students — who agreed with AISA activists that Khalid should be allowed to speak at the seminar — planned a 'peaceful' protest against ABVP objecting to the event, there was reportage that there were "violent clashes" on the campus. Kaur's close friends were protesting along with the Ramjas students that night.
"ABVP goons disguised as students, had thrown stones, iron rods at students and faculty members, the dean was thrashed brutally. Mind you, there were kids who were as young as 17 who were lathicharged. My girlfriends were taken by the police after 6 pm without any woman constable present, and were randomly dropped off near Hauz Khas metro station. I was getting all this information at 9 pm," said Kaur.
Kaur, in her own words, does not care much for politics. "I don't care about Left or Right. I was, however, infuriated that students and teachers, (the dean himself) were beaten up by students who did not agree with what was happening. What is this world where students beat up their teachers, I wondered. The decision to upload the image was spontaneous," she said.
Kaur took a photo of herself holding a placard, which said: "I am a student from Delhi University. I am NOT AFRAID of ABVP. I am not alone."
Suddenly, Kaur became the focal point of discussion, debate and discourse on various media platforms including social media. The only issue at hand, the violence at Ramjas was completely forgotten. Headlines became about the 'Kargil martyr's daughter'.
"Overnight, I was an anti-national. And I did not know why. I did not know why I was being called Kargil martyr's daughter — of course he is my father and I am immensely proud of that identity, but that was not the matter of concern at that point of time. I am a student of Delhi University, and restraining my right to speech by violence curbs my existence as a human being. That is what I was fighting for. It was not about politics, it was about my friends and peers who were thrashed for speaking their mind. How does my father, who died for a war that he did not create, come in to the picture?"
All this while, a different war was being waged on social media, a video of Kaur, which was shot more than a year ago, was being circulated. Soon enough, it started trending. In that four-minute video in which she recounted the pain she felt over the death of her father – an Indian Army captain who was killed on duty during the 1998 Kargil war between India and Pakistan. She was seen carrying a placard about the need for peace, stating at one point, "Pakistan did not kill my dad, war killed him."
With that, Kaur found herself in the middle of an unforgiving political storm around nationalism, anti-nationalism, rights of freedom of speech and expression. It turned into a national debate which fed newspapers, television channels and online publications for weeks and had politicians, actors and sportspersons weighing in.
Someone accused Kaur of "leveraging her father's death," others called for the 20-year-old student to be raped and murdered. Some said that her father would be saddened by her if he had been alive to see what she had done.
"I did not care much about the Twitter trolls and I knew there would be a backlash especially if you say anything about ABVP. It is a fact that I never experienced it first hand, I merely had 40 followers till s**t hit the roof. But I honestly did not care much," she said.