Women scientists in India: What we learnt from a year of lab-hopping across the country
Why does it seem to be so hard for women scientists to rise to the top at research institutions?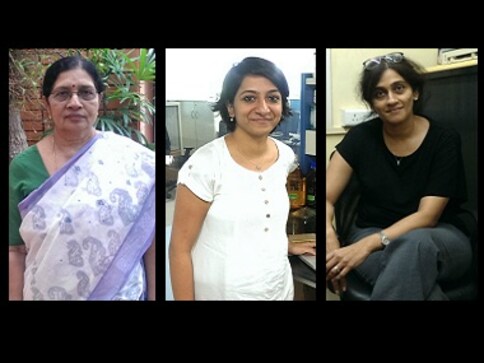 Arachnologist Elizabeth V. Mathew was trekking through a forest in Tamil Nadu accompanied by men that she did not know very well. Though focused on her search for rare spiders in their natural habitat, Elizabeth was also wary about her personal safety.  "I just had to trust that the men's intentions were honest. In the chance that I was wrong and they wanted to harm me, then not even a trace of me would be found. It's all part of the game. You have to be careful and accept that we're not as free as men are."
Not very far away, Jis Sebastian, a wildlife ecologist who was in Kerala after years of studying gibbons and bears on her own in Arunachal Pradesh and Kashmir, found herself in a similarly discomfiting situation. "The forest officers told me straight away – you're not supposed to come alone, bring somebody, bring your parents or your relatives. I just said I'm not bringing anybody. This is my own business. I am capable of coming alone and I will go alone."
Jis and Elizabeth are both young and accomplished ecologists. Neither is threatened by the uncertainty, the wildness or the solitude of the jungle (in fact Jis says that she feels much safer in the jungles than in cities); their biggest challenges are usually man-made. This is a theme that my partner Aashima Dogra and I have repeatedly come across during our one year of 'lab-hopping'. In February 2016, the two of us launched The Life of Science project, our attempt at highlighting the work done and the challenges faced by women in Indian science — who constitute a paltry 10 percent or less of the faculty in most research institutions.
Since then, we have hopped to over 50 institutions in different parts of the country and spent about a hundred hours talking at length to the female scientists who work there. We publish reports based on the interviews we do on our website every week. We're now almost a year old and today (11 February) happens to be the UN designated International Day of Women and Girls in Science, so there is no better time to look back at some of our experiences.
Aashima and I met when we worked together at a popular science magazine for children in Bengaluru. There, we lucky to work alongside a great team of artists, writers and techies who each had unique ideas about how we can make science more accessible to Indian kids. We knew that as creators of content for such an impressionable audience, it was important not just to disseminate information mechanically, but to do so in a manner that was most inclusive — of gender, culture, race, learning style, etc. In this process we ended up unlearning and learning a lot ourselves.
One thing we learnt was to be conscious about the way we depicted scientists in comics and stories. We realised that illustrators and writers (even us) have a tendency to imagine a scientist in a fictional story as male, often grey-haired and crazy-looking. This default picturisation is not surprising as popular history — especially scientific history — is highly dominated by male and western figures. But as a popular science magazine for kids, we had a lot of avenues to break this stereotype. Much of our content was storified and so this meant that we had this unique chance to equalise things. Presuming 50 percent of our readers are female or identified as such, we knew that it would only make sense and be more relatable if our magazine acknowledged the contributions of women to science and gave young girls more things to aspire for.
This shared interest was what led Aashima and me to begin TLoS project when we left the magazine. As science journalists and feminists, we felt like this was an evolution — finding the real women in Indian science. Tracking these women down, we can now safely say, has been the easiest part. If you look at absolute numbers and do not restrict yourself to the top designations (which we do not), there are women everywhere in research! Yet, even today in India, women's contributions continue to be overlooked — whether it's the Shanti Swarup Bhatnagar Award (India's most prestigious prize for scientists), the Infosys Prizes, panels in science conferences or media coverage of research advancements. Very few non-scientists are even able to name even two or three non-male scientists working in the country.
And the lack of women in the visible sphere matters. As Dr Vidita Vaidya, a neuroscientist and SSB award winner, put it: "Let's say you organise a conference and you have only male speakers. Young graduate students watching this see 10 men on the podium. You're sending a message that you couldn't find one woman, and then you say 'oh but there just aren't women, so we couldn't find them', well then there's something wrong here."
So why does it seem to be so hard for women to rise to the top at research institutions? The most logical reason is because too many of them drop out before they get a chance to. Though all the interviews we have done so far are with women who have not dropped out, their life stories gives considerable knowledge about ways to prevent attrition. Most stark among the married scientists that we've interviewed is that an overwhelming number of them have spouses who are also in academics, often in the same field. Most of the couples have managed to secure jobs in the same city, enabling the family to stay together. However, getting a job in the same city is so difficult in academia that this dilemma has popularly been dubbed the 'two-body problem'.
At a forum for women research students and faculty at IIT Delhi last October, Dr Neetu Singh talked about how difficult it was for her and husband to move to India simply because institutes seemed averse to hiring them together. In contrast, she said universities in the West often went out of their way to offer the spouse of the candidate they wanted to hire a position in the same institute. Neetu's problem is not unique. It is an open secret among Indian researchers that the Indian government's massive R&D wing, the Council of Scientific and Industrial Research (CSIR), has an unwritten rule to not hire couples. Apparently, the CSIR fear that hiring couples will promote nepotism but everyone we've talked to in the past year has unanimously rubbished this view.
The danger of such policies goes beyond the inconvenience of it. In the patriarchal family set-up predominant in India where the mother is still considered the primary caregiver and the father the breadwinner, it is very likely that the woman makes the sacrifice and gives up her career to keep the family together. The women we met have managed to get into institutions which have more pro-women, pro-science policies.
When Dr Vandana Sharma, now a faculty at IIT Hyderabad, began applying for faculty positions in India, she found her personal life being scrutinised at interviews. "They asked me 'Your husband is in the Netherlands and you are applying here, how will you manage?' I felt like giving it back to them! Why don't they realise that if I have applied for the position, I must have thought about this? The interviewers must not worry about my family matters – I will take care of that. They don't ask this from any male applicants. This is really a drawback for women." Clearly, these kind of prejudices do bias the selection of candidates during interviews.
Moreover, all the scientists we've met have had extensive support from their husbands, parents, in-laws, daycare centers or from nannies to take care of their children. But these provisions are not available to all, and many of our subjects have stayed unmarried, married late, had children late or stayed childless. These women feel that this status has given them more freedom in their career.
The patriarchal mindset of the man as the primary breadwinner has some toxic manifestations. Dr Lipi Thukral, a computational biologist at Institute of Genomics and Integrative Biology in New Delhi, told us about how she has faced resentment from male colleagues in the past just because she earned as much as them. "The problem is that I am compared sometimes to the wife of a fellow male colleague," she said, protesting against her income being seen as the secondary salary in a family. As a result Lipi's fellowship was considered to be too much. "This is the kind of computation everyone does and I find it hilarious. I'm not to be compared with your wife! I'm the one with the PhD!"
Even in the starting stages of her career, the woman scientist finds herself fighting to stay out of the backseat. When Dr Ramadevi TS was a starting out as an engineer in ISRO she was not allowed to accompany her male teammates to Ladakh to test a gadget she had developed with them. "I would have liked to go but because I was a woman – just 22 years old – the management would not allow that." Ramadevi went on to take some unconventional steps in her career and finally retired as a deputy director at ISRO, but it is easy to imagine how this kind of patriarchal sidelining may be adversely affecting the prospects of young female scientists.
The growth of one's career is greatly influenced by having a boss that opens up opportunities. In a scenario where the boss is likely to be male, if women are excluded from after work hangouts, smoking breaks, outstation field trips, etc. naturally, the frontrunner for most opportunities — whether promotion or the chance to attend an international conference — end up being male.
In some extreme cases, as with Dr Ramadevi Nimmanapalli, who is a dean at Banaras Hindu University, having a smooth run to the top, too, comes with its own set of hazards. She was lucky to have worked under a vice chancellor who was very approachable. "Work was going really fast for me (sic). If I needed to see him, I would call his office and if he was busy, he got back to me later." But things got ugly when the VC changed and it emerged that some people had been very envious of her. "I got some letters that claimed I had an affair with the previous vice chancellor."
All the women we have featured in our project are making significant contributions to human knowledge. And they are the very small minority that has braved the odds. We must realise how much quicker our progress could be if we are able to plug the leaky pipes in the system. Most of the issues we've discussed here are neither exclusive to science, nor to India. Nevertheless, they are important to acknowledge. As part of the scientific community, we owe ourselves and future talented minds a more sensitised and eventually equitable workspace.
Find the detailed versions of our interviews with women scientists in India on The Life of Science's website. We are currently independent and self-funded. If you would like to support our project, please write to us at labhopping@gmail.com.
India
The Indian Space Research Organisation launched the Small Satellite Launch Vehicle (SSLV-D1) carrying an Earth Observation Satellite (EOS-02) and student-made satellite AzaadiSAT from Satish Dhawan Space Centre, Sriharikota at 9:18 am today.
India
This small satellite launch vehicle (SSLV) will meet the demand for such small satellites, which weigh upto 500 kgs and can be injected into the 500 kms low earth orbit
India
Come 7 August and India's smallest launch vehicle (SSLV) will take flight. It will carry AzaadiSAT, a microsatellite with 75 small payloads developed by an all-girls team from government schools across India