Editor's note: This is the fourth column in a series about women and the (urban) workplace. Also read parts one, two and three on Firstpost.
Whilst the new maternity bill is a victory for women in terms of our own bodies and needs, for those who know the way corporate India works with regard to maternity leave — there is much apprehension.
Pregnancy bias is a well-established phenomenon, strong and entrenched in companies such that hiring managers still ask women what their marriage and life plans are. They never ask men that, because there are few men who take more than a few days off either to get married or once their child is born.
On the path to senior leadership, more women fall off the ladder once they have babies, largely because their maternity leave is not "managed." Or it's more rewarding to stay at home because companies offer them little growth.
Pregnant career women have been worried for years they will be afforded a lesser role (commonly known as the mummy track) when they get back to work. They do not want that.
In my book Own It, I asked women what their concerns were when they got pregnant.
I got 11 responses — all reflected an impact on their work.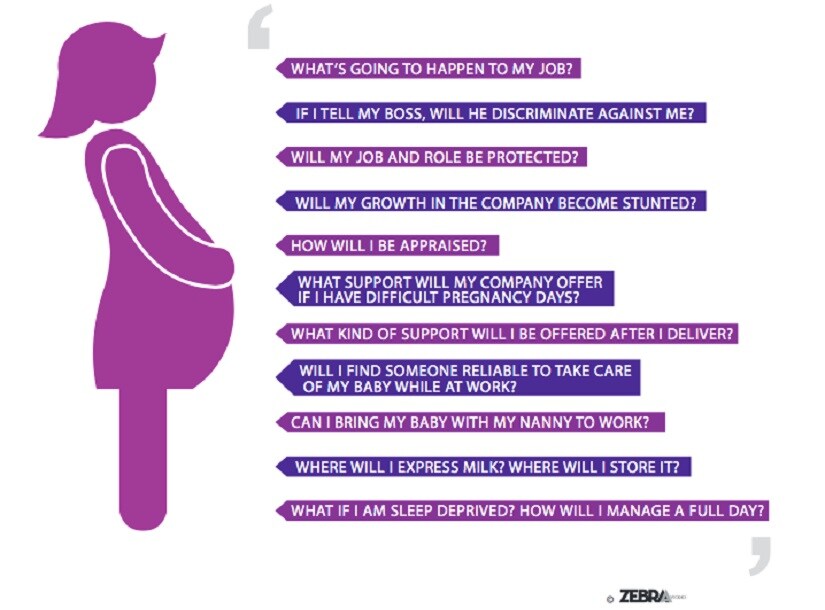 I asked the question of men whose wives were pregnant.
I got two responses. Neither had a direct impact on their work.
I interviewed several start-ups and their view on this bill is clear. They are bootstrapped and some can barely afford the critical resources for equipment or travel budgets to make it in the ecosystem. Every penny counts. They are young; they work crazy hours with the passion and intent of making it big enough to become a well-funded company that can scale and grow. Each person is important. They cannot afford to lose a member of the team for a long stretch of time. Their view is short term. But I know women in start-ups are passionate about the company growth and have found ways to work remotely at their own pace without missing a beat.
Sadly it's not just the lean companies with this point of view. The pushback and silent murmurings are being heard from larger companies who will never say so in public. They want the government to re-evaluate this bill.
There can be a variety of solutions including the more formulaic approach of diminishing paid like some countries have. The leave could be three months at full pay + three months at 50-75 percent for the rest of the three months. Another alternative: offer joint parental leave of six months, to be divided between both the husband and wife.
In its current form the new maternity bill has given credence to the already strong bias against hiring young women.
Largely, this bias comes from the way we perceive women's roles.
Why are women intrinsically tied to their own families and those of their in-laws, with an iron clad umbilical cord whereas most men's commitments are barely a few days long?
Why are codes of conduct in companies largely around only company values and ethics? Why do familial and biological based policies refer only to women?
What would change if we had policies for men around their families too? Wouldn't that help to fairly swiftly encourage mind-set changes?
What of mandatory paternity leave for men that extends beyond a measly 10 days?
What of giving men time off during their children's exams?
What of considering a man being bullied and teased for being a family man and being shamed by his peers not taken as seriously as bias and harassment?
What of encouraging men to go home after 6 pm unless absolutely necessary?
What of explicitly offering these policies plated up such so that men realise that the company values encourage and laud them for having work-life balance.
We know that technically women have two jobs (office and home) and their productivity is still at par, if not higher than their male colleagues in an office.
If you actually clocked the number of productive hours a woman puts in versus a man who shoots the breeze with "sutta and coffee breaks" and the after work beers, what would your findings be?
Do the women finish most of their work on time? Do the men stay back? That itself is an indicator. Long hours by men do not necessarily mean better work or commitment. It largely means they are shunning their other jobs.
Husbanding, parenting and sonning.
And companies endorse it unknowingly.
If we perceive women without bias as an asset, a long-term investment, we would think differently. The maternity bill means six months only.
Consider your lack of bias with the number of average and unproductive men in your firm. Consider it when a man goes on extended sick leave. Consider it when men moonlight or have another business on the side they focus on.
Does it impact your thinking?
We know diversity positively impacts the bottom line. How I hate to keep tom-tomming this as the reason to hiring and retaining women! But if one is truly committed to diversity in an organisation, here are some ways to work with this bill.
1. Have an HR resource committed to managing maternity, from counselling to career planning. Ensure women are given their roles back without bias and not mandatorily assigned roles that are "easier." They may or may not want them. Ask.
Some women want to start working from home within a few months. Have chats with them and ask them what levels of work they are comfortable with. The control on how often and how much they want to be involved with their work while on maternity leave should be in their hands. Not a decision made by the company.
Nowadays, everyone is connected to mail via their smartphones. If the woman wishes, involve her remotely with weekly check-ins from her manager or a senior member of the team. She may have more context and can likely contribute even from home.
When she comes back, have a small orientation again to bring her up to speed and make her feel she is welcome and important to the company. Everyone works better when they feel they are needed and important. Of course, your policies for pregnant women and new mothers will also need a look.
2. There are many women who only want freelance part time jobs. Use them as part-time stand-in employees, who come in on a rotation for women on maternity leave within a role. This stand in resource can circulate within a department when needed.
3. Change the way men — particularly fathers and husbands — are treated within an organisation. Encourage them to play those roles actively. This means no peer pressure and no long hours.
4. Figure out ways to implement mandatory paternity leave. Call it parental leave not 'maternity' or 'paternity'. Give it a shared onus. Perhaps even offer a father paternity leave 3-6 months after he has become a dad, so that his wife can go back to work guilt-free knowing the father is at home.
Change starts from the top in firms. From the CEO, from leadership, from boards insisting that corporate cultures need transformation.
The passage of the maternity bill gives us an opportunity to relook and rejig our biases and corporate cultures.
This bill is call for us to make that shift.
Aparna Jain is an Integral Master Coach and the author of Own It: Leadership Lessons from Women Who Do. (HarperCollins 2016).
Updated Date: Apr 01, 2017 10:11:10 IST