The butterfly effect: Extinction of fluttering moth puts your child's life in danger, affects balance of nature
It's important to bring an end to poaching of butterflies and their use in decorative items as the survival of butterflies is necessary not only to maintain balance in nature but also for the survival of life itself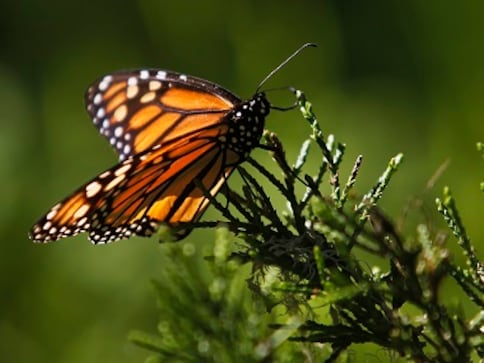 My son and I were standing in the garden, basking the sunshine of an early winter. He was wearing a bright yellow kurta. As he knelt on the grass, a butterfly came and settled on his back and remained motionless till he straightened up again. It was one of those happy moments when we both felt lucky at being part of the life of this garden. But months later, I still wonder whether or not the colour of his shirt the butterfly. Was it his smell, or was the butterfly just tired of flying around and my son looked like a convenient place to rest? I think he just got lucky.
The duty-free shops in airports across the world display the standard alcohol, perfume, cigarettes, watches and traditional items of a country. While browsing through the Bangkok airport shops my eye was caught by some unusual jewellery displayed among the watches. On closer inspection, the earrings and brooches in little velvet boxes marked at $24 each had this sign: "This ornament is a genuine insect. Delicately plated with 24 carat gold and preserved with lacquer coating for everlasting wealth and perfection of nature's beauty." Butterfly wings! There doesn't seem to be any limit to man's inventive genius when it comes to exploiting other creatures.
One counter of the next shop displayed butterflies mounted on plaques. Blue Tigers, Finebar Swordtails, Yellow Helens, Cruisers, Common Rose, Emperor Moths and Commanders stretched out in their iridescent greys, oranges and yellows.
Why should I criticise Bangkok, or Taiwan, where 15 million butterflies are put on sale annually, or Brazil, with 50 million (a butterfly economy?) butterflies being exported every year straight from the rain forests? The same tourist items are on sale in India as well. Butterflies are sent from India to Hong Kong and Singapore, which act as clearinghouses for the Indo-Malaya region. Even Bhutan, which prides itself, rightly so, on being the last country in the world which protects its wildlife fiercely, is a victim of butterfly poachers who enter as nature tourists.
How are these fragile beautiful fluttering creatures caught?
Professional collectors learn about the habitat of the butterflies. They stalk them, catch them in nets and then — because butterflies are hard to set when dead — they drive a sharp pin dipped in nicotine poison through their spines and onto paper or cloth. They take a while to die, fluttering weakly till the end. The butterflies that break their wings, or are mutilated during the capture, are simply thrown away. A rare butterfly, belonging to an officially protected species, is sold on the black market.
Before, species used to disappear in the course of immensely long periods of evolution. Now they are extinct in the course of a human lifespan. There were thousands of species pf butterflies in India. Now, there are less than a thousand left. A change in climate, the deterioration of natural surroundings and excessive "collecting" are all wiping them out.
Butterflies are a vital link in the life support system of the human being. They play a major role in pollination and the consequent reproduction of plants. They also act as pest control agents by eating aphids. Each type of butterfly has its particular flower or food plant. Obviously then, when a plant is removed in the process of "civilisation", it is the butterflies which become vulnerable. Most Lepidoptera species are concentrated in the tropical forest zones. In India, these are disappearing at the rate of ten football fields a minute!
The little soul: role of butterflies across cultures
Butterflies are silly fluttery creatures. They do not leave their own habitat. They have community relationships and are scared of moving. Collectors can find them easily too. So if they die, the plants don't reproduce and they die too. Then the topsoil shifts. Then the area becomes barren. And while all this happens, somebody has decorated his drawing room walls with thousands of butterflies pinned together in a collage.
In mythology, butterflies are associated with the soul, with regeneration, the heat of the fire and the light of the Sun. They are a typical example of the magical conception of nature, according to which nature is a continuum of processes involved in the act of reciprocal transformation. The Greek word for soul and for butterfly is the same. The Russian word (for butterfly) too means "little soul". In the Solomon Islands, they believe that humans are reborn as butterflies. The great Chinese Taoist, Chuang Tze, once dreamed he was a butterfly. On waking, he pondered over the dream: "Who am I? Chuang Tze who sleeps and dreams he is a butterfly or a butterfly that is awake and imagines it is Chuang Tze?"
Check on smuggling is a necessity
In one of the successful raids conducted by the Wildlife Department of Delhi, it uncovered a customs scam that had been going on for years. The fur shops in Delhi were smuggling illegal furs from abroad but the boxes were labelled "rags". It never occurred to anyone to ask why fur shops were importing such huge quantities of rags into India. In the same way, I would like the Wildlife Department officials at Bombay, Calcutta and Delhi who operate at shipyards and airports to check in what fashion thousands of our dead butterflies are being smuggled out. If you have any clue, please inform me as soon as possible.
As for people, I would say, don't collect creatures whose only mistake is that they are beautiful. These fragile wisps of colour are a heritage that belongs to the future generations. And when they go, they will take with them our flowers and trees and life itself. It's odd to think that your child's life rests in the heart of a butterfly, but it is true. So, stop someone else from killing your child.
also read
World
A recognition from Israel's National Infrastructure, Energy, and Water Minister means that Energean, a British-Greek energy company can draw up plans to develop the reserve. The natural gas field has been named 'Katlan' and is entirely inside Israeli territorial waters
Explainers
Climate change is predicted to drive up to 30 per cent of species over tipping points. When the thermal exposure threshold is exceeded, the animal does not necessarily die out, but there is no evidence that it can survive
World
For Xi Jinping, the world has entered a period of turmoil and change which was not seen in the last 100 years and presented a series of strategic opportunities, risks and challenges along with unpredictable factors to China's developments