Tata Literature Live 2018: On Day 3, conversations on love, longing, cities and history
Ravish Kumar, Snigdha Poonam, Ashok Ferrey, among others feature on day three of the Tata Literature Live 2018.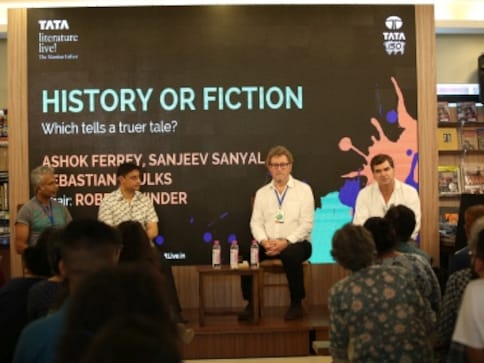 Dear diary,
Today, I exchange my townie badge for the day for a similarly privileged one, that of a Bandra-ite. My base moved from the cool confines of the NCPA to the equally cool and busy confines of the Title Waves bookstore and SPICE (St Paul's Institute of Communication Education).
The crowd here was much younger, most of them college students. And their star for the day was Ravish Kumar, the journalist, TV anchor and author. They all had questions for him, asked in well-articulated Hindi. They greeted every sentence he said with cries of delight and applause. At the end of his session, they crowded around him, seeking photographs (the lit fest is adamant that selfies won't be allowed), asking questions and getting notebooks and papers autographed. I'm sure they wanted to buy his book, Ishq Main Shahar Hona (released 2015; English translation released this year) but Title Waves didn't have copies.
Kumar was part of a session titled Text and the City, with Abodh Aras of Welfare Of Stray Dogs (WSD) and author Shoba Narayan. They were to discuss their city-centric books: Kumar's A City Happens in Love (Delhi), Aras' My City, My Dogs (Mumbai) and Narayan's Cows of Bangalore. In the hands of a good moderator, a discussion can be informative and engaging. This one struggled because it wasn't moderated well. The questions were too long, there was no interaction encouraged amid the speakers, and answers given weren't used to ask follow-up questions. In an unintentionally funny moment, the moderator was given a note saying 'hand the mike over to the others', which she proceeded to read aloud.
Luckily, for our sakes, the three authors were capable of handling their own. Narayan told us about her pet cow, Anand Lakshmi and how she is called the cow lady of B'lore. "As a secular Indian, I wanted to make sure my story wasn't related to gau rakshaks. Instead, it has ethics, history, religion, and animal love," she said. Aras introduced us to the Shah Rukh Khans, Salmans, Hrithiks and other stray dogs he met over 22 years, some of whom are illustrated beautifully in his book.
If Aras and Narayan explored their love for the city through its animal population, Kumar's book looked at how people fall in love in a city. This was, of course, before Love Jihad and anti-Romeo squads came into the picture. "Earlier it used to be that when in love, people would worry about telling their parents. Now, when couples fall in love, they have to learn how to tell their government," he said. Disclaimer: Kumar spoke in Hindi, and this is my attempt at translation.
His advice to the audience was, the only way to deal with so much hatred in the country, was with love. If you love someone, or something or the city, you are less likely to get caught up in hate speech. To a question about whether his book could have been set in Mumbai, his response was 'couples have fewer challengers here. The best love stories are forged in challenging conditions'.
My last session of the day had three talented people, journalists Snigdha Poonam and Shubhangi Swarup and author Janice Pariat. Again, it suffered because of bad time management. Instead of discussing love, longing and ambition in New India, much time was spent on reading excerpts (no doubt, these were excellent). It felt like three separate interviews instead of one discussion. Little wonder then, there was just one question from the audience.
I actually wondered if I should have braved traffic to go to the NCPA to listen to Ravish talk to Rajdeeep Sardesai about free speech. But, I wanted to support my fellow women journalists and one look at Pariat's face – she was at the NCPA and arrived late – and I knew I wouldn't have made it in time. It makes me doubt the idea of adding a second location to the lit-fest – you are alienating an audience who will find it difficult to shuttle between both places to attend their preferred discussions. We are notorious for not attending events because of the amount of travel involved.
The good that came from the session was Swarup's excerpt compelled me to buy her book – it's received rave reviews – Latitudes of Longing. Swarup's autographs are interesting: she chats with the person, asks them about themselves and then makes her notes personal.
My fan-girl moment for the day – there were no selfies involved – was meeting Ashok Ferrey, Sri Lanka's bestselling English author. He was part of the History or Fiction discussion with Sebastian Faulks and Sanjeev Sanyal. Sanyal stole the show in this well-moderated discussion about whether history or fiction made for better stories. "Many of our history textbooks are fiction. Indian history is an accumulation of biases where it has little correlation with primary evidence. I wanted to show another way of seeing history, from an Indian perspective," he said.
Ferrey chimed in saying that no two Sri Lankans will ever agree on an aspect of history. "We don't have an idea of what history is and what it should be. The best way to approach history is obliquely, through fiction."
The greatest fiction in our country, after all, is fake news.
"News is a satirist paradise," said Ferrey. Except, dear diary, it's the fools having the last laugh.
World
The economic crisis in Pakistan is similar to the levels faced by Sri Lanka, which had gone through a similar situation prior to its default. Pakistan is now at the same juncture
World
President Ranil Wickremesinghe presided over the ceremony which featured a military parade with a 21-gun salute
World
On 19 January, two members SB Divaratne and KP Pathirana lodged complaints over telephonic threats to resign. Later MM Mohamed, another member, received similar threats. Fourth member PSM Charles had reportedly offered her resignation from the membership