Sonia Gandhi to Sooni Tata, Mother Teresa, a new book examines the lives of 11 'Indian videshinis'
'Indian' to other westerners, 'videshinis' (foreigners) to Indians, these women straddled different identities in a time before multiculturalism became a buzzword.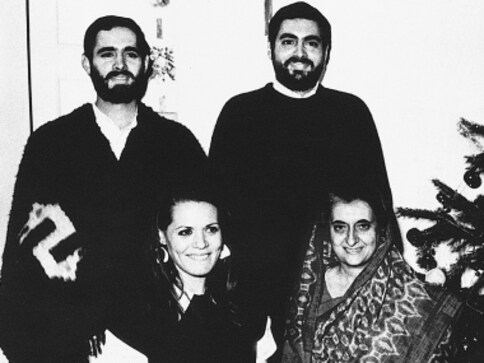 Sonia Gandhi's rise from being the Italian-born wife of the more non-politically minded of the Gandhi sons to a powerful figure in the Congress party. Mother Teresa's journey from Eastern European to India, where she hoped to renew Christianity. The Tatas — Sooni and Simone. Sister Nivedita. Annie Besant's arrival in South India in 1893. Mirra Alfassa (aka The Mother). The princesses Niloufer and Durru Shehvar. Jeanne Dupleix. Margaret Cousins.
Eleven European-born women who made India their home, and impacted society here in myriad ways. 'Indian' to other westerners, 'videshinis' (foreigners) to Indians, these women straddled different identities in a time before multiculturalism became a buzzword.
All 11 women have also been profiled by Ian Magedera in his recently published book, Indian Videshinis. Magedera, a senior lecturer of Modern Languages and Cultures at the University of Liverpool, UK, began researching the book several years ago, delving into the story of JRD Tata's French mother Suzanne at the Tata Central Archives in Pune.
He began thinking of women like Suzanne — other Indian videshinis — and approached the publishing house Roli Books with an idea for a book based on five profiles, seven years ago. The publishers wanted to include 10 profiles in the book — Magedera gave them 11.
The synopsis for the book points out that Magedera's chosen profiles "illuminate the careers and Indian identity formation of European-born women and their deep — and sometimes controversial — influence on education, religions, spirituality, commerce and politics in India. For their Indian supporters and opponents, these women were both Indian and videshinis (foreigners); they were also non-British and thus separate from the colonial power. They may have been the last outliers of the intercultural contact around the freedom struggle, but their integration by Indians now holds a lesson in inclusivity for the country".
Magedera spent over 10 years working on the book (whilst also juggling fatherhood — he has two girls; managing his position as a full-time lecturer's position, and as warden of a 400-student Hall of Residence, at the same time). About the challenges of ptting together this book, Magedera told Firstpost: "(There was) an interesting tug of war. Should the book be for intelligent general readers or only for specialists?" In its published form, Indian Videshinis has enough to engage both kinds of readers.
Magedera says, in researching and writing the profiles of these Indian videshinis, he found that they had much in common apart from the fact that they were foreign-born and made their homes and life's work in India. Mobility, he found, was a crucial factor."Even a woman like Mirra Alfassa — who helped found the Sri Aurobindo Ashram and Auroville township, and stayed in (then) Pondicherry from the 1970s, travelled the world. She went to Japan, North Africa... Travel imparted the mental flexibility needed to perform with poise the identity acrobatics demanded of the Indian videshini," Magedera explained.
Magedera was also drawn to how the Indian videshinis felt they must to constantly be on guard, with respect to how their actions would be perceived. He points to a 1904 quote by Sooni Tata, nee Suzanne Brière, of her early months in Bombay, that explains this sentiment: "I, who am neither fish nor fowl here [in Bombay], a Frenchwoman for the Parsis and a Parsi for the Frenchwomen, have to be extremely careful; when one is the object of almost everybody's gaze, the slightest fact… sprouts feet and runs along by itself, getting bigger as it goes."
Even more poignant was the experience of working on Sister Nivedita's profile, who Magedera feels never got her due. "Sister Nivedita, while revered in West Bengal, doesn't have the national prominence she deserves. Her writings were a compelling challenge to the undervaluing of India in western imperialism and history writing. She also remained fiercely independent, but tragically died alone in Darjeeling," Magedera points out.
He also expressed how much he'd look forward to a campaign in India for a postage stamp commemorating Margaret Cousins, who established the All India Women's Conference.
Magedera emphasises that the Indian videshinis' stories are relevant even today. "Beyond their fascinating lives which have valuable lessons for anyone integrating into a foreign culture (be they Indian or not), the wider usefulness of these women's stories is to understand how all the Indian elites behind them have always maintained flexibility in accepting outsiders... Although there is always a strategic element in their 'adoption' by their respective elites, these women benefited from the hospitality of so many ordinary Indians. Welcoming strangers is one of the key markers of a great civilisation," Magedera says.
He also says, however, that globalisation has meant the 'end' of the Indian videshinis, in a sense. "In 1947 the elites were content that independent India anchored their social position in a narrative of nation, but they were also anxious to give their sons and daughters an international edge in education and work experience. Now globalisation has internationalised Indians and perhaps made the position of the Indian videshinis redundant," Magedera writes in his book.
"Yes, now most of the middle class is directly or indirectly globalised with connections via PIOs and NRIs," Magedera concludes. "Except in the world of film, the cultural currency of the white female is not in huge demand and is not used to do good works in Indian society (anymore)."
Indian Videshnis — European Women in India by Ian H Magedera is published by Roli Books. Read an excerpt from the chapter on Sonia Gandhi here:
Entertainment
The relentless attack on the royal family of Britain by Harry & Meghan has not down well with the Americans. They too believe that allegations by Harry and Meghan are based on assumptions.
Entertainment
Harry attacked his family in both the Netflix docuseries, Harry & Meghan as well as his memoir Spare. Prince William, is the president of BAFTA, so executives allegedly felt that extending an invitation to the Duke and Duchess of Sussex for the annual event would be problematic.
Entertainment
Harry and Meghan have called William a bully, they have called the King Charles a liar, they have said that the Queen just sat back and let it all happen. These are quite extraordinary allegations at the heart of the monarchy.