Editor's note: The Bharatiya Janata Party's (BJP) win in the 2014 General Elections was a much-talked about result, with pundits not only highlighting the number of votes won by the party, but also its growth from being an entity in coalition politics to the power it assumed because of its single-party hegemony.
In Shades of Saffron: From Vajpayee to Modi, journalist Saba Naqvi, who spent two decades covering the party, chronicles the story of the BJP from its birth in 1980 to the two times when it came into power. She draws from her own first-person experiences and interactions with party members to analyse strategies and present anecdotes from history, as well as discussing aspects such as the role of the RSS, political finance, and key figures from the party.  The book is published by Westland Books.
***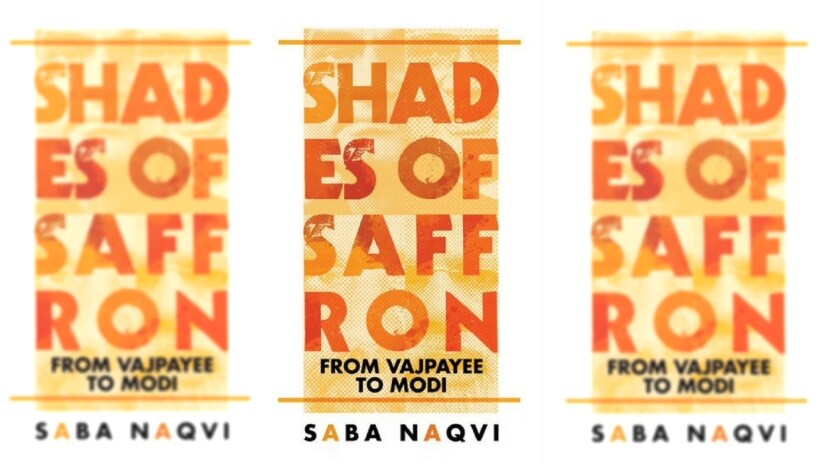 Apparently, right from the time she had decided to enter electoral politics, Sonia Gandhi was keen to contest only from Amethi in Uttar Pradesh, the seat of her late husband, Rajiv Gandhi. Yet she ended up in Bellary because sundry arguments were trotted out by the Congress: the BJP would go to any lengths to make sure that she didn't enter parliament, even to the extent of putting up an ailing, dummy candidate whose death would lead to the election being countermanded; the sitting BJP MP from Amethi, Sanjay Singh, would resort to large-scale violence to get the polls countermanded; and finally, if she stood from just one constituency, the BJP would try to pin her down to that seat.
Sonia obviously bought into these arguments and gave the go-ahead to a hare-brained plan to throw the Opposition off its track. The evening before the last date for filing nominations, Sonia took off for Hyderabad in a commercial flight, accompanied by her secretary, Vincent George, party General Secretary Ghulam Nabi Azad, and her security personnel.
Azad made it a point to deliberately mislead the media into believing that Sonia was headed for Kadapa in Andhra Pradesh. When asked about Sonia's eventual destination, he retorted: 'If we were going to Bellary, why would we be in Andhra Pradesh?'
As part of this elaborate charade, a small seven-seater aircraft and a helicopter were parked at Hyderabad airport. The flight plan given to the crew was that Sonia would take the chopper to Kadapa, and Azad would fly to Bellary. Finally, the lady accompanied by her entourage, drove to the airport and took off for Bellary, presumably smug in the belief that the BJP had been fooled.
Not quite. The BJP came up with a stunning counter and I would eventually ferret out the interesting details of what followed. Several workers of the Congress party were well aware of the smokescreen that the high command was creating in its attempt to mislead the Opposition about Sonia's eventual destination. Besides Bellary and Kadapa, the Congress was also putting out rumours that Madam Gandhi may eventually contest from Medak in Andhra Pradesh, which was held by her mother-in-law at the time of her assassination in October 1984.
The BJP was first tipped off about this so-called 'grand plan' on the morning of 17 August 1999, just a day before the final date for filing nominations. The civil aviation authorities had informed the ruling party that Sonia was booked for Hyderabad from where she could proceed either to Kadapa or to Bellary, in Karnataka.
By noon, the BJP had learnt that the then Andhra Pradesh Congress chief, the late YS Rajasekhara Reddy had proceeded to his constituency, Kadapa instead of waiting on Sonia, as was the protocol. By evening, the BJP was alerted that the Special Protection Group (SPG) was making security arrangements in Bellary.
Meanwhile, BJP General Secretary Venkaiah Naidu (now Vice President of India) was in Bengaluru working out details of seat distribution with the newly-constituted Janata Dal (U), even as news of Sonia Gandhi's movements began to filter in. He immediately got into action and choreographed a game plan to counter the Congress president.
He first telephoned the chief minister of Andhra Pradesh, N Chandrababu Naidu in Hyderabad. The two discussed the possibility of propping up a candidate who could give a fight to Sonia in Kadapa. Should it be a strong local leader or an outsider? Why not a film star, suggested Chandrababu, who had piggybacked to political prominence as the son-in-law of the charismatic cinema idol, NT Rama Rao.
Over the next few hours, there were four telephone conversations between the two Naidus. The chief minister suggested the names of two popular actresses—Jayapradha, then a TDP Rajya Sabha member, and Vijayashanti, described as the 'female Amitabh Bachchan' of Telugu cinema, who had joined the BJP the year before. Eventually both felt that Vijayashanti, who had great mass appeal would be a perfect choice for a backward rural constituency like Kadapa.
The question now was to get the lady's consent. It was well past midnight and Vijayashanti was in Chennai. Venkaiah Naidu then got in touch with his contacts in the film industry. At the unearthly hour of 1.30 am, Vijayashanti had two visitors—film director Chitty Babu, who was a member of the BJP, and Devi Vara Prasad, the well-known producer of several films starring the late NTR, and superstar Chiranjeevi (now member of the Congress party).
Even as both men were trying to persuade Vijayashanti into agreeing to the plan, Venkaiah Naidu reached out to Home Minister LK Advani, who was then campaigning in Karaikudi in Tamil Nadu. Finally it took a woman to convince another—Vijayashanti consented after Advani's daughter, Pratibha spoke to her at 2 am.
That done, the next step was to ensure that Vijayashanti reached Kadapa before the 3 pm deadline for filing nominations. One chopper was kept ready for her at Tirupati, while the then Civil Aviation Minister (now Minister for Parliamentary Affairs), Ananth Kumar, made sure that another helicopter was on standby at Chennai. Meanwhile, a parallel operation was also being put in place. The same night, the BJP leadership received an Intelligence tip-off that security in Bellary was being tightened. Things began to suddenly hot up in Bengaluru where Commerce Minister Ramakrishna Hegde was hammering out last minute details of the seat adjustments with Venkaiah Naidu. When asked about a possible candidate to prop up against Sonia Gandhi in Bellary, Hegde suggested Sushma Swaraj's name. But there was a problem—Sushma had publicly announced that she wouldn't be contesting the forthcoming polls. Who now would persuade her to change her mind? Ramakrishna Hegde took the lead in this endeavour and rang Sushma Swaraj around midnight; Venkaiah also followed it up by calling her immediately thereafter. After some debate over the issue, Sushma Swaraj agreed to pick up the gauntlet if the BJP leadership decreed. Venkaiah Naidu now moved with great alacrity. At 1.30 am, he called BJP President Kushabhau Thakre. A sleepy Thakre liked the idea in principle, but advised Venkaiah to get it ratified from both LK Advani and Atal Bihari Vajpayee. Naidu contacted Advani yet again in Tamil Nadu.
Excellent idea, said the Home minister, but clear it with the Prime Minister as well? Reluctant to wake up Vajpayee at that hour, Venkaiah Naidu meanwhile utilised the time to tie up every loose end. He worked through the night to make all the travel arrangements, and got the paper work in order for Swaraj to file her nomination.
Finally, Sushma Swaraj was booked on an early morning commercial flight from Delhi to Bengaluru. A helicopter was procured and parked discreetly at the Jakkur airfield in north Bengaluru. At 6.30 am, Venkaiah Naidu finally mustered up the courage to call the prime minister who gave his consent after ascertaining that Sushma was ready to meet the challenge.
Soon thereafter, Sushma Swaraj, dressed traditionally as a married Hindu woman, complete with a bright red bindi, sindoor in the parting of her hair, colourful bangles adorning her wrists and a mangalsutra around her neck, embarked on one of the most high-profile electoral battles of her political life. She landed in Bellary wearing BJP colours (a green blouse, and a bright orange sari), and in one of her first statements proclaimed that she represented the swadeshi brand against the 'videshi' Sonia.
It became the battle royal of 1999: the BJP's 'behenji' versus the Gandhi 'bahuji'. 'It is a battle for Indian self-respect,' Sushma declared. Quick with words, she picked up a few Kannada phrases and used them to full effect. The BJP believed they wouldn't lose even if Sonia technically won the election. The BJP had won this round, and the Congress president was in a sense, ambushed in Bellary.
As a counter, the Congress hurriedly announced the next day that Sonia would also contest from Amethi. The early announcement this time around was aimed at pre-empting the suggestion that she would stand from Amethi (where nominations closed on 14 September) only if the trend in Bellary was unfavourable.
In the end, despite the constant manoeuvering and war room-like strategies, it was Sonia Gandhi who won the Bellary seat by a margin of 56,000 votes, although it was clearly a low margin given the seat's electoral history. There was also no doubt in anyone's mind that Sushma Swaraj had made her mark as a great campaigner and smart politician. When Hegde and Venkaiah Naidu had first suggested the idea to her, she had come up with a clever response: 'It would be like fighting the Kargil war. I'll either be a glorious martyr or a triumphant victor.'
Updated Date: Jun 21, 2018 17:17:49 IST